Director Cyndy A. Marion on the Rarely Produced Sam Shepard Play "Eyes for Consuela"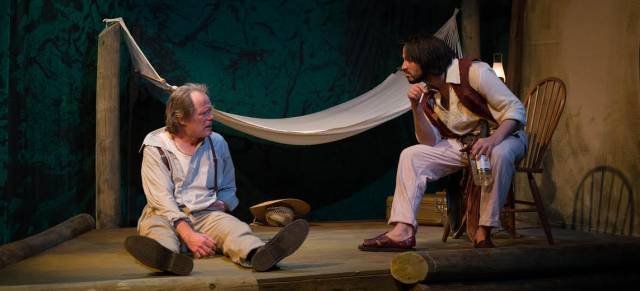 If you're looking to see a truly realized production of master American dramatist Sam Shepard's work, look no further than the White Horse Theater Company's production of Eyes for Consuela at the Gene Frankel Theatre.  This four-person drama inspired by Octavio Paz's short story tells the story of Henry, an American in the midst of a midlife crisis who has fled to Mexico, and Amado, a bandit who wants to steel Henry's blue eyes -- the only thing that will make his lover Consuela smile.  We spoke with director Cyndy A. Marion (called a "budding young Shepard interpreter" by USA Today) about the play.
Why is this play so rarely produced?
Eyes for Consuela is a hard read. On the page it can feel rather lifeless and dull; it is meant to be staged. Eyes really is one of Shepard's more metaphorical, highly theatrical plays. It calls upon elements of dance, music, rhythm, and visual art in order to tell this story which is both violent and delicate at the same time. Very challenging.
What does it mean to you to be a called a "budding young Shepard interpreter"?
I guess it means that my productions of Shepard's plays have offered new insights into his works. That perhaps my direction has tapped into some elements in his plays that have not always been seen in other productions. I have not directed Shepard in 10 years and I can certainly say that directing Eyes for Consuela has felt a bit like coming home. I feel most comfortable as a director when in Shepard territory. It just fits.
What's your take away on sacrifice from rehearsing this play?
Eyes for Consuela reminds us all that without sacrifice there is no love. You cannot really love someone if you are not willing to sacrifice for them -- whatever it takes -- if you are not willing to put their needs before your own, you are not really in love. It's also about not truly realizing how much you love someone until you've lost them.
How did you collaborate with the actors versus working with the designers on this play?
When working on such a theatrical and metaphorical play you must think in these terms when talking to designers. The world of the play must reveal the abstract, dream-like nature of the show. Actors of course need to be aware of the fact that they are part of a different reality, but they also must also ground their performances in something emotional and specific. Helping them find that balance can be very challenging.
Which character do you relate to the most?
Hard question. In this play I relate to both Henry and Amado. I think it's because when put together they represent a balance between the heart and the mind. Amado lives for love and is completely ruled by his emotions. Henry lives more in his head and throughout the course of the play he reconnects to his heart. They really are two sides of human nature.
Do I need to know anything as an audience before attending?
Be open and ready for anything. And don't try to make sense of everything.