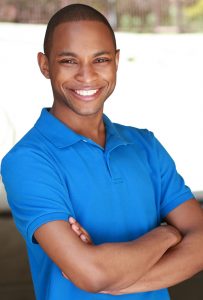 At only 27, Reginald Douglas recently made his regional theater directorial debut at Luna Stage with Athol Fugard's "Master Harold and the Boys".  However, he's been mastering his craft since the third grade, when he directed a performance of "Winnie the Pooh Puppet Show", and he's since worked professionally at Pershing Square Signature Center, Harlem School of the Arts, Culture Project, LaMama, DR2, INTAR, The Gallery Players and the McCarter Theater. Most directors would leap at the chance to have even a modicum of his experience.  A New York Theater Workshop 2050 Directing Fellow, he is a young talent blessed with great vision.
StageBuddy had the wonderful opportunity to chat with Douglas just days before "Master Harold and the Boys" opened.  He shares with us his start in theater, his thoughts on the play, and his experience with Luna Stage, who took a chance on a young director.
StageBuddy: How'd you get your start in theater? 
Reginald Douglas: I started in theater as an actor in summer camp and quickly learned I did not like it. I liked knowing about the bigger picture and what was going on in every facet in the production, so I think I found my way into directing very early.
SB: What was the first thing you directed?
RD: I think the first thing I directed was a "Winnie the Pooh Puppet Show" in third grade.  I played Eeyore, and also got to direct it and told the story of Pooh finding a friend.  I think at that point I was more interested in being in charge, more than I am now. (he jokes)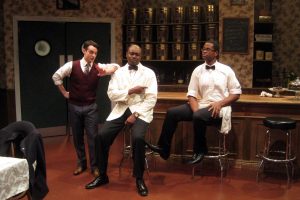 SB: What do you like about "Master Harold and the Boys"?
RD: I love that it's a play about a relationship between two people who shouldn't be friends but can't deny the fact that they are connected.  I think there is something so honest about the way the play is structured and the way it's written, that it's really about this characters' development versus plot for plot's sake or crazy design choice for design choice sake.  It comes down to honest storytelling about how people grow together and apart.
The play takes place in 1950s Apartheid. There is definitely a political current running through the play -- issues of race and class are very present -- but at the end of the day it's a play about a boy and his father who just happens to be a black waiter who works for his father.  There is something so moving and inspiring how Fugard is able to put the revolution in these regular people; he captures the history of our world through the love and eventual hate of unlikely friends.
SB: What challenges did you have while directing this play?
RD: It's a 90-minute drama and we live in a culture that gets bored very easily, so we took on head first the mission of keeping the play exciting. We tried to find as much fun and joy in the play as we could because it does strike you at the end with a tinge of sadness but it ends on a hopeful note; and we found a great way to balance the intense stakes of the time and of the story with all the love that's there to mine and the all fun that's there between these two characters.  Building all that joy, it makes the wallop of the tragedy that much stronger.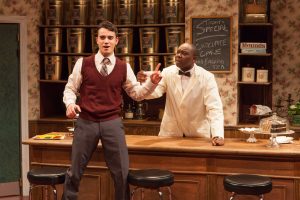 SB: What's your experience been like working with Luna Stage?
RD: Luna's been great.  I met Cheryl Katz, the Artistic Director, three years ago; she saw a production of "A Raisin in the Sun" that I directed, and I directed a reading of Laura Brienza's "Old Love/New Love" at Luna Stage.  Since the beginning she's been extremely encouraging and supportive.  The show started previews immediately after my 27th birthday and it's a big chance that she took on a young director; the opportunity to work regionally is a nice step in my career and I'm grateful for that.  I loved that my age wasn't a factor in the rehearsal room, it was about the work; and I'm grateful to have collaborators that were in it to do their best work and not so concerned with how old I was.
SB: Advice to aspiring directors?
RD: I think it's all about community and the people that have taken a chance on; it's all about people helping one another out.  Finding a community where you can feel safe -- safe to grow and explore, safe to fail in -- is huge. That said, don't limit yourself; too often we write ourselves into boxes that don't need to be there, and there's no one telling you you can't.  No is not the answer until they say no.  Take the chance.  Hustle.  Everyone that I know in their twenties and thirties currently working is out here not sleeping, they're working and grinding.  That commitment and dedication isn't lost on anyone no matter how old you are and that open doors for me.  Probably the best advice I can give is don't give up, keep growing, keep learning, keep doing the work.
(This interview has been edited and condensed)