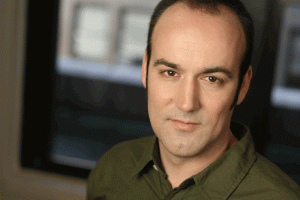 Ryan Lee's first paid acting job after college was a lord in "The Winter's Tale", and every night for the production's six-month run, he listened to Shakespeare's words.  Now, he presents his concepts and ideas about the play in his own production with the WorkShop Theater Company, a diverse group of artists helping one another to cultivate projects from inspiration to the stage.   A Shakespeare and verse teacher for over a decade, as well as a company member of WorkShop Theater, Lee understands well the importance of clear story-telling and of creating a contrast between the two worlds of the play.
StageBuddy's Glenn Quentin got a chance to chat with Lee about the differences between being an actor and a director, The WorkShop's Theater process of bringing a main stage production to life, and the concept behind his "Winter's Tale".
StageBuddy: What's the biggest difference between being a director and being an actor?
Ryan Lee: Being a director is to take the playwright and interpret the playwright's words and turn it into storytelling; and to be in charge of the design elements and the actors and the whole crew -- to have them come on board the journey you want the audience to go on -- and to create the story that moves you when you read it. In a way, being an actor is just a part of that, but a very fun part to do.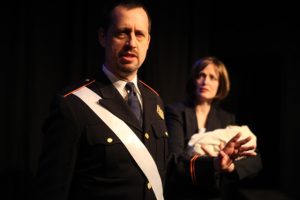 SB: How did you get brought on board as a director for "The Winter's Tale"?
RL:  I'm a company member with the WorkShop Theater. They do a classical theater piece every two years and it was time do one; and somebody else in the company was excited about "The Winter's Tale", and they mentioned it to me.  I started working on it and brought my old thoughts back to the table from twelve years ago when I was going to direct the play for a Shakespeare Festival in California.  The WorkShop Theater has a process where you have to do a three-day reading, and if they like it they say, "Well, let's make this a main stage production."
SB: Can you talk about your concept in the direction of this play?
RL: The concept is about how Sicilia and Bohemia are two different places -- not just two different locations, but two different places in the heart.  Sicilia is a place that is cold: it is the winter, it is where things are decaying and dying, and there is paranoia. There are only two choices [in Sicilia] -- black and white, right and wrong -- and Leontes [the King of Sicilia] basically believes that if you don't see things his way then you're against him. That stuck with me.  We're seeing things in the world where people are deciding what team this person is on before listening to them.  This cold environment where you only have A/B choices -- that's the world I wanted to create with Siciilia.
And contrasting with that is Bohemia, this wide open space.  When in California, I was moved by Burning Man, which transformed me in a spiritual way.  [It made me understand] how you can become a little more centered as a person.  That's where I got my inspiration for Bohemia.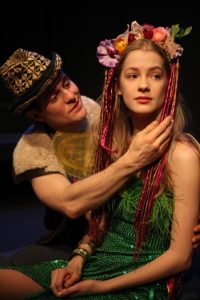 SB: How do you approach directing a Shakespeare play versus directing a contemporary play?
RL: With Shakespeare, we have to figure out what we are saying -- not only what the words mean, but how it fits into the whole structure.  Reading contemporary text, you know what that sentence means and just have to connect to it.  With Shakespeare, we not only have to spend a lot of time with it, but be very precise about which words communicate the story and which words are the operative words in this speech or in this scene, where the audience can cling on to you and go on that journey with you. In Shakespeare's plays I spend a lot of time defining the physical and the verbal and how they relate.
SB: What advice do you have for aspiring artists?
RL: We're all aspiring artists.  One of the great things is we're always getting better.  There is no such thing as a performance, everything is a rehearsal.  If you can think of every day as a chance to explore, then you never get bored in your art and you'll always get better.
(This interview has been edited and condensed.)
Read our review of "The Winter's Tale" here.