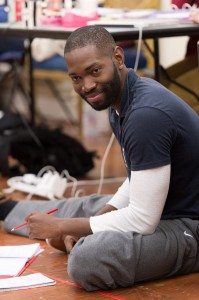 The world-renowned, award-winning playwright Tarell Alvin McCraney continuously adds to the experience of our humanity with his stirring and scintillating plays, which have garnered countless accolades over the years -- most recently, a 2013 MacArthur Fellowship.  In his current project, he's flexing his directorial muscles by taking on "Antony and Cleopatra", one of Shakespeare's lesser-known plays, in a collaboration with the Royal Shakespeare Company, Miami's GableStage, and The Public Theater.  In this production, McCraney has worked to make the play universally accessible and has set it on the island of Santo Domingo.
StageBuddy's Glenn Quentin had a chance to speak with McCraney about the initial spark of this production, the experience of sharing free theater to the youth of Miami, and the rhythms of Shakespeare's text.
StageBuddy: Why did you choose "Antony and Cleopatra"?
Tarell McCraney: "Antony and Cleopatra" is a play that not a lot of companies do, but the Royal Shakespeare Company was deciding whether or not to put it in their season the year that I became an International Writer in Residence and the Artistic Director, Michael Boyd, asked me to do a radical edit of the play. Once that draft was finished, he sort of became interested in it and asked if I wanted to see it produced; and I said 'yes.'  At that point we didn't know what role I would necessarily play outside of being the editor of it, but we both knew we were interested.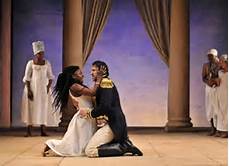 SB: How did the collaboration come about with GableStage and the Public?
TM: When Michael Boyd asked if I wanted to direct the piece, I was a little nervous about it: I don't normally direct, it's not something I do often.  I would say it's not something that is a strong suit for me; it's something that I do out of necessity. Sometimes you see a vision and you have to see it through. But it's not necessarily the place where I feel the most confident.
When he decided that he'd like for me to direct it, I said that for me the most important thing would be to make sure it got to the most places that it could and was accessible in a way that I think most theaters should be.  I really wanted to find a way for us to do the production in Miami and have it be free for the students of Miami to experience Shakespeare.  I wanted us to get the chance to hit like lightning with the cultural burgeoning that's happening in Miami right now.  So I talked to the Public Theater of New York, which has a legacy of creating accessible Shakespeare in America; partnering with them and the RSC made it possible for GableStage to come on board and pretty much do a Shakespeare production of this caliber for thousands of students for free.  That was important for me to do, and that's how the partnership came about.
SB: Obstacles and highlights from directing this production?
TM: The production itself, the play itself, asks for about 17 to 44 actors and we are doing it with 10 actors -- so that in itself is a challenge and a blessing all at the same time.  We have to really understand and know that the play operates in a sort of Greek kind of way, and we in our production are trying to do the simplest form possible.
SB: What has been the response from audiences, particularly the kids from Miami?
TM: The responses were all over the place, extraordinarily helpful, never negative even when the play got sort of "boring" to them.  [Even when it got "boring"], five things later they would be so enthralled that they would be laughing and talking back to the stage.  Everything from the romance to the political nuance of the play sort of sung to them; you could see the kids saying doing a very poignant moment 'hmmph' or talking back to the stage which was really extraordinary.  We thought, 'How are they ever going to get this 500 year political ploy?' but they got it, they absolutely understood it; and they invested in a way that I didn't expect.  We really set a mark in Miami in that way, and I really hope we can continue showing our students that there are other ways of learning of culture and literature instead of just making them sit behind a desk and take a test.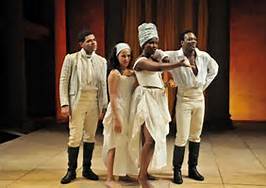 SB: What did you discover about language or text in this process?
TM: That rhythm means more than people give it credit for. Especially in the English language, we sort of think about the words and how they're strung together as the end all be all, and that is true, that's part of it.  I was reading Martin Luther King's Letter from a Birmingham Jail the other day, and the way in which Dr. King puts words together in contrast with each other, the onomatopoeia, the poetics of his language are sublime.
Also, in dramatic language, we can't dilute the understanding and palpability of visceral rhythm, and how people understand things based on rhythm.  Shakespeare's language is so rhythmical and there is so much of the journey in that rhythm that we can't be surprised when people ask for it or when people get turned on by it.  It makes the actors work simpler but more athletic, keeping that rhythm alive. And that transcends a lot of cultural barriers around the world.
SB: Your production features original music, can you talk more about that process?
TM: When we decided to set the production at the revolution of the island of Santa Domingo from the French, we wanted to create and view the world with as much emphasis and palpable reference as possible without over-explaining it -- and of course one of the ways to do that is through music.  So we created some pieces that feel almost baroque and French, and we created some pieces that were inspired by original folk songs from the island of Haiti; that was done mostly by Michael Ferber, who created a scale or spectrum of music for us that was really beautiful and unique, coming up with some spectacular sounds with our limitations.
SB: Advice to young artists?
TM: It depends on what they ask.  I don't want to give them general advice. If it's something specific, they definitely should ask.  That is my advice.  If you have something specific on your mind, then ask.
(This article has been edited and condensed.)