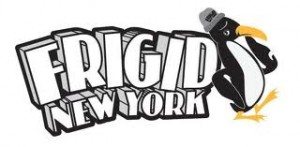 You don't have to wait till summertime festivals to see a myriad of weird and eclectic shows off-off-Broadway. The FRIGID New York Festival is back with 30 shows in three weeks at two theaters (the Kraine and Under St. Marks).
Founded in 2007 by Horse Trade Theater Group in collaboration with San Francisco's EXIT Theater, FRIGID takes its model from the long-running San Francisco Fringe Festival and the Canadian Association of Fringe Festivals. As such, unlike many other New York theater fests, artists in FRIGID keep 100 percent of their grosses, and they're not obligated to give a percentage of any future royalties to the original producers. Also, shows are chosen on a first-come, first-served basis, as opposed to an adjudicated system. The quality, therefore, can vary, but the trade-off is an "open and uncensored" outlet for theater companies of all types and approaches.
Tickets to shows at this year's FRIGID Fest run less than $10 (sometimes as little as $5), and the 8th annual event runs through March 9.
As ever, one of the most fun things about theater festivals is being able to comb through the list of productions for the weirdest titles and plots. Candidates at this FRIGID New York Fest include "Chicken-Fried Ciccone: A Twangy True Tale of Transformation", about a heroin addict being inspired to kick the habit by the arc of Madonna's career. There's also "Eating My Garbage", "A List of Irrational Fears for Future Leaders of the World", the movie parody "Boogie of the Apes", "Drag Queen Stole My Dress", "Petunia and Chicken", "Yelling at Bananas in Whole Foods", "Tina & Amy: Last Night in Paradise" (which seemingly aims to do for the "Saturday Night Live" queens what "Matt & Ben" did for Damon & Affleck all those years ago), and a rose-colored look at New York City in "The Eyes of Orbach", which tells of two Manhattan lovers who received the donated corneas of Jerry Orbach after the actor's death.
As I said, it's a Fringe festival. Here's the info: https://stagebuddy.com/listingdetail.php?lid=16606
Reviews:
How I Learned to Stop Worrying and Love the Gardaí
Questions of the Heart: Gay Mormons and the Search for Identity