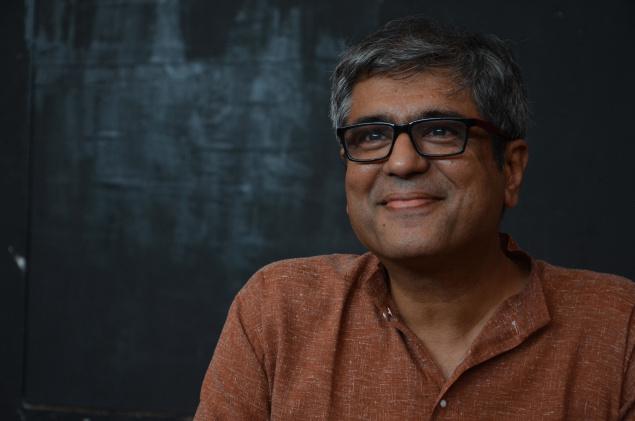 Those in the West may not be familiar with the work of Indian stalwart Mahesh Dattani, but for decades he has been one of the leading theatre minds in the South Asian subcontinent. As a playwright, his seminal works Dance Like a Man and Final Solutions were fundamental to modern and urban theatre in India. Dattani's plays have been performed around the world and he is the first English-language playwright to have won India's premier literary honor – the Sahitya Akademi award. Dattani is also a renowned director and recently finished working on Barnard College's Chokher Bali. I caught up with him for a quick chat.
When did you start writing plays? What brought you to theatre?
Since I was twelve, I've been keen on theatre. I saw my first play and I wanted to be an actor. But in the late 80s, there was very little amateur Indian theatre. Mostly, the scene was dominated by Eurocentric plays and those works just didn't speak to me. So I decided to write a play about a middle-class Indian family and it did very well. It found a wider audience than the English plays and people really identified with the story. I've been writing plays ever since.
What's your writing process like? Has there been a particularly difficult piece?
If an idea stays with me long enough, then it's worth pursuing. I think one of the hardest pieces I've worked on was 30 Days in September. It was commissioned by an organization that counsels victims of sexual abuse. At that time, the issue of sexual abuse wasn't really discussed in India, but I really wanted to speak to actual victims as I felt that was crucial to the project. I did finally find some volunteers, but for a long time, I was just trying to understand and grapple with how to tell their stories as truthfully as I could.
Do you remember finding out about the Sahitya Akademi award? What was your reaction and what does it mean to you now?
My father actually called me and said he heard it on the news and I told him he was probably confused. And then a few of my friends called, but I didn't put it together or I thought it must be some other award. And then the telegram came in the mail two days ago. I think I was so surprised because I don't consider myself a literary person – I consider myself a theatre person. The award does mean a lot to me. It's an endorsement of the work I've done, especially given that I write Indian stories in English.
What are your thoughts on contemporary Indian theatre, especially the pushback against the English language?
You know after the United States, we're the second biggest English-speaking nation in the world. What concerns me more than playwrights writing in any specific language is the very lack of playwrights. There's been an influx of theatre artists who have gone and worked abroad and theatre companies and come back to India and start companies, but what have very few playwriting programs, so again, we rely on Euro-centric plays. I've started a group called Play Pen to combat that and we've had four plays that have    been fully produced but there are 1.25 billion people in India and the theatre is yet to carve out a space of its own.
What was the experience of directing Chokher Bali for Barnard College like?
It's been really rewarding. I've enjoyed it tremendously, especially being that it's a student production. A lot of times in professional theatre, you get a little jaded because everyone treats it like a job. Here, the students have completely immersed themselves and they have such inquisitive minds, that it's always a joy to come to rehearsal – there's always something new. Even though we've had professional designers, who are all very busy, we've all come together to do something and that's been very inspiring.