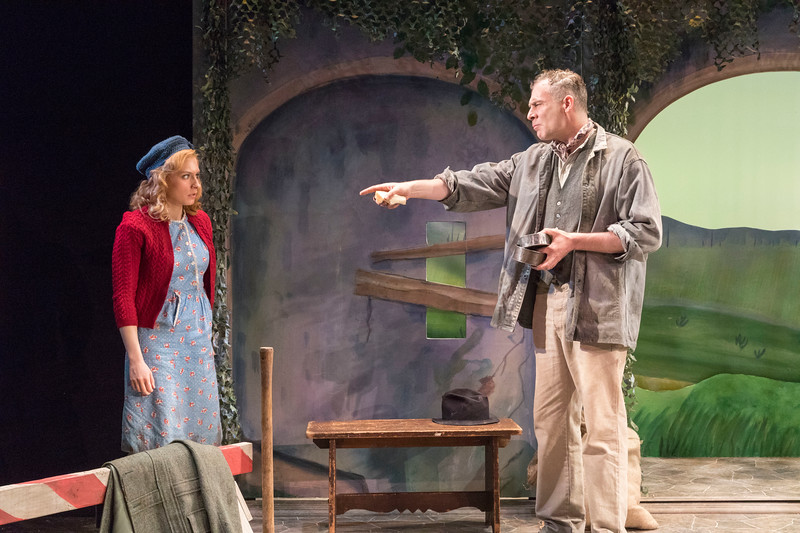 Playwright Teresa Deevy is quite the enigmatic rediscovery. A native of Waterford, Ireland, Deevy achieved a rapid run of success, writing six plays for The Abbey Theatre (Ireland's National Theatre) between 1930 and 1936. Aside from this being a rare accomplishment for a woman at that time, Deevy endured a bigger obstacle; she was deaf. Dropped by the Abbey very suddenly and without explanation, ironically, given her impairment, Teresa began writing plays for radio. Posthumously, her legacy drifted into obscurity, until the Mint Theater Company's artistic director Jonathan Bank, on a mission to resurrect lost and forgotten plays, discovered and rekindled the Deevy embers by stoking a lost voice into the shape of a resounding presence, thus beginning the Teresa Deevy Project.
To date, the Mint's productions of Deevy's Wife to James Whelan (2010), Temporal Powers (2011) and Katie Roche (2013) have delivered at the very least a cognizant portrayal of evolving 20th century Ireland. It is Bank who uncovered the literary spoils of Deevy's unfinished works, short stories and unproduced plays, found in two suitcases under one bed. The Mint Theater's latest Teresa Deevy Project production, The Suitcase Under the Bed, has assembled and united four short plays that delve into love, the losing of it and the transactions and sacrifices therein: The King of Spain's Daughter, produced by the Abbey in 1935; Strange Birth, published but never produced; and two never before published or produced suitcase discoveries, In the Cellar of My Friend and Holiday House.
Here, actor Aidan Redmond, now in his third Deevy production with the Mint Theater Company, talks about the playwright, her work, the country they both hail from and getting a player's grip on what lies beneath.
Prior to you being in the Mint's production of Wife to James Whelan in 2010, I'm assuming that, like most people, you hadn't heard of Teresa Deevy?
I knew nothing about her.
So many wouldn't have heard of her but for the Mint's Deevy Project. What were your first impressions when reading the text?
I guess the thing that sticks out most reading the text is…well one thing and it's very prevalent, especially in these four plays but also with these other plays that we did, is that you rarely if ever come across a monologue. So, I have found, and it might be something to do with the fact that she was deaf, that she doesn't rely on dialogue as much as other playwrights might. And she tends to focus a lot on what goes on between the words. I think she's primarily interested in the human condition, and so the challenge for the actor is to trace what is going on in the characters' minds from one instance to the next. She likes to use ellipses a lot, half-finished thoughts and silence. Sentences are very structured, so one needs to pay attention to that.
What struck you, learning about her life?
She led an amazing life. Much of her writing was produced in the years leading up to and around WW2 and the Emergency Years in Ireland. It was a time when Ireland was in a state of self-evaluation. The country was gearing up to 1948 when it was finally recognized as a sovereign nation. There were many social issues on the table. She was very outspoken during this time. She had strong views on women's place in society and the church's place in society and on her critics opinion of each. She was pilloried for this. And she ended up writing for radio, a medium that didn't even exist when she had her hearing.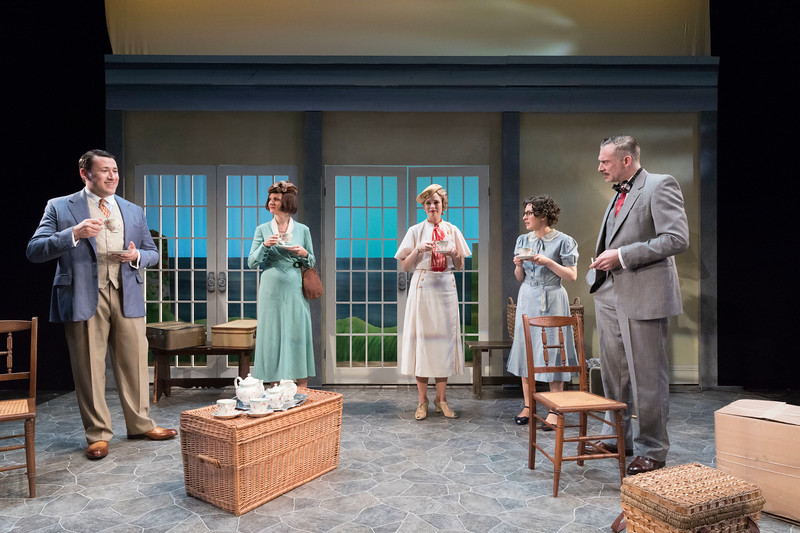 With this set of plays, what first appears to be quaint and light and mischievous, is in fact much darker, rebellious and progressive. To really understand Deevy's work, I think, is to understand the time and place she came from and what she was up against, politically and with respect to her gender and disability. Tell me about Jonathan Bank's discovery of her unknown work?
Well it all started with Jonathan going over to Ireland to do research for Wife to James Whelan. And during that time, he was shown the suitcase that had been sitting under her bed for fifty-odd years. And in that suitcase were all these plays and many others. Some of them unfinished. So, if you take two of the plays that we're doing, Holiday House, written in 1938, and In The Cellar of My Friend, possibly written towards the end of the 1940s, there's a marked difference in both style and substance. In the Cellar of My Friend was a stage play later adapted for radio and Holiday House, originally written for the Abbey stage, accepted and later rejected, became a radio play. Only the radio play survives. So Jonathan had access to various different scripts and he chose what script lent itself best to the story he wanted to tell.
Getting a good history lesson ranks highly and frequently in theater acting especially. Deevy's life span, writing career and personal endeavors follow a profound, dramatic sequence of events: her involvement with Cumann na mBan [The Women's Council], the birth of the Free State, the subsequent Republic and the escalating dominance of the Catholic Church. Given that Ireland is where you come from, did familiarizing yourself with Deevy's life and work teach you anything new about a history that you yourself are a product of?
Well for sure, I found that she was a voice for a portion of society that didn't have a voice. And the Abbey rejected her work, rejected Wife to James Whelan, and then not until Light Falling, staged in the Abbey's experimental Peacock Theatre in 1948, did she ever write for the theater again. She was effectively silenced. I guess there's a side of history, which is her own experience of growing up in Ireland, that has been neglected, at least not thoroughly examined by other playwrights. And so yes, I suppose she does give us an experience of Ireland that is not what you would expect to find reading Yeats or Shaw or others in her own time. So she is progressive in that way. She wrote about things close to her own heart, the woman's experience in Ireland and the Irish experience in small-town Ireland.
You mentioned rejection by the Abbey. And Ernest Blythe is the controversial figure who, as managing director of the Abbey in the years after W. B. Yeats' death, dropped Teresa Deevy even though she'd had six successful years there. But she wasn't the only playwright that he rejected, was she? There were tons of playwrights.
There were a lot of them and seemingly there was something like three-hundred scripts turned down on a yearly basis into the Abbey. So yes, she was one of many, but the fact that she'd been accepted and then suddenly without reason neglected. And it would seem that it was because she was so outspoken and wouldn't pipe down.
And now the Abbey Theatre are putting on Deevy's most famous play, Katie Roche.
Yeah, it'll be interesting to see what they do with it. I have a suspicion that it's going to have a contemporary feminist take, which isn't necessarily what she was writing about. Teresa Deevy demands close attention. She's quite elusive. You can be working on it a long time before you get to what exactly it is she's writing about. Her scripts are a little like music in the sense that if one note is off, it's off. It's not unlike Pinter in that way. You can still recognize it but it's off. And the difficult thing to me is…with these four plays as well because they're unfinished in certain respects, and they're short...with a regular play, you've a long time to remind the audience of general themes running throughout the play. In a 15/20 minute one-act, you may only have one shot and if you get it wrong, that's it. Everybody needs to be on the same page and it can be hard to get that. And so therefore, for these four weeks [of previews], it's good to get the opportunity to make those mistakes in front of an audience, because they inform us in a different way than the rehearsal and it's just as valid.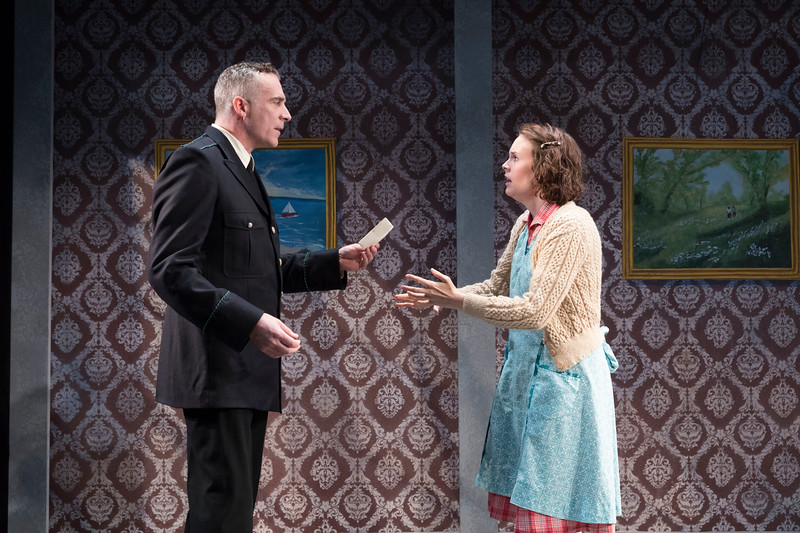 In the productions I've seen you in, you've a particular style of acting. You have a consistent less is more approach but for bursts of high drama when it's called for. There's the calculated, studied approach to playing characters and there's an intuitive one. Generally speaking, would you say you lean toward either one more than the other? I know that you studied at the Lee Strasberg Institute.
Yes. I enjoy working intuitively, but whatever approach works to help one remain fluid and receptive, I'm open to. I do like the rehearsal process of pouring everything out and then putting form on the thing. Having said that, the more you know about the character in the given circumstances, the less you will fidget or seek distraction in moments of silence, because there's so much more going on inside of you. You're filling out the character all of the time. Each performance provides an opportunity to dig deeper. Adding to it every night, subtracting something, adding something, and the more you listen to one another, the more that will just naturally happen.
So much that comes from those first couple of decades of the Abbey Theatre, the Playboy Riots, the fact that many of those that were instrumental in the Republican movement were artists, playwrights/novelists etc, suggests that audiences were experiencing something arguably bigger, more politically driven and subversive than a lot of theater today. But in these very recent politically charged times, as an actor, do you think we've lost some of that relevance in the performing arts or do you think we've gained it in other ways?
I think my job at any time as an actor is about telling the story and so the one thing that I'm always aiming for, is to tell the story that the playwright wrote. There is no excuse for doing it the same way every night, because only the playwright knows what they've written and it's our job to go out and find it. And so I do think that's exactly why we should be doing what we're doing, because if the work has only one person leaving with a question in their life addressed, even if it's the performer, by the end of the night, then that work has done its job.
In Suitcase, you play a whimsical postman, a wary gardener, an aloof West Brit and in the longest play, The King of Spain's Daughter, a laborer and father with a dearth of parental competence. You've the Tinker Tailor gamut here, but while varied, they exist in relatively short pieces with a 10 minute intermission. Tell me about the rapid switching of hats and the challenges therein.
Well, let me see, it's a bit of a schizophrenic evening. I believe that every character on the stage deserves the same life and so when you're playing a character that's only onstage for 3 minutes and then you're playing another character that's onstage for 20 minutes, how do you give them both the deserved life that the play requires that doesn't distract from the action? It's a thing that gets me when you go and see a play and the smaller roles are given to actors to just…they're almost not given the same weight.
Like someone holding a spear?
Yeah, holding a spear. I love the direction a director gave to somebody one time about standing there with a spear. "Look like you wanna say something."  [laughs] It's beautiful you know and you'll always be active. It's a good note to take with you. You know, that character has a life of its own like all the characters do. It's just as full as anything else, so for me the challenge has been to…so, say playing the gardener [In the Cellar of My Friend], I became very conscious that he's sixty-odd, he's kind of this sage-like character. He has lived a life we don't see onstage. He knows some things.
You aged convincingly.
I gave him a bit of a heart condition. You know, so there's a lot of this action [hunching over]. The more you read the plays, the more you do the plays, the more apparent certain things become that didn't stick out before at all. And then you know, the next time you introduce that to the character and before you know it, after some time, you have pretty full characters.
Martin the gardener, I thought, was omniscient. He's all-seeing.
Yeah, I think of the gardener to be a bit like a stagehand. The work always gets done. He's always present. He sees everything and says nothing. But when he talks, one leans in to listen to what he has to say. So yeah, he is, he's around.
There's that great line, "To my way of seeing, there's no two people…
…who can to the full comprehend one another." It is a great line.
And true.
Absolutely.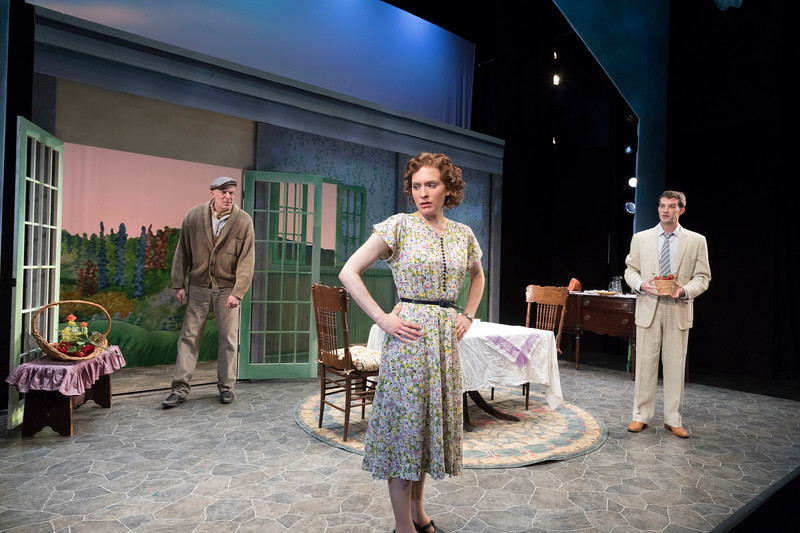 One of the interesting things about the Mint's production of this set of plays is the attention to detail regarding accents. There's no generalness that might have been the easier option for audiences less fine-tuned to regional Irish dialects. The plays move around geographically. I understand that getting it right enhances the colloquialisms.
Yes it does. But the authenticity of a lot of these scripts is actually in that and if you try and clean it up for an American audience too much, you miss some of the subtleties I think, of the language. Teresa relies very much on that. Especially in a piece like Temporal Powers for example. There's a specific rhythm to the way of speaking and the way of thinking and interacting that is inherent to living in Ireland. And speaking of the intuition we were talking about earlier on, as an Irishman reading these plays, I do fall into the rhythm of that as I'm reading it, and so it does inform the performance outside of any other research I might do because it's something I naturally recognize.
Suitcase has an Irish and American cast. Was there a dialect coach?
Amy Stoller is the dialect coach. In each of the plays, the characters are from a distinctly different place with different accents. Take Holiday House, where you have the problems of the upper class West Brit in Ireland in 1938. It's an interesting play because it's so removed and unlike anything else she wrote. It's like a Shaw play almost.
The King of Spain's Daughter is quite shocking for its time. You play a ferocious, resentful father, Peter, to Annie (Sarah Nicole Deaver), who behaves outside of what is expected and is punished and socially bound for it.
I think as Irish people, we all recognize that character [Peter]. Seemingly, the play came out of a time when she [Deevy] was just walking down the street and passed some men working on the side of the road and the play came into her mind and she wrote it in two weeks. That's my understanding of it.
When we're doing The King of Spain's Daughter and that moment where the father turns to Annie and says, "Five years there or your life with him." Your life in a loveless marriage or five years at the factory, what's it gonna be? Often it gets a laugh, which is revealing.
Having seen it, it's hard to imagine people laughing at that.
It's interesting. The play is set in a time of workhouses and forced labor factories and institutions like the ones run by the Magdalene Sisters and now recently they've been digging up all those babies' graves. It was a hard time in Irish history. And Teresa was writing about it, in a sense. And so, her plays, they do have a darkness to them that is up to the production as to how much to fathom. Deevy described the play as a comedy because Annie marries Jim in the end, even though she has to fantasize about it just to be able to go through with it.
The Mint have compiled a second volume of Deevy plays in book form. Are there any more plays under the bed and is there more to come from the Teresa Deevy Project?
There are more plays under the bed and I'm due to direct a reading for Jonathan, a play called The Wild Goose set in 1692. It is her only history play. And that'll be a reading in September as part of the Deevy Project. And maybe that will lead to a full-scale production, I don't know. Jonathan loves this playwright. As he says himself, she's probably the most talented rediscovery he's had. She's certainly a voice worth listening to.
And outside of the Deevy Project, what are you doing next?
Well, I'm down to direct a full-scale production with Jonathan and the Mint next year. So that's in the works. And after this is over, I'm working on a reading at The National Arts Club in October. It's a script called Chasing Jack by John Anastasi, about a cardiac surgeon with a gambling addiction who gambles with the life of a patient. So a transition into directing and a view towards continuing challenging work as an actor. But things change. Telling a good story remains at the heart of it though, for sure.