Interview: Alex Boniello on the Broadway Revival of "Spring Awakening" and Why We Need to Reinvent Theater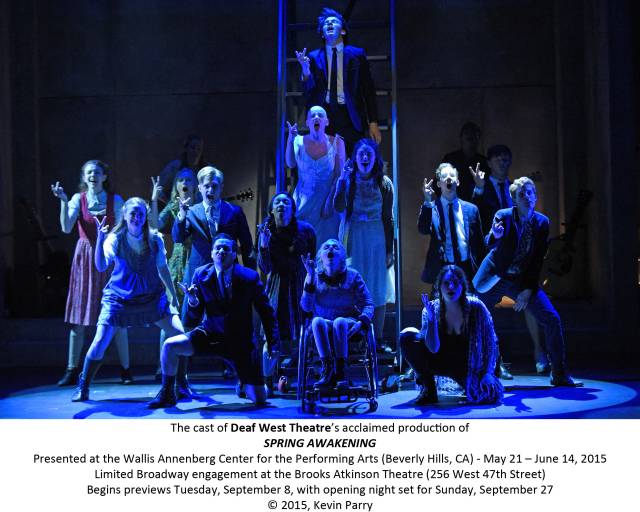 New Jersey native Alex Boniello is savoring the moment as he prepares to make his Broadway debut in Deaf West Theatre's highly anticipated revival of Spring Awakening this fall. Boniello's strong work ethic, can-do attitude and major talent have paved the way for his career, including his current role providing the voice to the complicated and layered Moritz Stiefel. Sharing this role with deaf actor Daniel Durant, Boniello lends not only his voice in the singing and speech, but also plays guitar in the onstage band.
Featuring both deaf and hearing actors, this revival has provided a gratifying learning experience for the entire cast and creative team. In addition to understanding and connecting to their characters, the cast has learned to lean on each other for support when it comes to breaking down the barriers of communication. The result is a Spring Awakening even more powerful, intense and eye opening than ever.  StageBuddy got the chance to speak with Boniello about making his Broadway debut, this unique role, the impact of connection and communication, and how social media took his career to the next level.
Alex, before we begin, I want to extend my congratulations on making your Broadway debut! Can you describe what the journey has been like and your feelings on the opening of this remarkable production?
Thank you! Honestly, it has been the most surreal experience of my entire life so far. Part of that has to do with how I got involved with the show in the first place. Andy Mientus (Hanschen) actually reached out to me on Twitter about the job. Trust me, I realize how outrageous that sounds. We laugh about it frequently. The actor who had originally played my role had to leave the production right before it started its run at the Wallis in Los Angeles due to scheduling conflicts. After checking my availability, I had a Skype session with the creative team to talk about how quickly I could get to LA. I was on a plane three days later. After we closed in LA, we found out we would be going to Broadway shortly thereafter. I can honestly say that life has been an unreal blur since then.
How did you get your start and what is the biggest lesson you've learned in your career?
I got my start during college. I attended Wagner College on Staten Island. They have a great theatre department and I was working towards that degree. The entire time I was in school, I was working with my agent and manager on auditions. I would literally run from classes to the Staten Island Ferry, go in for auditions and then get back on the ferry just in time for my next class. It was completely insane.
Throughout school, I had worked on a few TV shows and films, but the first really great job for me was the national tour of Green Day's American Idiot right after I graduated. That job started my relationship with Michael Mayer (ironically the director of the first production of Spring Awakening). After that, Michael hired me for three more jobs, all of which lead directly to this.
The biggest lesson I've learned is to definitely make sure you have an active Twitter account. Without that, Andy Mientus will never give you a job via direct message (haha)! No, but actually, I think the most important lesson is to be proud of the work you do and never give up. I know that's cheesy, but it really is true. I save all of the e-mails of every audition I've ever gone on. I have been on 727 auditions in the last 6 years. The fact that my Broadway debut is coming entirely from word of mouth just goes to show that even if you don't get the jobs when you're auditioning for them, you're doing SOMETHING positive and important for your future just by showing up and getting one percent better each time.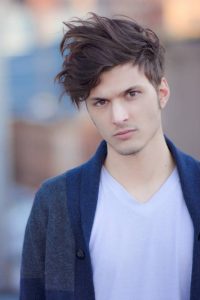 In this role, you are not only the voice of Moritz but also provide insight into his emotional struggles – can you talk about that experience/sharing the role with Daniel Durant, and also about why you feel a connection to the character?
Sharing this role with Daniel has been the most unique acting experience of my life. We are two people, using our strengths to create one person. It has involved a lot of discussion, with the help of interpreters and our wonderful director Michael Arden. We spent a lot of time talking about what Moritz is going through at any given moment, and figuring out the best way for us to make sure we are telling the same story. This show just doesn't work if Daniel is thinking one thing and I'm thinking another. It is absolutely a team effort. Sometimes I follow his lead, and sometimes he follows mine. Sometimes I have a feeling about a scene that he never thought of, and sometimes it works the other way around.
The coolest parts of us sharing the role come from how we interact. I get to be the voice in his head that wants to break free. That gives me a lot of power, and sometimes gives me the ability to influence his decisions. It adds a whole new layer to the character because you are literally seeing him have this conflict within his own head in front of you.
Beyond that, I've always felt a connection to this character. I think everyone who sees this show relates to Moritz in some way. His story is, in so many ways, the heart of the show. He is the ultimate product of a world that doesn't believe in him, and I think at times we all feel like it's us against the world. It's sort of impossible NOT to relate to him.
Can you talk a little bit about the dynamic of the cast and the two biggest themes - connection and communication – as you've seen them unfold throughout this process?
The cast dynamic is amazing. Honestly, everyone loves one another. You have to in order to pull off what we are trying to do. We are all 100% committed to one another when we are on that stage, and we act as a team.
Everyone in this show has to do something they've never done before, and I think that's what connects us. The deaf actors have to follow music, the hearing actors have to learn sign language, and some other actors are learning how to play new instruments. Because of this, we are all constantly working together to help one another. The deaf cast is always helping the hearing cast with their ASL, and the hearing cast is learning more and more about deaf culture every single day. They're allowing us into their beautiful world, and we really are becoming a family.
What is something that you know about Moritz that the audience might not pick up on at first? What type of energy is required to portray this character and how do you cultivate it?
I think one of the most interesting things to do with this show is to imagine what these children would be like if they were alive today. I have always thought that Moritz is the kind of child who has big ideas, and big feelings, but was just never given the creative outlet. Maybe his mind doesn't work in a rigid classroom setting, you know? But if he was given the chance to write, or paint, or act like Daniel and I, maybe he would have been okay. Daniel and I agree that Moritz is significantly smarter than his teachers give him credit for. This holds especially true in this production, where he is deaf. He doesn't even have a language to express himself. His teachers forbid his use of ASL, and he is incapable of speech, so he is trapped inside of his own mind. If the teachers actually cared to see what he had to say, maybe things would have been different for him.
As far as energy is concerned, it requires a lot to play this role. He is riddled with anxiety, is almost always on the verge of a panic attack, and is constantly exhausted. I get my energy from the music. When I hear those first chords of "Bitch of Living," I'm immediately ready to do the show.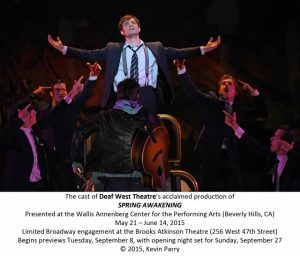 Like you mentioned, music is a huge part of the show and this score is so powerful. Is there a certain song that strikes a chord with you personally?
"Don't Do Sadness" has always been that song for me. The writing is genius. It's like a folk/punk anthem that doesn't really sound like anything else I've ever heard. The lyrics also tell this beautiful story of a boy trying to convince himself that everything is going to be okay, even though he knows that it won't be. It's tragic and beautiful and a complete joy to sing. There's a lot of depth to find in all of these songs, but that one stuck with me immediately.
I read that you had the chance to perform with Duncan Sheik recently – was that surreal?
Basically every single part of my life right now is surreal, and that was no exception. We were performing a concert at 54 Below and he just randomly decided to hop on stage and play guitar for "Don't Do Sadness." I was just like, "Well. Okay. This is completely ridiculous."
What is your hope for audiences seeing the show in terms of lasting impressions/lessons learned?
Two things. First, I really hope the audience realizes the potential in reinventing theatre. What Michael Arden, Deaf West, and the entire team have done with this show is honestly mind-blowing. They took a piece that was already so loved and so breathtaking and completely flipped it on its head. What's even more amazing is that it almost feels like this is the way the show was meant to be done. I can't even imagine these characters not being deaf any more. I mean, what's more brilliant than taking a show about children and their parents' inability to communicate with them, and making those characters actually unable to communicate. It really is amazing. I hope this sparks creativity in more people.
Secondly, I think that if one person leaves the theatre each night more interested in deaf culture, our show is a success. There is so much pride and strength in owning one's deafness, and I am so proud of what my deaf cast mates (and now friends) have been able to accomplish. They are smashing down boundaries every single day and are showing the world that deaf CAN.
Catch Alex in Spring Awakening for 18 weeks only! Previews begin on September 8th and Spring Awakening officially opens on September 27th at the Brooks Atkinson Theater.