Interview: Andrea Marcovicci on the Great American Songbook and Her One Piece of Advice for Cabaret Performers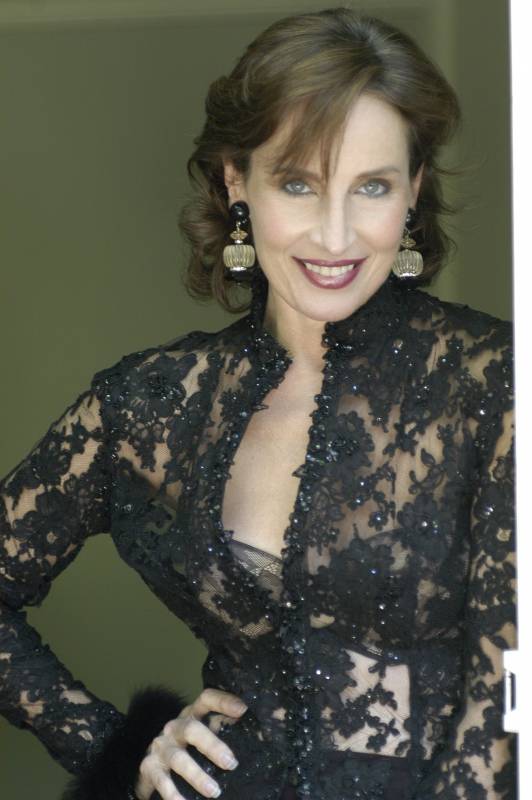 The sensational Andrea Marcovicci will celebrate her birthday by giving her fans the gift of her voice and storytelling. On November 18th and 19th, the legendary entertainer will bring her new show, Let's Get Lost, to Feinstein's/54 Below. As a pre-celebration we talked to her about her process for choosing songs, her favorite work on film, and she shared her advice on what might be the most important thing to know about cabaret.
You're no stranger to celebrating your birthday while working…
I kinda have a habit of working on my birthday (laughs)
...do you see your role as being a hostess to strangers and friends who come to celebrate with you?
Yes, that's a lovely way to put it. I do have a loyal following who tend to love to come on my birthday, which is very nice. I'm performing on the 18th and the 19th, so it's a lovely way of celebrating because after singing in New York for over 25 years I know I'll see many familiar faces.  I've never sun at 54 Below so I'm sure I'll see many new faces as well.
You had a show at the Oak Room for 25 years, and the fact that Michael Feinstein joined forces with 54 Below opens the door for a new era of cabaret.
Isn't that wonderful? I think Michael's imprimatur is a very vital one, and he'll bring lots of people to 54 Below, and make people aware that the Great American Songbook is alive and well.
You're also a keeper of the Great American Songbook, which makes me wonder is it ever easy for you to make a selection of songs for your shows?
No, it's never easy, but on this particular show I've chosen favorites from over the last 20 years. I've chosen favorites I wanted to sing on a celebratory night, so I have a tribute to Audrey Hepburn with "Two for the Road", a tribute to Fred Astaire with "I Won't Dance" and "A Fine Romance", a tribute to my mother with "Smoke Gets In Your Eyes" and "Say It Isn't So", and a favorite that I did as a recording many years ago of "These Foolish Things". It was not an easy process to pick favorite songs from the past 20 years.
You do a lot of research before your shows. Have you found that knowing more about the lives of the artists you love through their biographies changed the way in which you appreciated their music and films?
It certainly has in the past when I was doing an entire night of a single composer, over the years it's enriched everything I've done, to have spent so many years studying them. I wouldn't trade that for anything in the world.
You love Fred Astaire and I can't help but wonder growing up which of his movies did you dream of saying "move over Ginger Rogers" and being a part of?
Swing Time!
On film you starred in horror films like The Hand and The Stuff. Both scary classics I'm sure many people watched over Halloween.
(Laughs) I hope so! As much fun as those were to make, I still love The Front, which I made with Woody Allen more than anything else. It was politically important and at the same time deeply charming. Spending time with Zero Mostel and Woody Allen is one of the highlights of my life.
You've taught cabaret in places like the Perry-Mansfield school. What would you say is one basic mistake people keep making when it comes to cabaret?
I enjoy teaching very much. I think the most important thing I say when I'm teaching cabaret is "to thine own self be true", sometimes people assume a different personality when they get onstage, and they're singing songs that they think they should sing, rather than songs that come deeply from the heart.
You were last on Broadway in Any Given Day, and you've commented on the insularity of theatre life and how it turned you off, as a young woman, from wanting to be a stage actress exclusively. What things would you have changed to make theatre feel more welcoming?
My Broadway life was just a bit of luck, one way or the other, I would be very, very happy to be on Broadway at any second. I just didn't have the luck that other people have had, my short times on Broadway were complete heaven. I just adored it.
As a cabaret performer you've helped preserve the Great American Songbook for future generations. But while you're paying homage to people like Cole Porter and the Gershwins, your shows and performances are unmistakably Andrea Marcovicci, how do you balance paying homage to great artists without losing yourself in the process?
Since every choice is my choice, that's the wonderful thing about cabaret, it's the most personal kind of entertainment you can possibly do. Even if you have an enormous songbook, like let's say the Gershwins, you're still making every choice from your own particular heart. So it ends up, no matter what, reflecting your sensibilities.
On November 15th Andrea Marcovicci will perform at The RRazz Room in Philadelphia. For tickets and more click here. For tickets to her birthday shows at Feinstein's/54 Below click here.