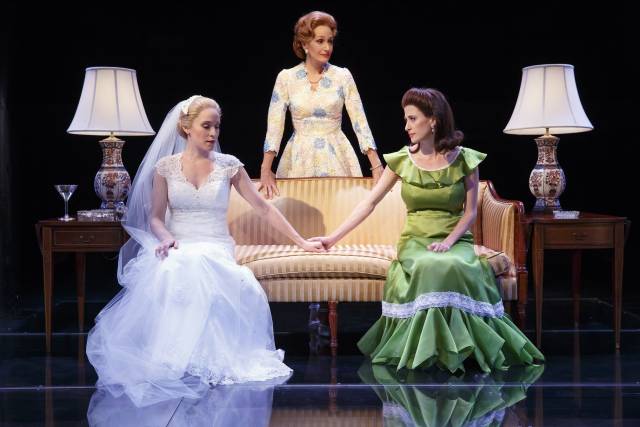 When Betsy Morgan bursts onstage as a frantic Tricia Nixon at the height of an emotional breakdown, uncertain if her wedding is a cover-up for the Watergate scandal, we're startled. We've seen this iconic wedding dress before, only its wearer was slightly more composed at the time, gleefully arm-in-arm with her then-innocent father. In First Daughter Suite, currently at the Public, we get a glimpse at a very different snapshot into the lives of the fearless women behind the most powerful men in the world.
With credits such as Broadway's The King and I, Les Miserables, and A Little Night Music under her belt, Morgan is about as much of a stranger to fearless women as she is to the stage; that is to say, not a stranger at all. She was kind enough to speak with this musical theatre nerd over the phone about magic marker mishaps, playing multiple personalities, and her good friend (and creator of First Daughter Suite) Michael John LaChiusa.
Tell me about your earliest experience in the theater that made you want to perform.
My very first performance onstage was when I was graduating from pre-school. I went up onstage at graduation to sing "Somewhere Over the Rainbow." My mom played the piano and I just kind of twirled onstage and sang a hopefully adorable rendition of the song. The kicker was that my name was written on the back of my chair in magic marker and I had been sucking on the back of my chair. When I went onstage I had black marker all over my face. (laughs)
What is your dream role?
I guess you always want to do something that's new, that hasn't been written yet. I'm always looking for new Michael John LaChiusa shows to do, even when I'm in the middle of one! (laughs) I guess I like stuff that tests boundaries and pushes audience members to go to places that may feel new or uncomfortable or different. I love being a part of projects that really challenge musical theatre audiences and artists alike. If I have to pick an actual show, I'd love to play Mother in Ragtime.
In First Daughter Suite, you play two vastly different daughters. Tricia Nixon and Susan Ford couldn't be less alike. Yet you've got about a 30-second costume change between playing them--and I'm just wondering how you do it.
When we were in the rehearsal room, switching from Tricia to Susan was a lot more difficult. I had the luxury of not having to switch immediately. If I had a little bit of Tricia lingering in Susan, it was okay because we were in rehearsal. Once we got into the space and into those costumes I think the switch happened pretty automatically. I haven't really left the stage as Tricia before the wig and the wedding dress are off and Susan's jumpsuit, glasses, and camera are on. By the time I go out there it's like I've just stripped Tricia and built Susan into place. As long as I kind of breathe and let all those things take over me, I can do it. There have been a couple of super emotional Nixon performances where I have to take a couple of extra big breaths to let that go. I'm actually a bride-to-be, I'm engaged to be married in May, so sometimes that Nixon piece gets inside my stomach. It can be hard to let it go but i just have to. By the time I go out there I've got to be that other person...and I love it.
I would imagine being an angsty twenty-year-old would be a nice reprieve from being a bride-to-be.
Yeah, but she's so unhappy! (laughs) They both have unique troubles, so to switch from a completely non-manipulative frustration on Tricia's part to Susan, who couldn't be more different...it's very fun to play those differences.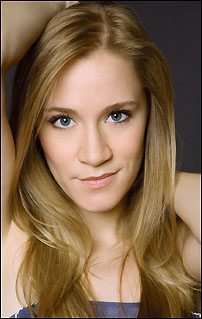 Another striking aspect of the show is how many strong female performers share the stage.
Everyone can do everything, those women can do anything.
It's amazing, that's the way it should be. What was it like working with a cast of such powerful women behind the scenes?
Every day is a master class. We run the gamut as far as ages and personalities. I just come in everyday, take a deep breath, and get out my mental notebook. Whether it's joking around with Mary, or having very sisterly offstage relationship with Caissie [Levy], Isabel [Santiago], and Rachel [Bay Jones], the richness of the relationships that are forming is incredible. It feels so full both as an actress and a person to be surrounded by strong, brilliant, talented women. They're all incredible role models, including Carly [Tamer, the fourteen-year-old].
What inspires you about working with Michael John LaChiusa?
Michael John and I have a totally special relationship because we've been working together for so long. He has watched me grow up as a person and a professional. He has the ability to write not only to who I am but to who these characters are so that the product you get is something perfect for me living in Tricia or Susan. It's completely unique and beautiful and brilliant. As a human, he's just so incredibly supportive. I look up to him and admire him so much. To have the opportunity to work with him over and over again feels like an absolute miracle.
What is so intriguing about a politician's (and their family's) private life made public?
When you read interviews that Hillary Clinton gives, if Carly Fiorina goes and does a town hall event, if they go Christmas tree shopping...everything they put out there is very intentional, it's chosen, it's ideally from their point of view. What the public does and doesn't see is chosen, and for us to be creeping in to those moments and kind of guessing or fantasizing about what it feels like to be completely scrutinized, to have all of these parts of you you have to guard, it's fascinating. The way that we've done that is by humanizing them, by taking those very unique attributes belonging only to those First Families into consideration, and then translating them into the very common frustrations and insecurities that we have as everyday people. Michael John could have easily written a very fictionalized and linear story but he wanted to take that jump into fantasia.
Now for the classic question: what can audiences expect in First Daughter Suite?
They can expect to be entertained and challenged. The emotional journey that we ask of the audience is beautiful and complicated and really requires that you open your heart and experience these women's emotional journeys, some of them playful and others quite devastating. Hopefully, they'll have a very rich emotional experience by not only seeing these women who are very familiar but also by connecting on a personal level. Whether it's mothers and daughters at weddings, being embarrassed or frustrated by your mother, handling loss, all four stories inform each other. It's a very complete evening. It's just different, and smart.
Yeah. I mean, I agree.
Thanks man!
First Daughter Suite runs at the Public Theater through November 22nd.