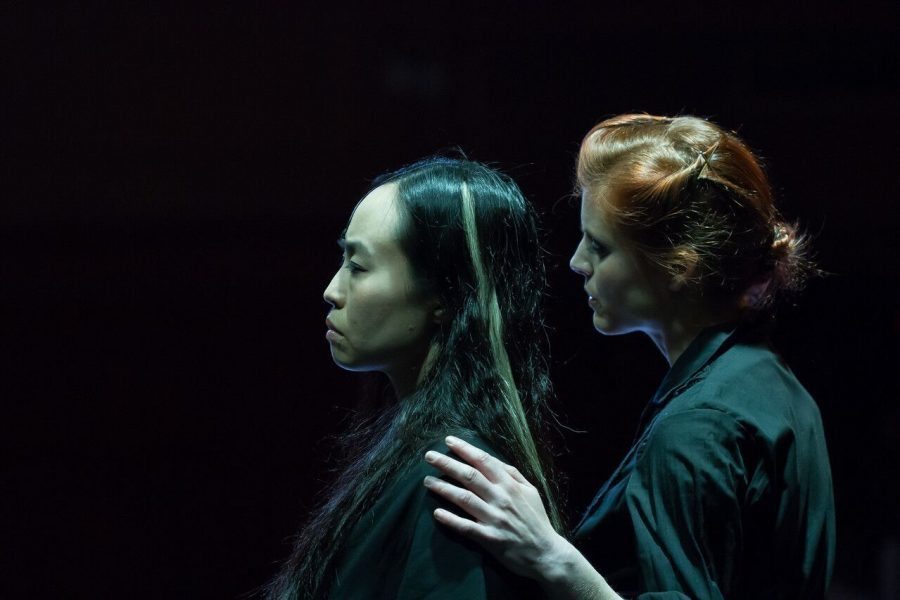 In a city full of ninety-minute plays with no intermission, this writer welcomes the return of the six-hour production. If you're the type to enjoy spending your Saturday night in the theater and nowhere else, Target Margin's latest production at Abrons Arts Center is serving up their usual fare of experimental adaptation with a side of vegan Pu Pu platter. Their marathon production of Eugene O'Neill's mammoth melodrama, Mourning Becomes Electra, peels back the layers of this immense trilogy with dynamism, humor, and a dinner break.
At the box office, your will-call ticket comes with a bag of spicy peanuts. As the tang of chili-lime fills your mouth, you're ushered in, up and around the Henry Street Settlement theater. It's soon clear that the Mannon residence, long seen as a symbol of the family's tendency toward death in disgrace, is not only onstage, but with us always. With characters looming uncomfortably near, then impenetrably far from the constantly mobile audience, scandal seems to permeate the air of the playing space. The audience views the first piece, Homecoming, from the balcony. The further along we move in the trilogy, the closer we quite literally move toward the Mannons' hideous legacy. In contrast to this unique play on distance, the dialogue, in tandem with the highly stylized movement of the ensemble, follows suit. Moments of heightened camp, a nod to O'Neill's perceivable fondness for 19th-century melodrama, are swiftly broken by scenes spoken with cinematic softness. Through distance, sound and space, Target Margin keeps the marathon moving forward without feeling like a scourge (though our mourning heroine might disagree).
The production, directed by David Herskovits, boasts an incredible performance from Target Margin ensemble. Satya Bhabba, playing all three of the Mannon (would-be) patriarchs, gives each of his characters distinction while harping on the psychosexual strings that bind these characters together. Similarly, Stephanie Weeks as Christine Mannon, and Eunice Wong, as our mourning daughter Lavinia, work in tandem as two sides of the same tragic coin. Whether gesticulating wildly or whispering in our ears, Weeks captivates. By the end of the evening, Wong, wrought with that ancient battle between fate and character, breaks our hearts.
As I feasted on my vegan Pu Pu platter during intermission, I waxed poetic on why sustenance is so crucial to one's ability to dive deeply into big themes, dramatic or otherwise. Suffice it to say that Mourning Becomes Electra will leave you digestively and existentially satsified.