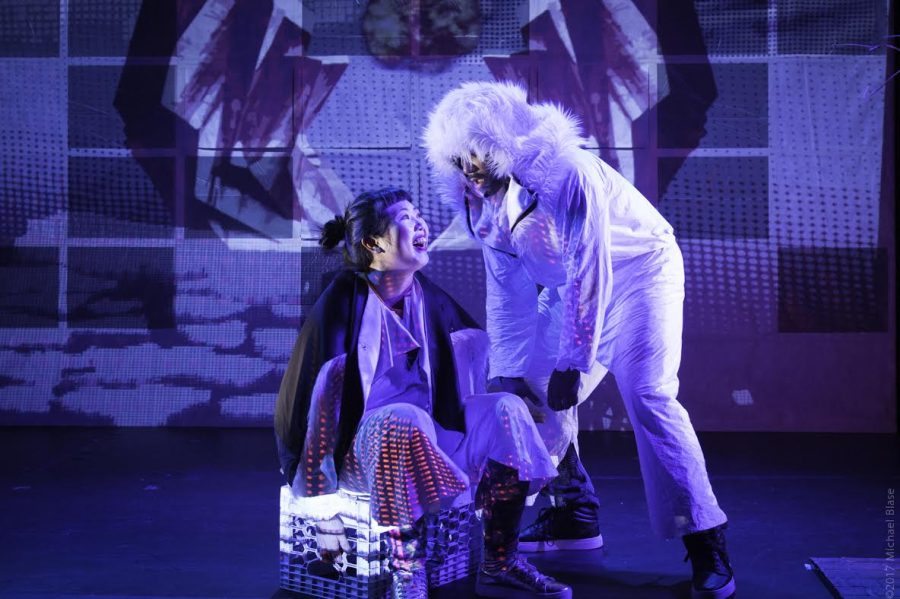 On the side of a building on Wyckoff Avenue in the rapidly commodifying neighborhood of Bushwick, Brooklyn, an artist erected a mural. The building owner's nephew, 27-year-old Will Giron, claimed that the problem was not the art itself, but the lack of accountability those who greenlit the project took when modifying the private property of Bushwick natives. This practice, now called art-washing, has become a colorful symbol of the violent gentrification plaguing many working-class, metropolitan neighborhoods. In addition to losing their homes, residents lose their history. Bamboo in Bushwick, a new play by Ed Cardona Jr., gives audiences a look at gentrification that is entertaining, educational, and honest.
Gentrification is a fight over territory, and in a small corner of Bushwick--a wall. At the beginning of the play, a mysterious tagger has branded the wall with the word "remember." Crispin (played by José Antonio Melián), an older Puerto Rican man who's lived on the block for decades, prepares for a game of dominoes. Edson (played by Arisael Rivera), a handyman, is disgruntled, as he's been instructed to prime the vandalized wall. Artists will be arriving shortly to work on a mural as part of a "beautification" project, and Edson needs to get the job done. Magalia (played by Edna Lee Figueroa), a majarete vendor, and Swayze (John J. Concado), a struggling photographer from Queens, round out the cast of neighbors. Throw in two rainbow-clad hipsters (Michelle Sui and Clinton Lowe) come to re-paint the wall, and the complex conflicts of art and property ensue.
The playwright's note states that the play is set "on this side of the wall." Happenings on the other side of the wall give an outlandish look at the rising tensions in a neighborhood exhaustingly described as "up and coming." Cardona Jr., in a completely inspired stroke of the pen, creates another play-world based upon a real art-washed mural in Bushwick. The brilliance of this move lies in both the safety of discussing painful realities in fantasy settings, but also in using a gentrifier's mural as a subversive jumping off point. Suffice it to say that there are polar bears, and the whimsy of this alternate storyline breaks up the naturalism of the domino game.
The shared discomfort of all the characters in Bamboo in Bushwick with their changing surroundings is so real, it's unsurprising that the writer and director based their sentiments off of interviews with Bushwick residents. Director Ana Margineanu delivers many interesting choices when portraying both sides of the wall. As shown by the talk back at my viewing, we all have a lot to say about the topic of gentrification. The point of great theater is to strike at our feelings and leave us wondering why. Bamboo in Bushwick definitely leads that conversation.