Interview: "Daddy Long Legs" Composer/Lyricist Paul Gordon on Adapting Jean Webster's Classic Novel for the Stage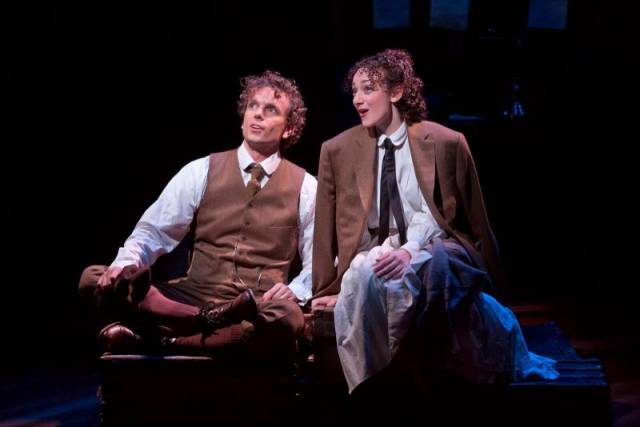 With an impressive résumé that includes hits such as Emma and Jane Eyre, the award-winning lyricist, composer, and librettist Paul Gordon takes great pride in shining a spotlight on the classics. His most recent work, Daddy Long Legs, which has the distinction of being the first Broadway or Off-Broadway show to be live-streamed worldwide, is based on Jean Webster's classic novel about the sweet and intimate epistolary romance between Jerusha Abbott and the benefactor who changes her life, Jervis Pendleton.  Currently playing at the Davenport Theatre, the musical has a breathtaking score reminiscent of a simpler and more romantic time, and the original cast recording is now available from Sh-K-Boom Records.
StageBuddy had the chance to speak with Gordon about his collaboration with book writer/director John Caird and their journey bringing this classic novel to life on the stage, working with the talented Megan McGinnis and Paul Alexander Nolan on a sound that captures the beauty and vulnerability, and why intimate shows like this deserve a special place in today's theater community.
How has your background prepared you for the journey with Daddy Long Legs?
Paul Gordon: I was a pop songwriter for many years and then started gravitating toward writing musical theatre. I dabbled here and there, and wrote some rock musicals at a time when I was playing in bands and writing for various recording artists. Around 1990, I started working on Jane Eyre on my own, without any connection to the Broadway world, and through that process met John Caird and we formed a great collaboration. We were thinking about what we wanted to work on next and John's wife (who grew up in Japan) recommended a novel that was very popular in Japan, but unknown in the U.S -- more known in England than here -- but ironically written by an American author, Jean Webster, whose great uncle was Mark Twain. The novel wasn't very popular here, but I immediately took to it, and started working on it, and I think that our show is very true to Jean Webster's original version. Many people come and hope it's like the movie, but end up being pretty pleased with what we put together, even though it's quite different from what they expected.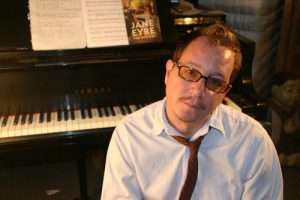 What is the secret to composing a score that reflects the beauty and heart of this classic novel?
I always let each piece inform me of where the music and lyrics want to go. I rarely come in with a preconceived idea of what music should sound like or what I should do stylistically. With Daddy Long Legs, I opened the book, started reading and the words started jumping off the page as song lyrics -- I heard acoustic guitar in the score very early on and though there are some complex melodies and piano, there are also some simple strumming songs that echo my pop music roots. Daddy Long Legs is more of a hybrid between musical theatre and some of my pop folk sensibilities.
Describe how the unique and lovely voices of Megan McGinnis and Paul Alexander Nolan brought the storyline of Daddy Long Legs to life.
It was really a wonderful experience to work with both Megan and Paul while we were putting the show together, and of course making the record, because we had two truly gifted singers who embody the music so perfectly and succinctly. I've worked with Megan over the years and she's always had this gorgeous and illuminating vocal sensibility that is such a gift to listeners. No one sounds like Megan - every note she's ever sung has always been in tune – and to have her sing my songs, I feel like I win the lottery. I'm just in awe of Megan and her interpretation of the songs. Paul Nolan was new to me – I saw him when I saw Once, and he was fabulous and has such a gorgeous instrument. From day one, he was always so willing to be a team player. He's a magnificent singer and what was really inspiring was I had some new Jervis songs to write and really got a sense of his voice and tailored it to the songs "My Manhattan" and "What Does She Mean By Love?" to suit Paul's voice and to me it was a home run. I couldn't have been happier.
What emotions do you want the recording to evoke for listeners?
That's such an interesting question; I don't know that I've thought about it in those terms. I consider myself a selfish writer (laughs) because it's the only way I know how to write. I get an idea of the audience's reaction when I'm in the theater and then can make adjustments because I want them to enjoy what we're doing. I think about what works for me. Once I figure out what I like and share it with the world, then I start to get some solid feedback and the next level of creating the piece begins to happen. I think it's a mistake when writers are trying for something. As the writer, I'm the audience and hopefully I represent a couple of audience members and then that grows and we figure it out from there.
Would you say the music of the show is accessible to all generations, and not one specific target demographic?
Our intention was to make the musical accessible to all audiences and especially younger audiences. On this show, I've worked with music director Brad Haak who I've worked with on several shows, including Emma, and he came in with a really clever orchestration idea. Originally it was a band of six (piano, guitar, bass, drums, violin and cello) and when we moved into the theater, we were restricted and had to reduce the band from six to three (piano, cello, and guitar). Our disappointment shifted to opportunity and relieving the orchestra of three instruments really helped the musical sound of the show and we were very pleased with the ultimate result. The music is now intimate, which is what it was always meant to be and the sound is very acceptable to all genres. Younger audiences can relate to it and I feel like the score offers some good melodies, and good melodies appeal to all of us -- regardless of age. Ultimately, I feel like the music has the opportunity to bring in a younger audience and I hope it does.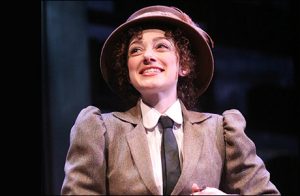 Thinking about the current trends in theater (e.g. rap in Hamilton, jukebox musicals) why is re-inventing a classic like Daddy Long Legs so important?
I really feel like there's room for everyone. The jukebox musical (while not my favorite invention) has been done well a couple of times. It brings in people who might not go into the theater regularly, and that's a wonderful thing. Ditto with Hamilton or any show that's innovative and introducing a new genre of music that a new market of people can relate to. I hope there will always be room for the traditional musical – the book musical. Whether it's based on existing source material or inventions out of one's head – those are the musicals I'm most interested in.
What do you want the legacy of the show's music to be and how will the cast recording live on after the final curtain?
While I have no control over legacy, I hope people appreciate the score and the show for what John Caird and I intended which was a heartfelt journey of a young woman to better herself. It's an empowering tale for women and we want people to leave the theater or after listening to the record, to feel uplifted – to feel positive. I feel like there's so much sadness in the world and some of the theater pieces that I tackle are poignant and have real life struggles, but I sometimes gravitate to projects that will give us another point-of-view. Sometimes, I walk into the theater and I want to leave feeling good. I don't want to always be potentially bogged down with a life lesson. With Daddy Long Legs, the real intention is to make people feel uplifted, feel good, and have a positive view of the world and to entertain them – make them laugh and make them cry. I think John Caird has put together a story that is really capable of doing that and we are really proud of our little show. And it is a little show -- it's not a blockbuster musical, and we hope there's a place for small stories this intimate. It's two characters telling an intimate story and I hope there's room for that in today's theater community.
Daddy Long Legs is currently playing at the Davenport Theatre. For more on Paul and his career, visit: https://www.paulgordonmusic.com/