Interview: Drew Seeley on 'Yellow Day', Playing Bob Gaudio in 'Jersey Boys' and How His Theatre Background Proved to Be Essential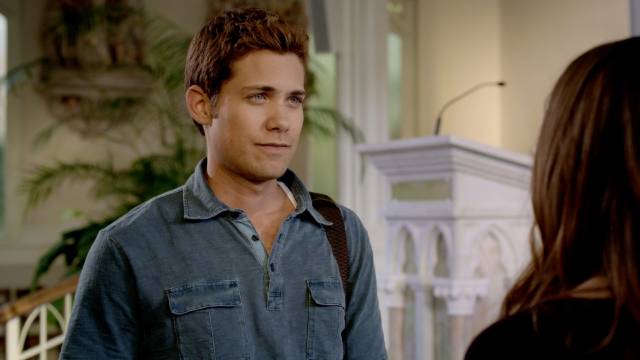 In Yellow Day, Drew Seeley plays a man whose worldview is changed during the title day; time during which god reveals himself to people in need. The faith-based film is set in real life Camp Grace and aims to shed light on the struggles of people in need of some spiritual comfort. Combining live action and animation, it's a family-friendly depiction of grace and, regardless of one's religious beliefs, it has an optimistic message. Seeley became known to mainstream audiences after his involvement in the highly successful High School Musical concerts, which saw him play arenas in North and South America along with Vanessa Hudgens, Corbin Bleu and Ashley Tisdale.
But even before the High School tour, Seeley had been contributing to the series as a songwriter, and had already garnered a Broadway credit in the revival of Show Boat. Seeley made the transition from teenage star into adulthood seamlessly, racking up stage credits in The Little Mermaid and the National Tour of Jersey Boys. I had a chance to speak to him about why films like Yellow Day are important, playing a real life character onstage, and how having a theatre background proved to be essential for his career.
Why is it important for families and for children, especially, to see films like Yellow Day?
Death and disease are things that happen, and the film is a good framework to teach kids about some of the harsh realities of life. There aren't many faith-based films getting wide releases these days, I grew up going to church - Presbyterian and Baptist - and I think it's sorely missing from entertainment these days. It was something I was happy to get involved with because it's something that I believe in.
Faith-based entertainment can sometimes be mocked by people with different worldviews, but lately we've seen some faith-based films become sleeper hits. Do you feel this is because this is an audience that's been neglected?
I feel there's a huge audience that's not being served in entertainment. No one wanted to make The Passion of the Christ for example, and it broke every possible record. There is an audience for stories about Jesus and faith. Yellow Day is more of a family oriented film, so we're definitely trying to fill that void.
What were some of the faith-based films you grew up watching?
There was an animated series we had on VHS, with stories about the Bible. I can't even remember the name, but my sister and I grew up watching all these stories and we learned more watching these than any other thing. Visual entertainment when you're a kid, and it's presented in an imaginative way, is a great way to drive some of these messages home, that kids might not be paying attention to otherwise.
You've been in the entertainment business since you were a kid, watching Yellow Day, I had to wonder if you had taken on the role of mentor with the kids you were working with who had never done movies before?
Yeah, I was blessed as a child actor to have adults that guided me and showed me the ropes, so whenever I have a chance to work with younger actors, I love helping them out.
You did Show Boat when you were very young. How was it to get to work with Hal Prince? Was it surreal, or were you less intimidated because of how young you were?
It wasn't overwhelming then because I didn't know who any of those people were (laughs) they were just the director and choreographer. Now that I'm an adult, I think "wow!", that was my first professional acting job. It was an open casting, I was cast as one of the kids and worked with Elaine Stritch, Susan Stroman choreographed it, but I remember it turning a switch on in my brain telling me this is what I wanted to do. It was 22 years ago now! And I'm still on the stage, so not much has changed.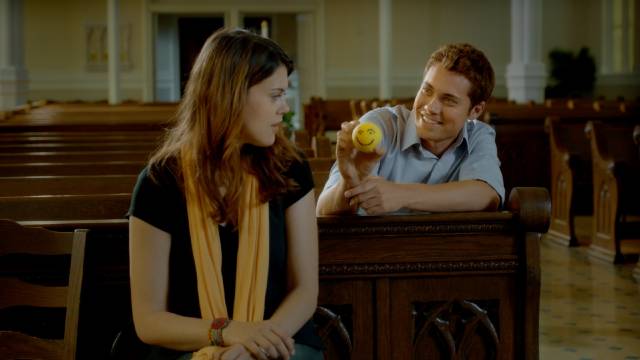 Just in 2015 we saw Vanessa Hudgens on Broadway, and thanks to the live NBC and FOX TV specials we're seeing many other people who were associated with High School Musical, going back to their stage background. Would you say doing theatre defined who you are as an actor?
Definitely, the people who say theatre actors can't do film or TV are full of horsecrap, I think if you're an actor you can bring it up or down, however you need to. If I didn't have a theatre background I would've never been involved in High School Musical, those led to The Little Mermaid and A Cinderella Story...so nothing I've done in my career would've happened if I hadn't spent a lot of time onstage as a kid. and learned all different kinds of things, not just acting, but dancing and singing. All the roles you get the opportunity to audition for, you don't have to be a master at everything, but you need to be proficient, and all the High School Musical kids are excelling at this, Corbin [Bleu] did In the Heights and Godspell, I'm lucky that I got into this when I did. It's so much fun!
I admittedly was too old to like High School Musical, but I had a lot of fun with it, you even got an Emmy nomination for writing a song for it…
Yeah, the songwriting was what got me interested to begin with.
Now I wanna ask about Jersey Boys, how is it to be on tour playing Bob Gaudio?
It's kinda daunting thinking that you're playing someone who's still alive, and is still so relevant. I don't think he's seen my performance, but I do hope I have a chance to meet him. I did meet Frankie [Valli] which was really cool. I have a lot of common with Bob, he's the character in the show who doesn't always need to be in the spotlight, he sits back and lets Frankie be the face of the group. In real life, I'm more of an introvert, even if I'm performing and doing a lot of projects here and there. I'm not the loudest guy in the room. Bob's also a prolific songwriter, which is something I've been doing since I was 13. Even though I'm on the road I'm still writing and releasing music. Playing Bob is difficult, but I get to sing all these great songs every night, the show's been running for ten years and people love it so much they keep coming back to it! We were in Tokyo over the summer, and this girl from Japan just came to Texas and saw the last three shows in Dallas, she's seen the show over 100 times. Whatever it is about it, it connects to people so it's great to be a part of it.
What are the things you need the most when you're on tour away from home?
My wife and my dog! When I'm by myself on the road though I need my Roku, so I can go on Netflix and HBO. I need Spotify for music, I also like having a good pair of running shoes cause I like running. The first thing I do when I arrive in a new city is run, so I can get map it out and get to know it by foot. That's about it, maybe some good whisky too (laughs).
What are some of your favorite Sondheim parts and songs?
I did Into the Woods in high school, and played Jack and the Wolf, which was a blast. I love that show, I love all the music in it so it's difficult to pick a song, since it's my favorite of his musicals. I guess I'd also like to do West Side Story. Those two I'd love to do on a professional level now that I'm all grown up.
Yellow Day opens in theaters on January 8.