Interview: Mark Edwards on Jersey Boy Nick Massi and Why We Need Theatre Now More than Ever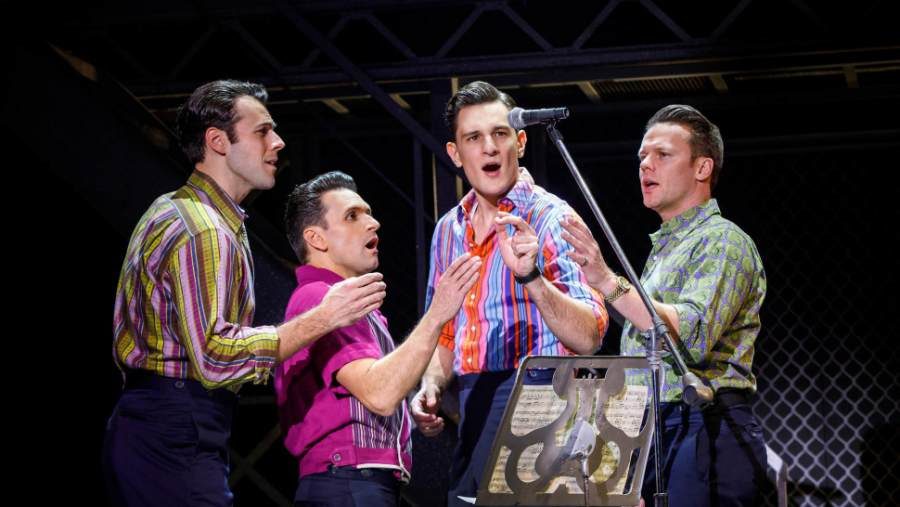 If you mourned the closing of Jersey Boys after its 11-year run on Broadway earlier this year, you'll be pleased to learn that the boys from Jersey are back in New York City -- this time in a more intimate setting Off-Broadway at New World Stages. We spoke with Mark Edwards, who plays Nick Massi in the current Off-Broadway production, about the story behind his character, how he's like Nick, and why "Cry For Me" is such a great song. Mark Edwards is no stranger to Jersey Boys: he played in the touring production last year, and his love for the musical shows through both onstage and off.
Nick is kind of the most enigmatic Jersey Boy. Has playing him given you any insight into his character that you could share with us?
Oh absolutely. You know, Nick is actually a really interesting dude, especially in the writing of the show. When Rick Elice and Marshall Brickman were writing the show, he was the only one of the Four Seasons who was not currently alive. So they had to create this character based on not being able to interview him, just based on what all of the other guys said. So they created this guy who they made a little OCD, and who has these problems: he's a sexaholic and an alcoholic. And then on opening night, out at La Jolla in 2004, his family came to see the show. And they came up to the writers and the creators afterward and they said, "How in the world did you do it? It was like we were seeing him up there onstage. How did you pinpoint him so well?" So it was really neat - from all of the different interviews they did with the other three Seasons that were alive, and people they talked to, that they created this enigmatic person, as you put it, who is just a lot of fun to envelope. And in a lot of ways, I kind of find a lot of myself in Nick. I find my particularness: I'm very particular. And getting to explore him every night is actually a lot of fun.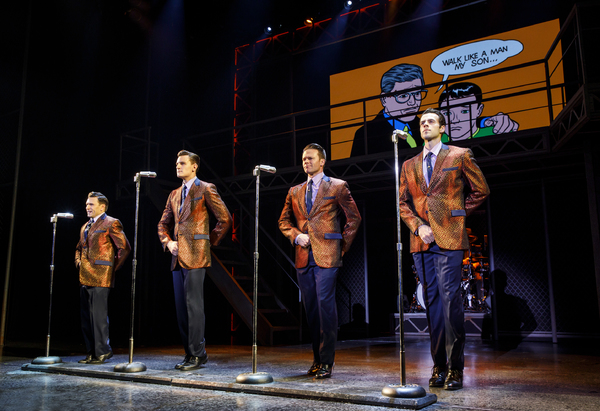 Why do you think Nick keeps bringing up the idea of starting his own group?
All Nick Massi really cares about is the music. These other three guys in various ways are trying either to run a business, they're trying to make it big, or - you know Tommy's trying to get his money and kind of further himself in his position in the group and status in life. Bob's trying to figure out his way and kind of writing his songs, and Frankie's, you know, being up front. All Nick really cares about is just playing music. He doesn't care if he is in a little tiny lounge somewhere, if he's on a big giant stage, if he's in jail. It doesn't matter where he is, he just wants to play the music. So at any of those moments where he keeps talking about starting his own group, it's more about, "OK, enough of this drama. Enough of being shut out of a bowling alley. Enough of playing this comedy junk. You know, maybe I just need to start my own group so all I can worry about is playing music, and I don't have to worry about any of this other drama." (Laughs). Little does he know that it takes a lot more than just playing music to create a group. But I think that's the big reason: he just cares about the music. He just cares about playing. He cares about being involved in the music, because it's what takes him away, a lot of times, from the rest of the issues that he may be having in his life one way or another.
As you said, Nick's kind of OCD, and rooming with Tommy is one of the things that seems to push him over the top.
(Laughs). Yeah.
Have you ever had to share a room with someone whose habits drove you crazy?
I think we all kind of have that experience from time to time. Anybody who's ever lived the college experience, and has lived in a dorm experience with one, two, three, four other people – you kind of have to figure out how to live with other people that have different personalities and different ways of living than you do. What's funny about Nick is that he just represses it for so long. You know, it's like, "OK I'm not going to say anything, I'm not going to say anything, I'm not going to say anything." And then it's one tiny little thing that just sets him off. And I think all of us can relate to that in some way.
Are there any differences between the touring production of Jersey Boys you were in last year and the Off-Broadway production you're in now?
There are a few small differences here and there in terms of the look of the show, but those are quite negligible. I mean, Crewe's couch looks a little different. And the organ and some of that kind of thing looks a little different. But the bones of the show - the script has not changed. So no. But for a couple of small set things here and there, it really has not changed at all. It's still the same amazing show that people have loved, that was on Broadway for so many years. And now it's just back in a more intimate environment. I think the biggest change that people would notice coming from Broadway to Off-Broadway is the size of the house itself. It's only a four hundred and ninety-nine seat house now, whereas the August Wilson, I'm not sure how many seats were in the August Wilson, but much more than four hundred and ninety-nine, that's for sure. So it's just a more intimate experience, which I think lends really well to the play of Jersey Boys.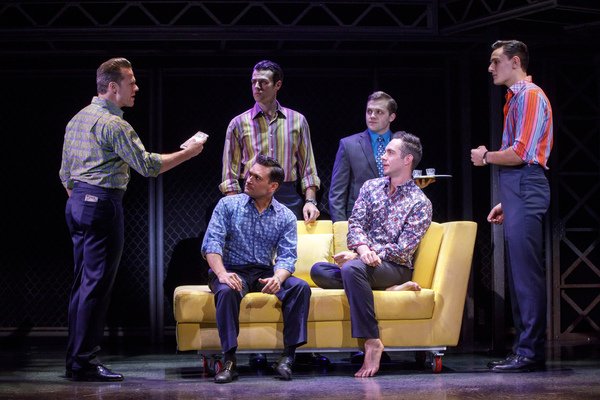 What is your favorite Four Seasons song to listen to and your favorite to sing?
Oh, wow. I don't know if it's my favorite to sing or to listen to, but I really have a connection to "Cry For Me." "Cry For Me" is a really interesting story because it was a throwaway song that Bob Gaudio had created. It was on the B side of an album that nobody really listened to. And it wasn't really until Jersey Boys came out that "Cry For Me" then became so much more popular. But it's one of my favorite ones; I think it's probably one of my favorite ones to sing, and it's probably one of my favorite songs from the show, because it's really the first time in the entire show that you hear that Four Seasons sound. I think my favorite to listen to – I mean, I love "Can't Take My Eyes Off You" – I think that's a favorite for a lot of people, just because it almost sounds like two or three different songs mashed together, you know what I mean? So it's kind of fun to get all those feelings and vibes out of that song.
What's your favorite thing about performing in Jersey Boys?
Oh gosh. I can only pick one?
Well maybe a couple, if you can't choose one.
Gosh. Well there's a couple things. First of all, and this is going to sound stock and cheesy and bland, but it really is the truth: I'm fortunate and blessed enough to work with an incredible team of creatives, and an incredible cast. And the cast cannot be overlooked. I mean, look, a lot of times, we as the Four Seasons might be the focus because we are playing these four really famous people. But our performances are only as good as the cast that is around us, and this cast is absolutely incredible. Every single one of these actors and actresses are playing multiple roles and doing it at such a high level. So it is so much fun to be able to go out onto the stage every night and play. Play with my friends, you know what I mean? Wouldn't it be great if all of us could have a job that we go to every single day that we absolutely love? Just playing and goofing around with our friends every day. And that's what I get to do. So I think if I had to pick one, that would be it: I get to work with an incredible group of people every single day, and go out on the stage and just have fun.
And tell an incredible story. OK, I'm going to go back on what I just said and I do have one more thing that I do love doing about this - and it really cuts to the core of why I do what I do. Especially now in this day and age, I think that theatre, and especially a great show like this, is meant to kind of take us away from our lives. So what I love doing is going out on the stage and, without saying it explicitly, just kind of going, "You know what? Audience that's here to see us, we're going to take you away to a different place where you don't have to think about anything that's going on in your life. And that's our gift to you for the next two and a half hours." You know, take some time away, just escape into a different world, enjoy yourself, have fun with us, listen to some awesome, awesome music, watch a great show, be entertained for the next two and a half hours so that you can get away from whatever it is that's going on in your life. I think that's really important, especially right now when social media is so rampant and everything around us is hitting us in the face twenty-four seven, I think it's so nice to be able to go to the theatre and be taken away to another world and not worry about anything that's going on in our lives for a little while. So that's the other thing that I love doing. Particularly about this show because it is so well written and it is such great music, that it's very easy for people to get enveloped in it very quickly.