Interview: Hannah Corneau on Starring in "Evita", Working with Barry Manilow, and Her A Capella Group's Hit Tribute to "Hamilton"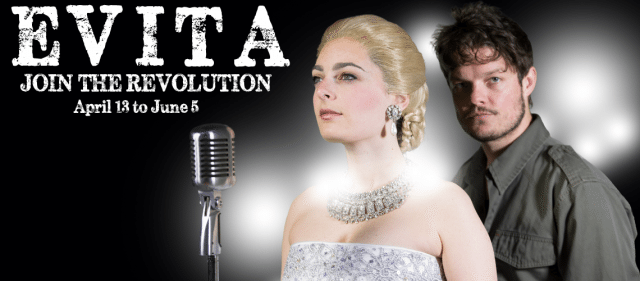 New York native Hannah Corneau is preparing to take on the role of one of history's most intriguing women -- the fearless, stunning and tactical Eva Peron -- as she brings her one-of-a-kind talent to the windy city this spring. Currently in rehearsals for Evita, which begins previews at the Marriott Theatre on April 13, Corneau is letting the glorious story of this iconic woman soak in.
From her time at Syracuse University, Corneau has let her own individuality lead the way when it came time to developing her career and allowing the journey to unfold naturally. She recently appeared Off-Broadway as the stand-by in Daddy Long Legs for Jerusha Abbott, and is a part of the singing group RANGE a capella, which broke the Internet this February with their show-stopping rendition of Hamilton [in 7 minutes]. Down to earth, ambitious, and radiant, Corneau is having her moment and is the cool girl you are going to want to get in line to see. StageBuddy had the chance to gab with Corneau about finding balance with life on stage, her leading role in Evita, and playing to audiences all over the country.
When did the magical world of theater first draw you in?
Hannah Corneau: There was amazing community theater in the town I grew up in. The first show I ever did was The King and I. Hilarious to think about it now, I know. However, I will never forget peeking through the curtains backstage to watch Anna and The King sing and dance the entire "Shall We Dance" number. It was such an inspiring experience for me, and ultimately what hooked me.
Name that major star who really sold the idea of performing for you?
"Babs". Of course. My mom would always play her songs and gush. I will also never forget seeing Brian d'Arcy James in Titanic when I was 10. When he sang "Barrett's Song" something inside me lit up, and I knew that this (a life in the theatre) was what I wanted to do. Additionally, Linda Eder in Jekyll and Hyde. Need I say more?
During your time in school, is there a piece of advice/lesson that stuck with you and guided your path?
I went to Syracuse University, and what I think is really special about their program is that they foster the talents of true individuals. Each person in that program was different and each had a special spirit. It was a fantastic environment to explore and experiment with what worked for you as a person and an artist. I would say the most valuable lesson I learned from school, is that everyone has their OWN path. Value who you are, what you and ONLY YOU bring to the table and do what is right for you. If you do the work, focus, remain positive and eager you will stay on your path, which will inevitably be the right one. #doyou
Life on stage can be unpredictable. How do you find a balance?
A fantastic turning point in my career was when I was cast to play Ruth in Barry Manilow's musical, Harmony. I had moved to Chicago after school to explore that community, and luckily had been given fantastic opportunities there at wonderful theaters. After about a year and a half in Chicago, juggling a restaurant gig and my artistic endeavors, I received a text from James Calleri, of Calleri Casting, asking me if I was able to send in a self-tape for a new show he was casting. A part that I was "really right" for. I immediately sent in a tape of me singing "My Man" from Funny Girl, and I received an email the next day asking if I could fly to New York for a final callback. About two weeks later I was on a plane to New York for the most important audition of my life. You can only imagine my mother's reaction (a HUGE "Fan-ilow"), when she found out that Barry himself was in the audition room. That audition was the most exhilarating experience because I felt that character in my soul, and when you feel that way, you often get the role. I moved to New York two weeks later, signed with an agency and received my equity card. My life and career changed in a month. What I learned from that whirlwind was that this business is extremely unpredictable, and as contrived as it may sound, what is meant to be will be. Everyone has their own story and journey, and if you are patient and stay true to who you are, the outcome will be bright.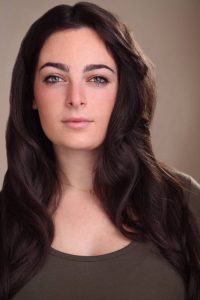 Looking back on the roles you played, what is your proudest moment on stage?
Not to be redundant, but I would have to say Ruth in Harmony was the most memorable and rewarding thus far. I felt that I could really create that role, and truly bring myself to the piece. Ruth is a fighter and a passionate woman on many levels. Fighting for the Proletariat and fighting for her love with a man who was not Jewish during the rise of The Third Reich. Harmony will always hold a special place in my heart. Not only did it change my life and bring my career to a new level, it is such a brilliant piece of theatre. The score that Barry composed for Harmony is absolutely brilliant and it was thrilling to sing his music and portray this extraordinary woman with some of the most talented and genuine people I have ever met.
You were most recently seen in Daddy Long Legs and spent some time in the shoes of Jerusha Abbot. How did you enjoy your times on stage with that part, and was there a certain part of her that you could relate to?
I greatly appreciate Jerusha's love for life, which I absolutely try to emulate. She is truly an explorer and such an adventurous spirit. She is also such a kind-hearted girl with extreme understanding. I learned wonderful things from Jerusha Abbott.
You are also part of an incredible a cappella group that received some great recognition for your Hamilton performance – tell me about how you got started with the group, your experience, and the Hamilton phenomenon.
RANGE a cappella has been such a light in my life ever since we started the group a year and half ago. I was in an a cappella group at college, and some of the members from that group created RANGE. We held auditions in the city and found amazing additions to the group that ultimately formed RANGE. We have been presented with fantastic opportunities thus far like singing at the E! Oscars Red Carpet, performing at Radio City Music Hall with Kelly Clarkson, being featured on Billboard, working for Sesame Street and Nickelodeon. Our "Hamilton in 7 Minutes" was composed by the co-founder of RANGE, Ross Baum. He saw Hamilton back at The Public when it first started performances and of course, fell in love. He is one of the best composers I know, and he used his brilliance to create such an amazing a cappella tribute to the unbelievable musical that is Hamilton. We had the best time learning and creating that tribute, so it was such a joyous experience to see it received so well.
Looking ahead to your new role in Evita, what are you most excited about and what do you hope to learn from Eva's story?
Eva Peron was such a special woman. A true human being who came from nothing and rose to glory and power. The score of Evita is the most thrilling I have ever sung. I feel so incredibly lucky and excited to be given the responsibility to portray this iconic and spiritual woman. We are currently in rehearsals and this piece has already started to posses my spirit and make me a stronger and smarter actress.
Tell me a little bit about theater outside of New York – how do those opportunities differ from the energy of NYC, and do you enjoy playing to audiences all over the country?
Working regionally has been such a gift. I have had the opportunity to travel the country to meet and work with such fantastic people. The roles I have had the opportunity to play at these theatres have had such a special impact on my life. It is always so interesting to see how each individual theatrical institution is run and what unbelievable things can be accomplished. However, I cherish the time I am working in NYC because it affords me to have an everyday life and a job in one place. That is a beautiful thing, and as a person I greatly appreciate that. I always say, I am a person before I am a performer.
Just for Fun:
Hometown: Clifton Park, NY
New York Pizza or Chicago Pizza: NYC all the way!
Favorite genre of music: Indie Folk #joni
Style Icon: Hard question. I guess I don't try to emulate anyone style wise. I just go to thrift stores and see what treasures will fit me and my personal style.
Favorite Vacation Spot: Anywhere new! I love to travel. If I had to choose though, I would say Israel.
Travel Must-Haves: Good people to adventure with. Often times, my love Gil.
Dream Role: Ilse in Spring Awakening and Fanny Brice in Funny Girl.
Words to Live By: Be a person before you are a performer.
Describe yourself using 3 adjectives: Intuitive, Sensitive and Humorous.
Keep up with Hannah via her website, https://www.hannahcorneau.com/, and for more on the Marriott Theatre's Evita this spring in Chicago, visit: https://www.marriotttheatre.com/show/evita