A new Byzantine Chant-inspired audio drama tells the story of a young empress' rise to power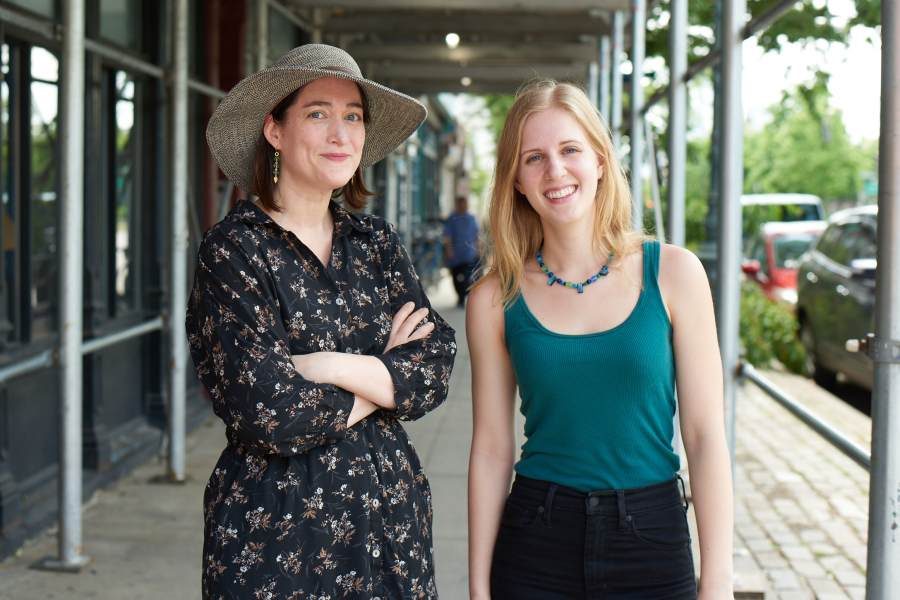 Byzantine Choral Project's ICONS/IDOLS: IRENE tells the story of a child bride from provincial Athens who ascends to the Byzantine throne. Hiding a treasonous secret, the young Empress must choose a side in the iconoclastic wars sweeping the nation. Over twelve musical audio drama episodes, the story comes to vibrant life through the voices of ten women and non-binary performers, singing a haunting score inspired by Byzantine Chant.
We spoke with the writers behind IRENE--playwright Helen Banner and composer Grace Oberhofer--about the inspiration behind their audio drama, the real Empress Irene, and the challenges of recording during a pandemic.
How did you learn about the Empress Irene and what made you want to tell her story?
HB: I've always been aware of these powerful mosaic pictures of Byzantine Empresses and have been intrigued at the way they stare directly at you out of the surrounding gold. Then, over fifteen years ago, I started teaching a course about politics in late antiquity and realized that the purple Empresses had been an extraordinary political phenomenon who, in collaboration with their eunuchs, almost created a new vocabulary for female imperial rule. When I joined the Jam, New George's theater making lab, a few years later and was asked to create something outside my comfort zone, I immediately knew I wanted to start writing about Irene's transformation from orphan girl to Emperor. Her rise is gripping, but she's no heroine. Over five years later, I'm still haunted by her internal contradictions; how she was good and how she was very bad.
GO: Yes, I think that's the most fascinating aspect of Irene's rise to power: as she grapples with power, she often chooses immoral actions, oftentimes betraying those she loves most, even though she was considered an effective leader and started a shift away from previous leaders in the empire. I'm so lucky that Helen brought the history of the purple Empresses into my focus, because it really is a history of imperfect, fascinating women.
What makes her story relevant today?
HB: Irene is faced with a timeless dilemma faced by all outsiders. She wants to participate in power, but the system is explicitly designed to keep her out and she has no way of making a new system. Instead, she has to find ways to bend that old system to her needs, making impossible compromises that damage her and those around her. I think the story is becoming more and more relevant as we develop the work. Writing it has been cathartic and I hope listening to it can be too. The way that beliefs about icons connect to personal conflicts and drive the court into war is very recognizable to anyone living through the stresses of twenty-first century politics.
IRENE is presented in an unusual format: a multi-episode drama with choral music inspired by Byzantine chants. Why did you decide to tell Irene's story in this way?
HB: This is a big story and purposefully epic, so a multi-episode format is perfect. I'm excited that a podcast gives each listener such a personal experience of the score. We've always wanted to have space for all the characters to have their own story arcs and to take the audience from the grandeur and machinations of the court into each character's emotional interior. When a character sings in your ear it connects you to them in such an honest way and I can't imagine telling this story without the expressiveness of Grace's music.
GO: We also developed this format out of necessary constraints that came out of the COVID-19 pandemic. Originally, we had been working with the IRT/New Ohio Archive Residency towards a live, on-stage world premiere of a related piece in fall of 2020, which of course we had to rethink for health and safety concerns. Helen and I thought about how we might continue developing this story at a time when we all were somewhat confined to our homes, and an audio narrative felt like a perfect fit: we could delve into all of the characters of the story, incorporate curated sound design and audio storytelling, and still bring the text and music of the original script to life.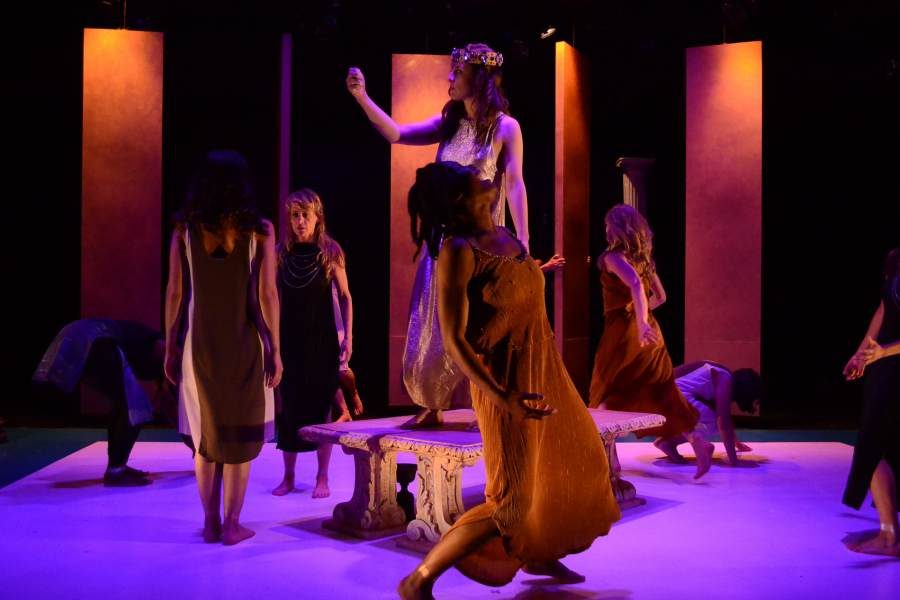 Was there anything about this format that challenged you?
HB: Recording during a COVID lockdown was a giant Byzantine process in itself! Everything you hear was recorded from our performers' bedrooms onto individual laptops and then mixed by our extraordinary sound engineer, Nathan Leigh. That meant directing people over Zoom and navigating through unstable connections and street noise -- often we would get a perfect take only to discover a dog barking in the background. It's a sign of everyone's skill and ingenuity that it all sounds so beautiful.
GO: Yeah, honestly the work that our performers and creative team accomplished was truly herculean! I also feel we successfully tackled one of the biggest challenges right at the beginning of the process, which was: how can we have a bunch of brilliant singers manage to record their voices at the exact same rates and rhythms as the rest of the ensemble from across several different state lines. We ended up working all in the same audio recording software, where I had generated scratch tracks of all of the vocal lines for each of the songs, so that singers could overlay their voices on top of this reference recording. The process of recording all of the different individual tracks taught me so much about my own composition, and did lead to quite a few score edits on my end to create a more exacting roadmap for our ensemble.  
Grace, as a composer of non-traditional musical theatre, what do you like about it as opposed to more traditional music? 
GO: One aspect that I've really loved about ICONS/IDOLS: Irene, and the rest of the works we've created in the series, is the way that it uses sound as such a broad canvas to paint on. Of course there's the influence of Byzantine chant, as well as pieces from Byzantine-era Kassia--one of the oldest known female composers whose works are still around today. But there's also a lot of textures of sound, built into Helen's stage directions from the very beginning, which have inspired devised soundscapes and other ensemble-based sound moments, making the piece live truly somewhere between a play, a musical, and an opera.
Are there any non-traditional composers that inspire you?
GO: I have always been attracted to pieces that lie within these hybrid spaces, not quite fitting into any particular genre, and I'd argue that a lot of the new musical theater/opera currently being developed lies somewhere between two structures, or radically changes the structure in some way. Recently, I've been really tuned in to Grace McLean's In the Green, Heather Christian's PRIME (also in podcast form on Playwrights Horizons Soundstage!), as well as Michael R Jackson's A Strange Loop and Carmel Dean's Renascence.  
Helen, as a former professor, you've obviously brought your knowledge of late antiquity to this project. How does that background inform your work?
HB: Many of the people you meet in the podcast are real historical figures, but they appear in the actual historical record only as caricatures or someone's propaganda. Many of the women are just footnotes. Our focus is on exploring these characters in a way that is satisfying dramatically and musically, but quite free form. We want the work to be thought-provoking but entertaining, and we've embraced the idea of pseudo-history as our framework. It's meant to be wild and escapist, not a history lesson. Where we do use the historical background a lot though is for the social and cultural detail, because that scholarship helps us understand the enormous variety of gender expression in Byzantine culture as well as the belief systems around religion and magic and how that combined to make this such a heated world.  
After IRENE, what's next for Byzantine Choral Project?
HB: There are four plays in the ICONS/IDOLS cycle. We've staged the first two at the New Ohio Theater, and made an immersive installation and podcast out of the first play. A few years ago, we did a workshop for play three and Grace started writing the music and it was gorgeous. The story is about some renegade eunuchs who sail to the island of Prinkipo to bring back Irene's exiled grand-daughter, Euphrosyne from a nunnery and marry her to the brutal usurper Michael. The world is heavily influenced by nineties grunge mixed with sweeping cello melodies and I would love to jump back into its watery weirdness!
GO: One exciting discovery we've made over the past year and a half is the versatility of the ICONS/IDOLS choral play series. The process of adapting the script and score to an audio format felt very natural, and we were also able to create an abridged version of the ICONS/IDOLS: Irene recording to accompany an immersive installation at the New Ohio Theater this past May, called ICONS/IDOLS: In the Purple Room, designed by brilliant set designer Afsoon Pajoufar. It made both Helen and I really excited about creating more installations or immersive environments for the story, as well as adapting the second play in the cycle into a potential season 2 of the podcast.