Interview: Jake Epstein on the New Off-Broadway Play "Straight" and Fighting Against Labels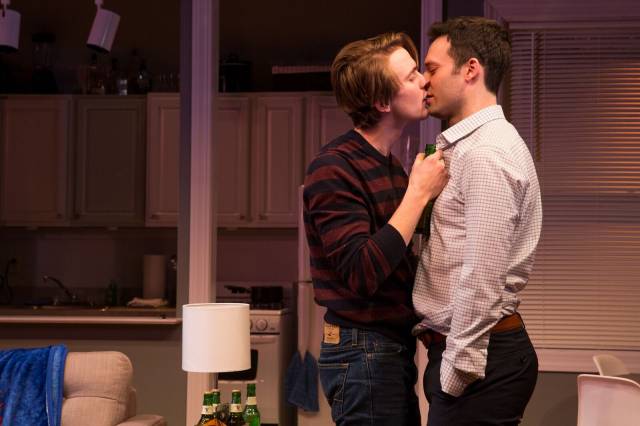 Canadian actor Jake Epstein has been taking the theater world by storm, with Broadway hits such as Beautiful: The Carole King Musical and Spider-Man: Turn off the Dark, as well as the national tours of Spring Awakening and American Idiot, already on his impressive résumé. He now brings his remarkable talent, natural presence, and limitless range back to the New York stage with Off-Broadway's Straight, written by Scott Elmegreen and Drew Fornarola.
In Straight, Epstein plays Ben, a young investment banker and an "All-American" 20-something guy. He loves beer, sports, and cars, and is in a long-term relationship with his girlfriend, Emily (Jenna Gavigan); but struggling to deal with the feelings he may be having for men, he begins exploring his sexuality with a young man named Chris (Thomas E. Sullivan) whom he meets online.
StageBuddy had the chance to chat with Epstein about this intriguing love triangle, the struggle to live life without labels, and how he has made New York his home away from home.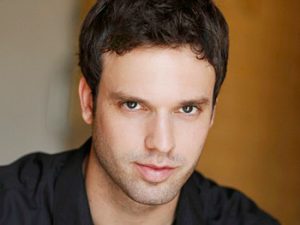 Your character, Ben, is described as the typical "guy's guy" – he likes beer, sports, and cars, and has been with his girlfriend for a long time. The twist is that he also becomes involved with a guy he meets online. How is he figuring things out for himself in the midst of this love triangle?
Jake Epstein: The play is all about identity, fidelity, and sexuality, but looks at those themes through a different lens. Ben is figuring himself out and kind of digs himself into this hole and finds himself in this really crazy love triangle. He's been with his long-term girlfriend, Emily, who is also his best friend, but at the same time is realizing that he might have feelings for guys – and meets this young guy online. What's cool about the play is that it looks at identity, cheating, relationships, and sexuality – themes that are common in a lot of plays – and handles it in a particularly exciting and fresh way. It's sort of a play about labels or fighting against labels, and I think Ben doesn't want to be labeled as anything as he's figuring out who he is.
What drew you to this role and piece of new work and how do you think audiences will respond to the themes?
I had worked a little bit with Andy Sandberg, the director, and he had sent me the script and encouraged me to come out and audition. I read the script and just fell in love with the writing -- it's really smart and really funny, and very of-today. I just thought that it brought up a lot of issues that I've never really interpreted in that way. The play is very provocative and very entertaining, and I think will start discussions with our audience, which is a great benefit. It sort of raises this question of why is it that a gay man is called a gay man, where as a straight guy is just a guy? Why is it that your sexuality, if you're not straight, why does that become part of the title? We live in this world where it's very accepted to come out but there's not a lot of plays or movies about the consequences of that and this goes a step further.
Being no stranger to complex and layered characters, how do you conserve your own energy in the process – is it draining for you or do you love the challenge?
I think doing any theater is completely all consuming and you have to look after yourself, make sure to eat well – all those classic things. Doing eight shows a week can take a toll on you, unless you realize that taking care of yourself is part of the job.
You've done the big Broadway blockbusters, as well as the national tours, but is there something about the intimacy of a small cast that you really enjoy, that differs from the energy of a large company?
I love going to see intimate theater – I'm such a huge fan of it. We're running at the Acorn Theatre, which seats about 200 people, and there's kind of nothing like it – to see theater when you're right up close and can see it all happening. A few months ago, I actually got to write a play with my mom that was produced in Toronto, and it was also quite an intimate experience – the venue only sat about 200 people as well, and I fell in love with that. When I came back to New York and had this opportunity, I just jumped at it, because I think it's a really special experience to be involved with such an intimate play like this.
Like you mentioned, last spring you brought your own piece of original work, Therefore Choose Life, to the stage. What was that experience like?
It was very special, in particular, because I co-wrote it with my novelist mother. I never thought it would work to write professionally with a parent (laughs) but it snowballed and we found a way to work together. As a young writer, it felt like this was the opportunity to get to write with someone who really knew what they were doing. At the same time, I was just coming off all of these new shows, and think my mom felt that she wanted to work with someone who knew what makes a show work. It was so special -- developing the story, working with the cast and our director -- and was just a total dream come true.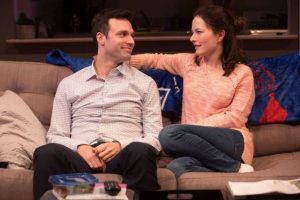 Do you see yourself keeping up with writing in the future?
It's definitely a dream of mine to keep writing. With writing, it can take a very long time to get something produced and off the ground. The response from Therefore Choose Life was so positive, and we're trying to see what's next and what the future holds.
When you're not on stage, what do you like to do for fun in New York – do you get much of a chance to explore the city?
It's awesome to be back in New York – my home away from home. I love to go see theater in New York – it's so cool seeing shows here in the city – all really high quality. I try to see a lot of music and as many live productions as I can. I also have a lot of people from back home come and visit me, and just spend time finding a lot of diners and catching up with friends and family.
Did you get a chance to see the revival of Deaf West's Spring Awakening?
I did – I loved it. It was really cool to see. I did the tour with Andy Mientus, so it was super cool to see him do the show again. Spring Awakening will always have such a special place in my heart.
Anything else you want to add about why audiences should come and check out Straight?
The play has all these serious themes, but is actually really funny. I love that it doesn't take itself too seriously. Our writers, Drew Fornarola and Scott Elmegreen, are so brainy and came up with something that is really enjoyable.
Don't miss Jake in Straight – opening February 29th for a very limited engagement though May 8th at the Acorn Theatre @ Theater Row (410 W 42nd Street). For more information, visit https://www.straighttheplay.com/