Interview: James Phillips and Rosabella Gregory Bring London's "City Stories" to New York

Part of the Brits off-Broadway series at 59E59 Theatres, City Stories fuses drama and music and weaves a series of interconnected love stories into a journey through the city of London. We asked the writer and director James Phillips and singer and songwriter Rosabella Gregory about this unique cabaret-theatre piece.
What was the genesis of the idea for City Stories? What has the development process been like?
James Phillips: City Stories is one of the happiest accidents of my career. I had written one story and Daphne Alexander (who's in the show) suggested I write more. Through her I heard Rosabella Gregory's music, which was perfect for my idea of what I'd like to make, this different type of cabaret drama. And so we did a scratch night in the same format we have now -- audience at cabaret tables, drinks with at the tables, relaxed -- and it went very well. And so we got asked to do an 18 month residency at St James Theatre in London (which Andrew Lloyd Webber has just bought) and the show has grown from there. New stories, new music and new company members joining us. It's been a wonderful journey.
Why the choice to have music? 
JP: I love to use music in my work, and these are love stories so it seemed totally natural to have Rosabella's uniquely haunting music as the world within which we move. Music can touch you and take you places in an instant: it's a magic carpet. But what was vital was that it was live: Rosabella plays on stage throughout every show. So it's responsive, in the moment, a duet between actors and singer-songwriter.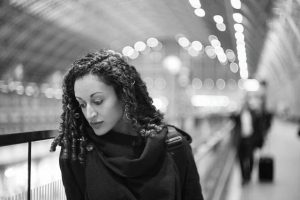 Rosabella, how did you join on the project? What compelled you about it?
Rosabella Gregory: A wonderfully serendipitous sequence of events...
My twin sister, Dina (who, incidentally relocated to NY in 2001), was friends with Daphne Alexander, when the two of them studied at Sommerville College, Oxford University. Fast-forward almost two decades, and I think I may have intercepted their reunion on twitter, which led to Daphne and I sipping wine in the Royal Festival Hall. I gave Daphne my album Dangerous Games before we parted ways. We met again soon after, this time with her partner, the playwright James Phillips. He was seeking a singer-composer.
James had already written Lullaby and indicated specific places where music would occur. I enjoyed his writing immediately. It has elegance and humility. There is a musicality to it, too. The phrasing, and repetition of certain phrases/motifs, distinctive rhythms, the moments of pause, all conjure a melodic and harmonic soundscape. I am also seduced by tales that merge beauty with darkness; common places hosting seemingly unearthly events. I revisited the music in Lullaby and whilst keeping many of the musical cues, I crafted a specific musical language I was hearing. Some moments called out for underscoring, and others asked for a song. Ever since, with each story James presents, I hear music literally pouring off the page.
How have the stories originated, developed? Do the actors play a role in devising and developing them?
JP: I write them all first. I'm a street photographer for fun, and a lot of the stories come out of having gained a sense of the London streets and the possible magic there. But we have an amazing company of actors who come in and out of the show, and I often write with those people and their particular talents in mind. They're a terrific gang, and have pioneered this form and way of working. But the stories are thematically woven together, and so become more than the sum of their parts we hope. I'm just finishing a new one, which we may premiere here in New York at the end of our run....
Rosabella, you've said storytelling is an important aspect of your music, so this feels like it's the right collaboration, but what are the changes of incorporating music into a play?
RG: I've always been fascinated by the space between words and music. This magical dimension, where words are an extension of music, and music is an extension of the words...The ultimate aim is to achieve such a balance of these two elements, that one is able to articulate a specific idea, yet still allow the listener room for his or her own interpretation. I've written musicals before, with Dina (we won the Vivian Ellis prize for Best Original Musical). City Stories sits somewhere apart. It isn't a musical, yet it exudes music. It is some kind of hybrid. Irrespective of the form, my challenge is to capture the essence of the story -- the core. Then harness my first (musical) impressions before they escape. Then I listen and I read, and I consider how (and if) the music is serving the story.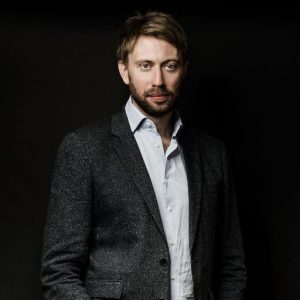 The city of London is a major character in the work? How does the city inspire you?
JP: London -- the Big City -- is the thing that weaves it all together. London's like New York, a huge extraordinary metropolis, a place which can seem frighteningly anonymous but which yields moments of sudden stunning connection. A place to get lost and to get found. And like New York there's a magic here, a sense of wonderful possibility. So City Stories are about love, about breaking through the separateness between people in the Big City. And we use iconic places and add magic to them: what's really in the crypts beneath St Paul's Cathedral? What happens when you're waiting for a train at St Pancras Station and a boy you've never met tells you that you're the answer to the riddle of life?
RG: I love London. I think you can fall in love with a city. It has the spirit and the dreams of all who dwell in it. Childhood, family holidays were peppered with London visits. We'd sit in my grandfather's flat in Marble Arch. My sisters and I would gaze out of his third-storey window and look out onto the taxi-swarming streets. We'd marvel at how rich the Queen must be and how excellent to refer to oneself as a Londoner! I was under her spell long before I left Devon, and arrived at the Royal Academy of Music, as a fresh-faced composition student in 1997. I've lived in London ever since.
What is next for the project?
JP: More shows in new places around London and England! We're getting lots of offers at the moment! And eventually more new stories and more new music from Rosabella. We have six stories now, possibly with a special seventh being added here in NYC, but the aim has always been that the cycle will reach nine stories.
Rosabella, what are some of your other upcoming projects?
RG: I have recently composed the score to a new musical, with lyrics by Dina Soraya Gregory and book by Corey Brunish. We had the first official reading of our show last summer in Portland, Oregon, which resulted in our making a cast recording of the score. Now we are approaching festivals with an aim to find investors.
On the artist front, I have just released a brand new EP, Ghosts Are Calling, now available on iTunes.