Interview: Jennifer Ashley Tepper Reveals More "Untold Stories of Broadway" in Her Latest Book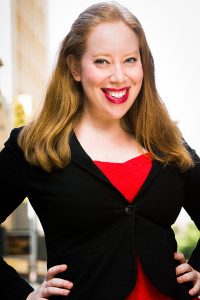 An aficionado of the New York theater scene, Broadway historian and producer Jennifer Ashley Tepper has spent years researching and interviewing the keepers of Broadway's greatest secrets and compiling them in her Untold Stories of Broadway series -- whose third volume hits shelves November 15th. Tepper is also the Director of Programming at Feinstein's/54 Below – the historic and intimate supper club that serves up Broadway's best acts nightly.
StageBuddy had the exciting chance to catch up with Tepper before the release of her latest book about where her love of theater first began, her experience writing the series and favorite memories to-date, and why these stories will appeal to readers of all kinds.
How did your love of theater come about and inspire you to become a storyteller?
I grew up in Boca Raton, Florida and loved theater from a very young age. As soon as I went to theater camp, I was obsessed with collecting cast recordings and seeing as many musicals as I could on screen and stage while I was in Florida. I was far away from New York and only ever visited three times before I moved here. I loved theater but was studying it from afar and that made me want to pursue learning all I could about Broadway.
Do you have a favorite show that stands out from your childhood?
My favorite show of all time is Merrily We Roll Along – it was so influential to me. Bill Finn was one of my favorite writers growing up, and now with the Falsettos revival, it's reminded me of how much his work has influenced me and made me realize just how smart and full of depth musical theatre could be.
It must be so interesting to go back in time from when your writing process began and re-live all of these great moments and conversations…
I started writing these stories in 2012, so it's been four years. When I started, I knew that I was going to go theater by theater and after a little while, it became clear that we were going to include eight theaters in each book. I did about 200 interviews and in all of those interviews was information that I was able to catalog for later volumes. When I am re-reading the books, it's so fun to take another look at material from months or even years ago that I'm just so excited to share!

How were you able to make all of these connections within the theater industry?
I worked on the musical [title of show] and was the director's assistant at the Lyceum in 2008 and during that time became even more obsessed with the actual Broadway theater. The Lyceum is the oldest continually operating Broadway theater and there's all of these interesting parts and corners of the theater. I was also so fascinated by the history and the people who occupied the space - - learning about the legacy inspired me to want to connect people's personal stories through the one place they all worked.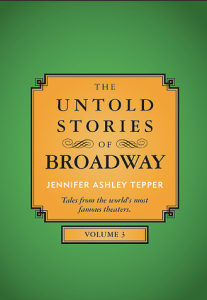 Can you spill some of the book's secrets?
This third book explores some fun secrets. One example is the Schoenfeld and the Broadhurst Theatres that are connected underground by these two tunnel type passages and what I've learned through talking to people is that for decades people would sneak back and forth. Celia Keenan-Bolger (Éponine) would have enough time after her character died to go watch the finale of A Chorus Line. It's like this physical aspect of Broadway that creates such a sense of community.
This new volume contains 25 new interviews including Patti LuPone, Barbara Cook, Peter Gallagher, Fritz Weaver, as well as Maria Di Dia, who is a general manager. There's one lost theater in each book – and in this book, it's the Edison. The Edison Ballroom was a Broadway theater for about a year in 1950 and again from 1970-1990 and Maria who is a producer and general manager was there from the time it became a theater again and narrates this whole chapter about lost space. There's a lot of funny stories -- bloopers of live theater. There's also a lot of The Producers, Hello Dolly, Angels in America, Ragtime, and Phantom.
Is this book just for theater fans or will it be of interest to those outside the industry?
People have often said to me that they like theater, but don't know a lot about it. Someone may initially pick up the book because they love Wicked but then end up learning so much about other shows. I also have footnotes for people to make these connections. What's been a lovely surprise is that the books have a number of interviews with people who aren't all performers – they highlight box office treasurers, marketing professionals, dressers, house managers, etc. – people who aren't in the spotlight. I'm always so happy when I hear that it's inspired people to want to pursue other opportunities within the theater. It's expanded people's minds, which it so exciting.
Is there an interview that really felt like a dream opportunity?
Getting to interview Hal Prince was so special because I've been such a fan of his – he gave me so much insight and told me so much that I've never heard before. I was so amazed by his memories. Growing up, there's a funny thing transiting  fan to professional and he makes you feel like a complete equal. When you get to interview your hero and they turn out better than you expected them to be, I really feel so lucky. I also love interviewing members of these theaters who have been there for years – they really carry the torch and are the keepers of all the great knowledge.
Looking back from the time of your first book until now, what are you most excited to share?
When I wrote the first two books, there was no new Broadway theatre being opened and now there's one coming back because Broadway is flourishing and another one being spoken about. The whole idea of what the book is exploring -- the history of these theaters and why we should treasure them – becomes so exciting as this third book is coming out, because they are now being treasured more than ever.
What do your responsibilities as the Director of Programming at Feinstein's/54Below entail? What is the most exciting part of your job?
I'm in charge of programming the 16-18 shows on our stage each week. From solo concerts to musicals in concert and from established stars to emerging artists, it's my job to oversee each concert that we book. Shows reach out to me and I reach out to them about equally, and from there I get them an offer from our team including how many performances we can do, how much we can pay them, when we're able to present their performances, and so forth. There's discussion throughout the process about the content of their show, all of the artists involved (musical director, guest singers, etc.), as well as how we can best support the show from marketing to tech to ticketing needs and so on. Every day, I am overseeing from a programming perspective all of the shows happening that night, as well as the 200+ shows coming up at any given time, and programming at least a dozen for the future, each week. The most exciting part of my job is seeing audiences lose their minds with joy over an artist who I love and believe in, and knowing I had a part in making the performance happen.
Feinstein's/54 Below is so iconic in its own right and such a gem to the NYC theatre scene -- what do you think it is about the venue that keeps both artists and guests coming back again and again?
We give audiences a classy, beautiful atmosphere in which to enjoy amazing dining and see incredibly talented theatre artists up close. Feinstein's/54 Below very much has a "Broadway behind the scenes feel" where you get to watch a Broadway star you've loved in gigantic musicals sing 10 feet from you, and share music that is meaningful to them. There are many nights where one can hear songs that have just been written, by theatre's most talented writers, or see performers reunite to re-create something beloved they did on Broadway in the past. It's a very special place, and I'm so grateful to be here!
If Feinstein's/54 Below was the subject of a book, what would you want that title to be?
I think the title would have to be "Broadway's Living Room"!
DRESS CIRCLE PUBLISHING will release THE UNTOLD STORIES OF BROADWAY, VOLUME 3 on Tuesday, November 15. To pre-order the book, please visit www.dresscirclepublishing.com. To keep up with Jennifer, visit: https://www.jenniferashleytepper.com/