Interview: Johnny Walsh, Qais Essar, and Marina McClure on 'Tear a Root from the Earth' at Ice Factory 2017

The Obie-winning Ice Factory festival presents seven new works from June 28 to August 12 at the New Ohio Theatre. We spoke with Johnny Walsh (music/lyrics), Qais Essar (music), and Marina McClure (director) about their show Tear a Root from the Earth, a musical about an Afghan family dealing with three generations of foreign intervention.
Tell us about your play!
Johnny Walsh: This began life as a body of songs I wrote in my trailer while serving in Kandahar, in southern Afghanistan, at the height of the US troop surge. I observed such fundamental decency in the average Kandaharis caught in the middle of an awful conflict between the US and the Taliban insurgency. I came to believe that the only political ambition of most Kandaharis was to be left out of it, to live quietly and protect their families, and this was what neither we nor the Taliban could offer them - we each used the means at our disposal to pull families, villages, and tribes to our side of the war. It was difficult to convey this in a diplomatic cable, so I began writing songs after hours to depict it, on a mandolin I had taken out there with me. I've since teamed up with some incredible collaborators, from my band Gramophonic to our theatrical team to the Afghan-American virtuoso Qais Essar, who have helped expand this story into a sweeping epic about one family's journey through 40 years of Afghan history in which global geopolitics repeatedly tear their country and village apart. As large and ambitious as the story has become, it is still at its core the same story of those Kandaharis I knew - always decent, sometime flawed human beings thrust into impossible circumstances, trying to make the best of a conflict that is inextricably tied to Americans and our own choices.
What have been the most exciting things about seeing your show come together?
JW: This is my first shot at staging something I've written, so it's an overwhelming joy to see characters that were created, in most part, while I was living in Kandahar (working as an advisor to the US Special Representative to Afghanistan & Pakistan) come to life and be personified by real people. To have these wonderful actors teach me things about my own characters and find new depths of feeling and perspective that I didn't know where there, is truly exciting. And for me, being a physical part of the show is no less a joy. Through my role in the onstage band, provide part of the underpinning of what these characters are proclaiming to the audience, is a huge joy.
Marina McClure: Since our creative team is spread across the country (I'm in New York, Johnny is in DC, Qais is in Phoenix), we don't have the opportunity to physically be together very often. Having the opportunity to be in the same space, play the same music, and explore this story together is the greatest thrill. Watching – and hearing – ideas that began as a few notes recorded by an iPhone and shared over Dropbox develop into a fully fleshed-out soundscape and score is very exciting. I'm also excited to work on the third act of this musical for the first time at Ice Factory. It's such a moving and exhilarating portion of the piece.
Qais Essar: There is a real satisfaction to seeing something come together well. It's like watching a house being built. I've built houses with my dad, and even though most people only see the beauty of the final product, whenever you see something come together, and see it grow, you see all the beauty in each different phase of its development. I've seen this piece just as music, then I've seen it with actors, which is also incredible in a different way. It becomes something else. It's beautiful to see its different phases, and finding the beauty in each phase. And now I'll see it in a new setting at Ice Factory. It will have design, it will have more actors. It will be new for me, and it's exciting.
Who are your favorite playwrights, past and present?
JW: JT Rogers. He does not shrink from complexity in the people or issues that he writes about. His treatment of things like the Israeli-Palestinian peace process, the genocide in Rwanda, and even the wars in Afghanistan in the 1980s are all premised in part on the idea that nobody is all good or all bad. Conflict in the real world is not made up of one side to root for and one to root against. It's a complex stew of human motivations, understandings, and misunderstandings. That may partly be me projecting my own views about international relations onto him, but I see that in how he discusses his work, and its essential to how I want to present the wars and occupations in Afghanistan that Tear a Root from the Earth talks about. Much of the audience will come in predisposed to like one side of the conflict we present, but I'd like to humanize al sides of the conflict and run toward complexity in the way that I perceive Rogers does.
MM: There are some very exciting contemporary writers who are pushing the boundaries of form while grappling with contemporary and personal issues. I'm particularly energized by the work of Aleshea Harris, Branden Jacobs-Jenkins, Annie Baker, Suzan-Lori Parks, Sarah Ruhl, and Sara Farrington.
QE: I love Book of Mormon. I love Trey [Parker] and Matt [Stone] because they take social issues that are very current, and make those issues accessible by presenting them in a different way. Smart dudes.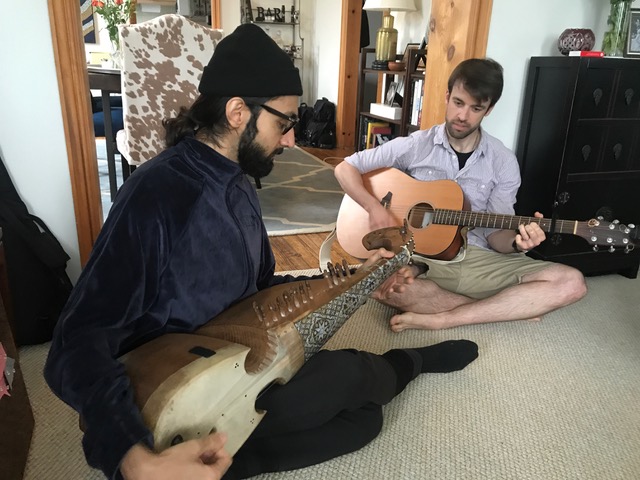 What famous (or not so famous) line do you wish you'd written?
JW: I'll give you a song: "Back in the USSR." At the height of the Cold War, the Beatles put beloved rock & roll touchstones about partying and meeting girls into the mouths of Soviet characters, and so humanized the population that their core audience was most predisposed to mistrust. On one level it's the silliest pop song on the White Album, and on another it's (to me) one of the most magnanimous artistic statements of the Cold War. The perceived "enemy" of our era has changed, but I thought of that example frequently when putting American folk and blues in the mouths of my Afghan characters. So if you need one line I wish I'd written, it's "well, the Ukraine girls really knock me out." It also bears mention that the first time I performed rock & roll onstage was in a Beatles impersonation band at the middle school talent show, at which we played that song and lowered a Soviet flag from the rafters. We paid some friends to scream like it was the Ed Sullivan show; it was the night I discovered that rocking out for an audience is intoxicating beyond words.
QE: Do you remember "Got Milk?" Do you remember how huge that was? There's going to be a whole generation of people who don't know what that is, and that makes me sad.
What would you change about the current state of theater?
MM: Access for women and people of color in high-level artistic and administrative roles. The current state of gender parity – or lack thereof – among directors, writers, and designers is stark. The recent analyses from Porsche McGovern really bear that out. It's great that some gains have been made, but it remains a frustrating and serious concern. The other side of the issue of access is that of the audience's access. I want to make work that speaks directly to audiences and brings different audiences into the common space of the theater. So one of the things this project is doing is creating space for different people to be in the physical space together (both on stage and in the audience) to see an Afghan story created by artists from all over the US and the world, making a piece of theater together.
QE: I'd like theater to become more popular, and I mean that in the literal sense. More "of the people." Especially as we make more and more advances in virtual media and experiences that are not "in-person" experiences. As we connect with others more and more virtually, it's important to also find new ways to connect in reality, and theater can be a way to do that. Theater can serve as competition to all this crazy, SKYNET technology. So I hope theater becomes more popularly accessible because it is a wonderful art from that provides a place for incredibly talented performers to share their abilities live before an audience. It's kind of like classical music. It will only grow and thrive if people feel like there is a place for it.
How important is it to you that your work relate to our current political/social climate?
QE: That is my work. I am Afghan-American, and despite the fact that the longest war in American history is the one currently still going on in Afghanistan, most of my fellow Americans don't know much about this war, about Afghanistan, or about the Afghan people. It's like Afghanistan is a fictional place that doesn't really exist on the earth. It only exists in headlines. My mission is to humanize this place that only exists for many Americans on CNN. I want to combat dehumanization, to personalize the people who get referred to with blanket, impersonal terms like "enemy combatants." When we are so detached from people we are at war with, there is no real consequence to dropping a huge bomb on them. Even when it's the "Mother of All Bombs."
JW: It's very important to me that our work gives nuance to how we understand Afghanistan, America's role in it, and perhaps the larger story of America's involvement in the world since September 11th. There is salience of this show to the moment we are in now (for example, heightened negativity toward Muslims), but this show – Tear a Root from the Earth – long pre-dates the Trump moment that now predominates in all of our thinking. Similarly, our goal is to show that the conflict currently raging in Afghanistan long predates America's involvement there. We take the long view, and encourage the audience to do so as well.
MM: Ours is a world of travel bans, discrimination, and violence, and these issues are very real for the people involved in making this piece. Our lighting designer hasn't been home (to Iran) in three years. One of our actors had to miss a previous workshop to go home to Turkey because of a terrorist attack there. This piece stands up to those who might try to say that people from that part of the world don't belong here in America. It's more important than ever to not shrink from complexity, and embrace tolerance and understanding when it seems under acute threat. We should all be in conversation about this in a deeper way.