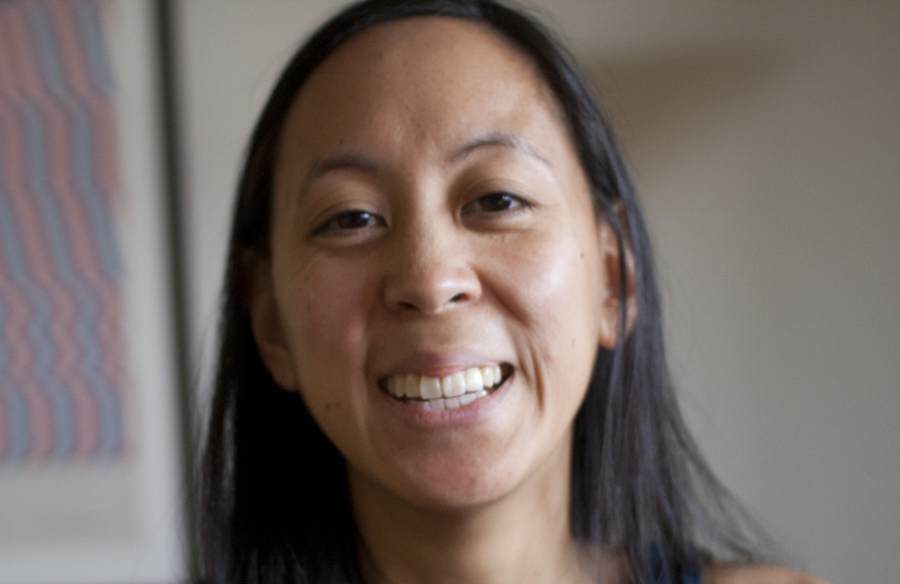 The Obie-winning Ice Factory festival presents seven new works from June 28 to August 12 at the New Ohio Theatre. We spoke with playwright Melisa Tien about her play Yellow Card Red Card.
Tell us about your play!
Yellow Card Red Card is about four female soccer players in a small Muslim town in Northern Cameroon who are preparing for a championship that will determine the future of the team, and the trajectory of each girl's life. It incorporates movement based on the games and practices of a real-life Cameroonian girls' team, and is really a play-and-sporting-event-in-one that explores what happens when young women in a socially and culturally restrictive environment begin to recognize their own agency. It was inspired by a girls' soccer program in Cameroon that began more than seven years ago, based on nothing more than the conviction that getting girls and young women out of their homes would be good for them (this is in a part of world where women can't typically leave the house without being accompanied by a male). The fact that those who initiated the program believed in the effects it could have on the girls' lives, enough to embark on the near-impossible task of recruiting players, played a big part in motivating me to get myself to Cameroon, meet the girls, and write the play.
What have been the most exciting things about seeing your show come together?
One of the best things about seeing Yellow Card Red Card come together has been getting to watch the actors become more physically fit and confident, right along with the characters they are playing. The actors have quite a lot to do, because there is so much movement (about 65% of the play is movement) on top of the dialogue. Sometimes when I'm watching the actors run the scenes with full-on athleticism and grace, I lose myself and think 'ohh, I want to be like that.' Another marvelous experience has been watching the play's various design elements come together. It's astonishing to see the creative insights of our designers being realized in three dimensions. They've built a world that speaks not only to the play and its themes, but to my memories of being in Cameroon.
Who are your favorite playwrights, past and present?
I've always loved and looked up to Maria Irene Fornés; out of all the playwrights whose work has spoken to me for one reason or another over the years, she's always been squarely in the center. Her work is like a universe unto itself, containing passion, intelligence, humor, politics, experimentation, humanity -- all the stuff that makes great art. Right now, I have lots of friends doing remarkable and important work, and they're all (thankfully!) vastly different. A small percentage of it is out in public view, enjoying healthy runs and well-deserved praise; but there's a lot you probably haven't heard of yet, because it's still being formed and I've had the fortune to see work-in-progress readings or presentations. I find it inspiring that there's good work in the world, being worked on, sometimes regardless of whether it's ultimately going to be formally produced.
What famous (or not so famous) line do you wish you'd written?
I actually wish I'd written the stage direction featuring the march of hats in Caryl Churchill's Far Away. I believe it's around Scene 5.
What would you change about the current state of theater?
There are a couple different ways I could approach that question. One of them would be to say what I wish for and think is feasible. Another would be to say what I hope for but is unlikely to happen. What I think is feasible are things like making a point of hiring people of color, women, queer and trans folks in administrative and creative roles, in addition to them being the faces we see on stage. That's one great way we can arrive at a more inclusive and complete theater, and it achieves fair representation at the same time that it introduces new and exciting voices. I also think it's feasible and essential to create more opportunities for patronage of playwrights — whether it's direct patronage, or endowed residencies with theaters (that include benefits) — so that playwrights can do the focused work of playwriting without having to take on a supporting job. What I'd love to see happen, but probably won't in my lifetime, is for theater in this country to be subsidized to the extent that it can release itself from commercial concerns and fully embrace the pursuit of art for the sake of making art, which is to say, for the sake of lifting humanity.
How important is it to you that your work relate to our current political/social climate?
I find that I don't always consciously write toward topics that relate to our current political/social climate, but when I look back at something I've written that I thought was about, for example, the ways in which language falls short of our attempts at communication, it turns out it's really about the ways people from different social classes miscommunicate and misunderstand each other. So I seem to be doing it regardless. Sometimes I do get worked up enough about a sociopolitical topic that I can't help but write a play that directly addresses it. The trick then is to create something that contributes to the larger conversation, rather than merely being a vehicle for airing my personal frustrations.