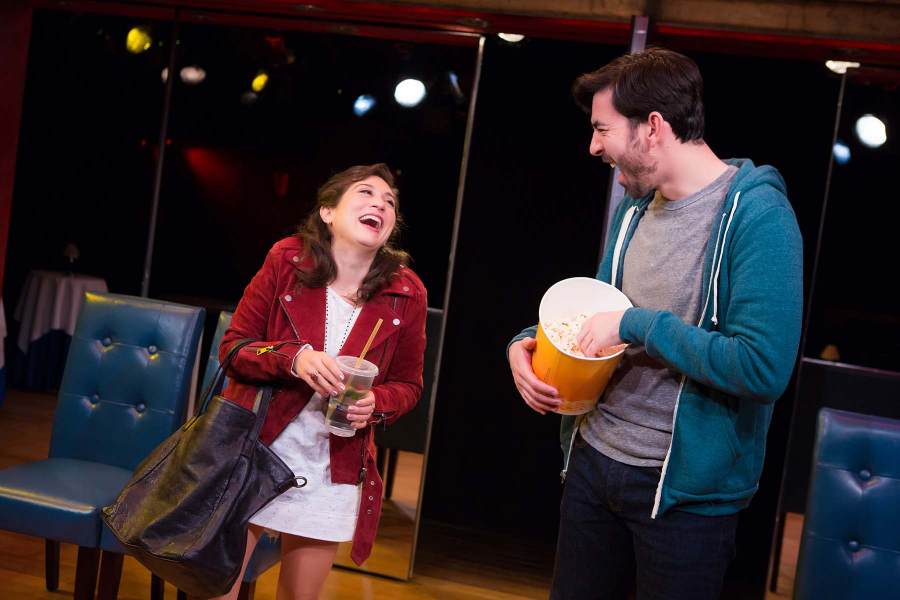 Max (Max Crumm) and Eleanor (Lucy DeVito) are thinking about getting married, but first they need to tell each other everything about their past. Eleanor talks about her mental health and issues with exes, but Max is having a hard time disclosing his past dating men. At a time when gender fluidity and queerness are becoming topics of daily conversation, Dan Rothenberg and Colleen Crabtree's play Hot Mess feels like a breath of fresh air, not only does it discuss sex openly, but it does so through the lens of romantic comedy, creating two of the most charming lead characters in any recent play. We spoke to Crumm and DeVito about what attracted them to the show, their own dating mishaps, and comedy.
When did you realize you wanted to play this part?
Max Crumm: Basically after reading the script. I thought it was such an awesome opportunity to portray an LGBT character. I thought it was very funny, and I really liked the wacky romantic element.
Lucy DeVito: I read the script, talked to the director and thought it would be a really fun project. It's been really collaborative and cool to play a wacky, female lead in a rom-com.
What's the thing you have most in common with your character?
Max Crumm: I'm a little bit of a people pleaser, I consider other people's feelings heavily before making decisions. I'm also a word vomit person, I can't survive having any secrets.
Lucy DeVito: I enjoy comedy, Eleanor's a comedian, and she has her own insecurities and hang ups with relationships, we're all our little hot mess when it comes to relationships.
What do you think is your character's favorite song?
Max Crumm: "You Spin Me Round (Like A Record)"
Lucy DeVito: Maybe something by Beyoncé. "Crazy in Love" is a good one.
What's the worst date you've ever had?
Max Crumm: One time I was super sick and was going on this date with this boy, so I brought a roll of toilet paper and kept it in my jacket, so I could lean and blow my nose. Before we met up I was on the train blowing my nose and looking terrible, and at the end of our date he told me he'd seen me on the subway blowing my nose. It was sweet he brought it up until the end
Lucy DeVito: I mostly go on good dates! I've been on awkward dates where we didn't hit it off, I once went on a blind date, we both knew it wasn't right and yet it continued. It was all very formal, we had a romantic nice dinner and the whole time I was thinking "we don't mesh at all." We were very kind to each other but we knew we'd never see each other again.
Where would your perfect date take place?
Max Crumm: A theme park on Halloween so we could go on all the spooky rides.
Lucy DeVito: Some outdoor bar where we could chit chat and then go for some food. Something kinda spontaneous, a date that keeps going.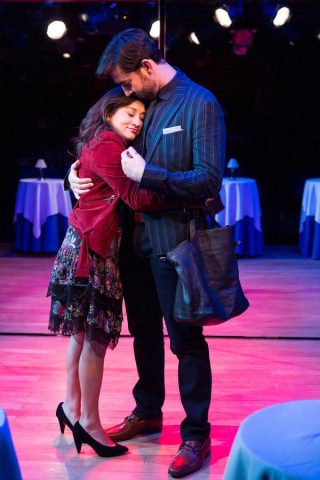 What's your favorite dad joke?
Max Crumm: I like "Refrigerator? I barely know her" and also "Did you hear about the old lady that fall into the well? She couldn't see that well."
Lucy DeVito: "How did the guy from Boston start a car with his pants? With his khakis."
In the play there's a comedy club inside a laundromat, do you have any laundromat horror stories?
Max Crumm: I've never messed up my clothes terribly, but recently my dog got sick in the middle of the night and I had to go wash the sheets three nights in a row.
Lucy DeVito: I've had laundromat mishaps where I shrink my favorite sweater and I remember in college winding up with someone else's socks, and you're like "oh my God I have to do my laundry again, my clothes have been tainted."
Why was it so important for you to be in a show that discusses sex so openly?
Max Crumm: Art is meant to make people uncomfortable. It's important to make people shake off their nerves when it comes to talking about sex, we're all sexual beings, I'd like to see an atmosphere where we all discuss it more openly.
Lucy DeVito: It's so important that we have conversations about sex, it shouldn't be a taboo topic. Everyone has their own experience and identifies on the spectrum, so it's cool to highlight this person's specific journey. It's nice to go to the theater and see those topics being talked about, art is about listening to these stories and having conversations with whoever you saw it with.
What's the funniest thing about each other?
Max Crumm: Lucy has the ability to turn any situation into a party. She also has a yoga mat with her wherever she goes and if you lose her from your sight for five minutes you'll find her stretching on it. It's awesome.
Lucy DeVito: Max is just a goofball, man! We crack each other up. We're both the kind of actors who trust each other, so he'll do something a little different and I like when he changes it up. We like to keep each other on our toes.
For more on Hot Mess click here.