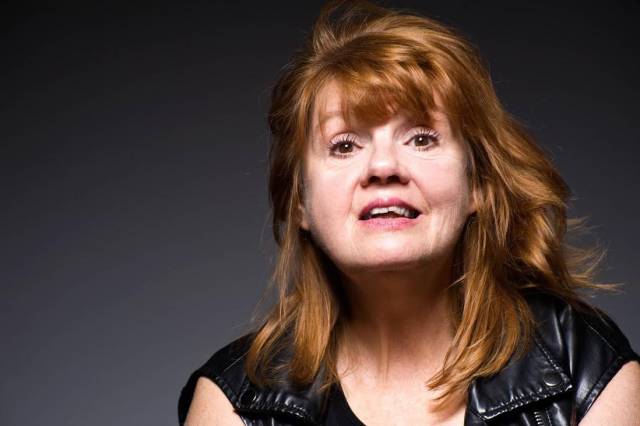 Annie Golden's career had fairytale beginnings. Performing at the legendary venue CBGB with her punk band The Shirts, she was spotted by director Miloš Forman, who gave her a role in his film adaptation of Hair. From there, her résumé has run the gamut from stage to screen and back, without ever losing steam. Recently, she appeared in the Broadway production of Violet with Sutton Foster, and won a Screen Actors Guild Award for her portrayal of the near mute Norma Romano on the hit Netflix series Orange Is The New Black. Now, Golden tackles Mrs. Butterfat, an eccentric religion teacher, in  Underland, Alexandra Collier's nightmarish coming of age tale set in the Australian outback, on stage at 59E59 Theaters for a short run.
With her charming playfulness, artistic integrity, and driven commitment to her roles, it's no wonder she's been in demand for close to four decades. I had the pleasure of speaking with the delightful Golden about her remarkable career: from making friends, to tackling her silent role on Orange is the New Black, to finding unexpected inspiration from The Sopranos.
Could you talk a little bit about how got involved with 59E59?
I've never done a show at 59E59. My contact was, I had done a show for the Women's Project a couple of summers ago at the Cherry Lane Theatre called We Play For The Gods, and Mia Rovegno was involved with that as a director, and Alexandra Collier was involved with that as a writer. So that's how I met the two women. And then when Alexandra wrote this play and when they were going to have the New York debut, they offered me Mrs. Butterfat, and I read it and I loved the woman, so I said yes.
The play starts off seeming so normal, then slowly it starts to turn into a scary story and sinister elements start to creep in. What is it like to be in a surreal, scary story in which you play more of a comical role?
I had it easy! (Laughs) Every time I stepped out people knew they could relax. The set really helped, and the sound design really helped. We had to conjure all of that up when we were just in the rehearsal room together, but once we got on that set -- the set designer is fantastic -- it really helped and it was just atmospheric and really beautiful. The set and the sound design, you know, the surrounding, also the lighting, all the creatives, the design team, it really helped to conjure up that small town, outback, forbidden, isolated, dangerous terrain.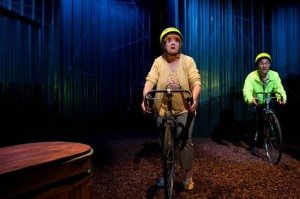 Of the various difficulties of your role -- for example, you had to tackle an Australian accent, and there were elements of Mrs. Butterfat's character that suggested she wasn't entirely with it -- what were the more challenging aspects for you?
I think, as actors, we are our own worst enemies, because we rarely see what we accomplish, we only see what we don't accomplish. So I was really concerned that I wasn't gonna sound like Mrs. Lovett or Nancy in Oliver!, you know? With the Australian accent I wanted to be authentic -- as I am with everything. As an actor you want to be as authentic to the character as you can. So I was concerned with that, and I had a lot of help from a dialect coach who was also Australian, Leah Gabriel, so that was good.
I like to approach everything musically. But it was hard to memorize those one-line sentences, the stream of consciousness monologues, 'cause I didn't want to say anything if I didn't say it correctly. So what I did, was I said to Leah, let me memorize the stuff and then you can zero in on the vowel sounds and what's right and what's not right. So we worked that way, and she was real helpful and she's real good at her job. She was helpful at giving us vowel sounds in our speech that were similar so we could just get it in our bodies and our throats. The toughest word was my married name, Butterfat.  I finally said to her, "What do you mean, like bada bing bada boom?" And she said, "That's it!" So I used The Sopranos. By way of Tony Soprano I came to this Australian accent.
You mention approaching things musically, and you have an extensive background in musical performance, from being in a band when you were younger to your role in Violet last year. Did they come after you for this role specifically for your musical talents, or was it just a happy coincidence that Mrs. Butterfat does some singing in the play?
It's kind of interesting, even when I was in We Play for the Gods for the Women's Project at the Cherry Lane Theatre, it was not a musical, but they asked me to sing something. And they didn't pick what I would sing. I was looking at a picture of my mother -- the character was looking at a picture of her mother who had just passed away at her nursing home. She was at the office and she had put off going to see her mother and that was the day she had passed. So they had me sing a song to my mother.  Even when it wasn't a musical role they used every skill set I had. [In Underland, the] two beautiful kind of folk ballads -- or kind of, like, folklore lullabies -- were written by Luke Howard, an Australian singer/songwriter/composer. And so it was interesting, too, that when she offered me the role of Mrs. Butterfat, she said, "You'll be singing, too, if that's alright." And I said, "Sure!" And I think what's really interesting, too, is it's a capella and it's unplugged. With all that sound design the voices are natural in the room, the speaking and the singing. So that was really beautiful and original and interesting.
The singing really heightened the eerie tone of the whole thing...
Yeah, and if you listen to it and in that moment you recognize that this is a kind of a lullaby that they sing to children in the outback and it's like a Grimm fairytale... it's really gruesome!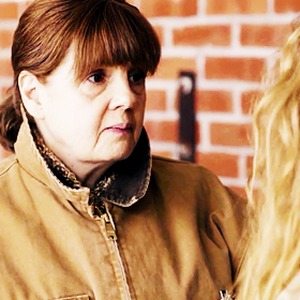 I have to say it... I'm a huge fan of Orange is the New Black! What is it like adjusting from all of these different formats in which you work? To move from television to a smaller Off-Broadway theater project, do you have to completely readjust your brain?
If you can see it all as one thing, it's gonna go easier for you instead of saying, well this needs this skill set, and this needs this technique, and this needs...
Mrs. Butterfat is so skittish, but to be still at her core is very helpful. And also you know when you click into that, to just be still as an actor always, that's the best for the storytelling; to be still and let your face project what it is you're feeling or what it is you feel the audience should be feeling about what you're going through.
I'm just thrilled to have a silent screen performance in modern day. Lillian Gish and Clara Bow are some of my favorites. To just be given the gift in modern day of a silent screen performance, that's really fantastic. Over at Orange when we get our scripts, the girls are always saying, "Oh you have it easy, you don't have to memorize any lines!" And I go, yeah girls, but I have to read ALL of the stage directions, I can't just scan the page and go, you know, 'bullshit, bullshit, my part...bullshit, bullshit, my part...' I have to read everything, because Norma pops up as an observer and she's only listed in the stage directions as what she's doing, and what she's telling the audience to think and what she's projecting or predicting what's gonna happen next. So it's really listening at its core. With music it's listening. With acting and scene study it's listening. It's certainly listening for Norma, because even for continuity, so the director can do take after take, it's making sure that you have the ladle in the same hand, you have the pen or pencil in the same hand, you hit your mark at the same time.
So I don't have any speeches or lines or words to project that and to navigate that, so I listen to the other people's conversations and I make sure that I hit the same mark on their same word every time. So that's kind of a little something that I've learned.
You have had such a varied career, from singing in a band, to the stage, to the screen. Do you find that you have a home base, a certain type of project you're always the most excited to receive, or do you tend to just love and appreciate everything that comes along?
Well, I love and appreciate everything that comes along, and like I said, I love this cast, so I'll come away with six friends after this. That's not always the case, but every project I do I try to come along with a lifelong buddy, a BFF from each project. 'Cause it's someone who, you can follow their career and share with them the ups and downs and the abundance and the drought.
But I was discovered at CBGB, so my first love is the project I do myself, which is my cabaret act or my band where I write for myself and I direct myself and nobody's in the dark with a pencil assessing a performance I'm trying to find. You know, it's just me in the driver's seat, and using, of course, everything I've learned over the course of these decades that I've been doing this.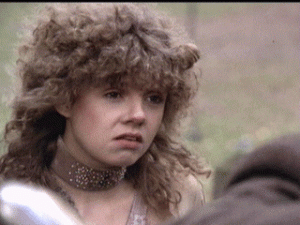 I was discovered at CBGB by Miloš Forman. I was given a gift in 1977 and plucked out of a rock band and put into a major motion picture [
Hair
] as a leading lady by an Academy Award-winning film director. And I'm still doing it now! And I've worked with Steven Sondheim and I've worked with Jerry Mitchell and Jack O'Brien and now Joe Iconis, this new young composer. And I demoed all of that 
Hairspray
 stuff for Marc Shaiman and Scott Wittman, and when Miloš Forman saw me [at CBGB] and asked me to come and audition, Marc was at the piano! We all came up together and we're all still doing it, so it's wonderful.
Is there anything else you'd like to say to our readers?
Well, it's gonna go by quick! It's really short, so if you're gonna come, please come, because you'll realize that it's ending and you might not be able to get in. And also I'm going to be a guest soloist for Marc Shaiman and Scott Wittman for the American Songbook for PBS on public television, April 18th at one in the afternoon on Channel 13. I sing one song from Hairspray and two songs from Smash. And Orange is the New Black Season 3 drops June 12th!