Interview: Steven "HeaveN Beatbox" Cantor on Making his Broadway Debut in "In Transit"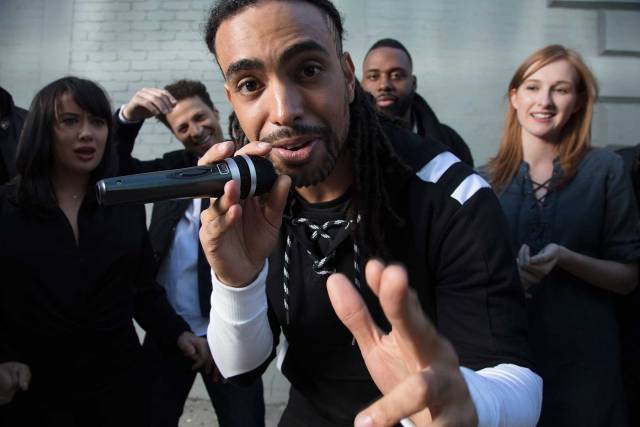 In a setting that will be familiar to anyone who relied on the MTA to make it to the show, In Transit uses a subway station as a jumping off point, launching into the interconnecting lives of several New Yorkers struggling to figure out where they're going, not just on the subway, but in life. Their stories explore what it means to search for happiness, and how to find the right path between destinations, in a stunning a cappella musical written by Kristen Anderson-Lopez , James-Allen Ford, Russ Kaplan, and Sara Wordsworth, and directed by Kathleen Marshall.
In the middle of all those storylines is Boxman, a street performer who comments on the lives of the various passengers who stop to enjoy his music. Played alternatively by Steven "HeaveN Beatbox" Cantor and Chesney Snow, Boxman interacts with all the characters and guides the audience through the show's major themes. HeaveN took us behind the scenes of his role as Boxman.
Tell me about your experience with In Transit.
This is my first time on Broadway. I think it's been a learning curve for me. Being that it's been my first experience on Broadway, I'm definitely learning a lot from this experience on the creative side as well as the business side, and it's been very, very interesting.
It's been a roller coaster ride. That's the best way to explain it. Every day is a new day. I don't know what to expect. I'm enjoying the ride. The cast is fantastic, everyone in the cast is incredible, and it's just really a pleasure. I'm having a great time being able to perform and act with everybody.
That's so cool! You play a character who unites all the other storylines and that all the other characters interact with at some point. What's it like to approach the play from that perspective? 
I don't think it's so much a point of my character connecting each character so much as it is that my character is just in a place where all the characters are, which happens to connect all the characters. What I mean is, with the characters in the show, everyone is trying to essentially find themselves, and find the direction that they all want to head in. Jane is making decisions based on her career, Ali is trying to move forward with her relationship, which is really with herself, Nate is dealing with financial troubles. But Boxman, he's the one character that doesn't have to be in the subway, he's just there because he is content. He is who he is. I think that, from the perspective of the character that he is, he's attracting something that all the other characters are looking for, which is to be happy, to be content.
You get to express a lot of the show's themes through the character. What do you think is the biggest thematic takeaway of the show that you're hoping to communicate? 
That it's never too late. It's never too late to do what you want in life, whatever that may be. You're in control of your fate and your destiny, it's all based off of you. Everyone's looking for true happiness, and I think that stays with the individual and just making the simple choice to be happy, if you can just be where you are, and recognize that.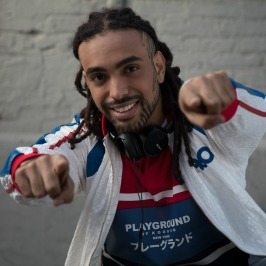 That was definitely a really beautiful part of the show. You share this role with Chesney Snow. I'm curious as to what it's like to develop a role with another actor, and develop a character together. How has that influenced your approach?
Honestly, I think we both have our own approach to the character. I think it just had to be that in way in the sense that we're both different people, and I think we see the character slightly differently. Me, personally, I did my research in the subways. I come from a background where I actually was a street performer earlier in my life. I kind of just drew from that.
How has that experience informed your performance?
For me, Boxman was a role that took 15 years to prepare for. I think that it was great timing, because what that character has to bring to the table is a skill trait that's not really seen by most. Earlier in my life, I used to actually travel around to different cities and street perform. I was a good part of this character for a long time. It just took time in creating a character I didn't know would exist, if that makes any kind of sense. I know that might sound weird, but I don't think I would've been quite prepared for this role had I not experienced some of the characteristics of this character in real life. I think that my experiences as a street performer through the years helped me prepare for this role. And when the role came, it was a good fit. I guess that's just how I choose to see it.
How do you think the a cappella element of the musical works with the story?
I think it's needed. I don't think it just works, I think that it's needed. The a cappella element does more, I think, than just impress people with the fact that there's not an orchestra there. It highlights the whole theme of the show, which is that it's never too late to do what you want, to push yourself, and to see the raw talent of what this show brings in delivering a story that is all from the human element speaks volumes onto that theme.