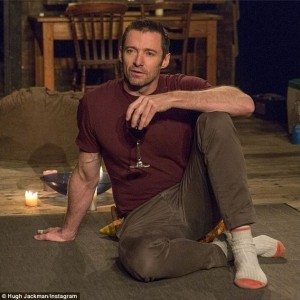 Sometimes a star just has it. Not just talent, not just a special quality, but a presence that will make theatergoers (especially female theatergoers) throw money at the opportunity to be in his presence (or catch his sweat-drenched garments).
Such a one is Hugh Jackman, who ends his extended run this week in the Broadway play, "The River", at Circle in the Square Theater. No, not "Big River" or another splashy musical. Just a guy, in a cabin, with a fish, and two women to cook it for.
Reviews for "The River" were meh (except for his Hughness), and it seems there'd be little reason for this Pinteresque one-act to be occupying a Broadway theater if not for Hugh-Know-Who. However, with mr. biceps at the apex of its eerie triangle, Jez Butterworth's play opened November 16 and recouped its $3.2 million capitalization just a month later. This, in a season when a musical by Sting and a well-reviewed Tony Danza-starring tuner can't get arrested by the paying public.
But what is it about Hugh Jackman that makes him so bullet-proof at the box office? It's not as if The Street lacks for handsome leading men. In fact, if that were the sole criterion, "Rocky", "The Bridges of Madison County" and "Tru" would still be running. (Okay, just kidding about the last one.)
Jackman's first Broadway assignment was his break-out role as the charming, bisexual songwriter Peter Allen in "The Boy from Oz". Allen's own show years ago, the disastrous "Legs Diamond", was cut off at the knees, but Jackman playing Allen led to a smash hit. The show set a house record at the Imperial Theater, grossing a then-whopping $983 million for one week in June 2004. Jackman also took a Tony home for his efforts.
Just five years (and an X-Men franchise later), Jackman was hot enough to make his next Broadway venture a money machine before it even opened. Granted, "A Steady Rain" co-starred the also-molten Daniel Craig, but how many plays start with an American Express pre-sale advance of $3 million? "Rain" also set the template for "The River": do a small play for a limited run (that can be extended by a week or two just for some extra pocket change). Not only does a play cost less than a third of what a musical would run, but a producer can grab a Hugh Jackman for a few weeks and then let him fly away to the silver screen. (A lesson learned too late by the musical "Houdini", which had Jackman attached but just took too long to get off the ground and would have taken an even longer time commitment had a Broadway deal been reached.)
Of course, Jackman solidified his bonanza status with his 2011 concert show, which had audiences and critics swooning and collected $14 million in ten weeks – more than $2 million in its last eight performances at the Broadhurst Theater, alone.
It's not a new idea that a big-name star in the right vehicle can charge (and get) hefty ticket prices that pay investors back quickly. As Variety's Gordon Cox put it, star-driven Broadway vehicles have resulted from "a combination of economic changes and a growing A-lister cache that Jackman himself helped burnish." After all, Julia Roberts made "Three Days of Rain" pour down like silver, and Bradley Cooper's "Elephant Man" made back its initial cost in just over a month.
It's just that Jackman seems, so far, vehicle proof. Not that "The River" or "A Steady Rain" were bad plays (I didn't see either of them); it's just that any other circumstance would see those shows eking out a few weeks at Manhattan Theater Club (City Center, that is) or The Vineyard, rather than becoming magnets for premium ducats. And "The Boy from Oz", which I did see? Not exactly "Gypsy", but Jackman had the crowd kvelling from the first second onward.
For that kind of charisma, well, I doubt Marlon Brando, Al Pacino and Arnold Stang combined could match it.