An Interview with Jessica Pimentel of 'Orange is the New Black' and 'Surfer Girl'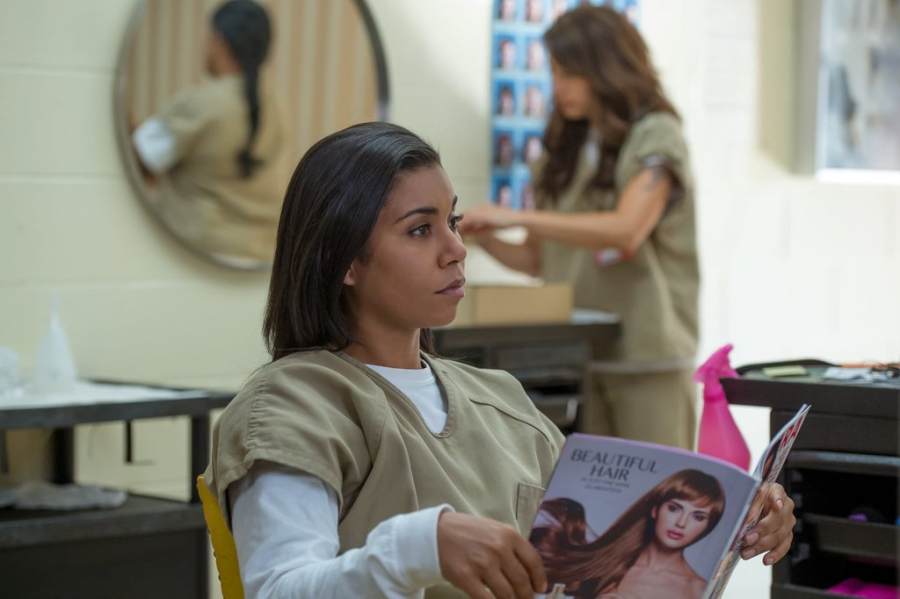 Leslye Headland's Surfer Girl, about a young woman who "disappears in order to survive" is back in New York in a production by Animus Theatre Company in association with The Dirty Blondes. The one woman show is given a twist, by having eight different actresses play the center character. Among them is Jessica Pimentel, the extraordinary actress best known for her riveting work as María in Orange is the New Black. We spoke with Pimentel while she was in Mexico on tour with her band Brujería.
Why did you want to do Surfer Girl?
I thought it was going to be an exceptional challenge. It was an honor just to be asked, considering all the people that are involved, and Leslye Headland's play is so great, it speaks to that millennial apathy that's so hard to capture, and she does it really well. The character is also a kind of person I'm not usually asked to play, so it was very out-of-the-box for the roles I usually do. I've never done a one woman show, so the amount of work was a challenge, I also was excited about the number of women who'd do the role, which shows the way in which a role can be diversified.
As a Latina, why do you think representation matters más que nunca?
Más que nunca, indeed. We have a President who is very focused on our people, be it positively or negatively, so we have to step up and show the world who we are, what we are, and where we come from. If you are in this country you are American, I was born in America, so not every story is one of an immigrant. But it's also important to show the bravery it takes to leave your country and start over in a different place, that says something about the character of the people you're dealing with. They hold on to their culture and do their best to assimilate and become part of the country.
What can casting directors do to stop typecasting actors?
An experimental project like Surfer Girl where you have eight actresses playing the same role, that speaks volumes so you can see someone a little older, someone younger, a mixed race woman, an Asian woman, all playing the same role reminds us that at the end of the day we're all people. Our job is to represent the people, if casting directors go into colorblind casting they'll realize characters don't need to be a certain ethnicity to work. Writers also need to write roles for us that are in a positive light, juicy roles, or ethnically neutral characters.
I love María in Orange is the New Black, because she proves us wrong. We started thinking something about your character and she has changed so much. What's the most rewarding part of playing her?
She's a really confusing one, isn't she? When I started playing her we knew nothing about who she was, the script said "María, very pregnant Latina," and now she's a loving mom, an intelligent daughter, a brave, strong personality, a leader, a victim. She's gone through the entire gamut in a short time, you see her loyalty and that she'd do whatever it takes to be with her daughter. It's important for people to see that loyalty and how you take care of your family.
As a singer, are musicals next for you?
Oh man, I'd love to be Madame Giry in The Phantom of the Opera, because I can't sing as high as Christine. I don't think I sing quite that well, so we'd just have to backtrack me all the time, but I'll just walk around and be cool.
You can see Jessica Pimentel in Surfer Girl on May 29-30.