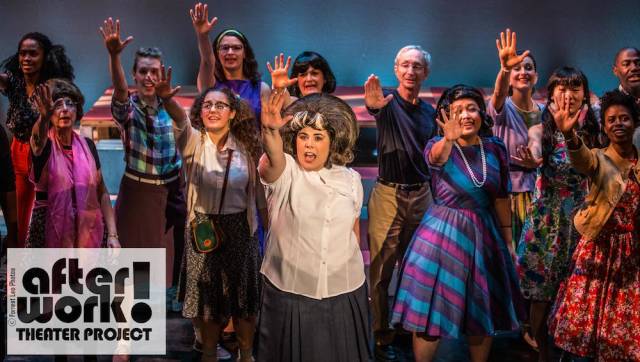 How many of us sit in the audience secretly wishing that we had the courage to be up on stage, sharing that same passion as our favorite star?
Well, now you can! With New York serving as the theater capital of the world, home to the Great White Way as well as tons of Off-Broadway productions, finding a group to call your own may seem like a daunting task, but with a little bit of determination and inspiration, you can make your dream a reality. StageBuddy.com has scoped out the scene and sat down with the individuals who can help you make it happen.
AfterWork Theater Project
Want to be in a show? AfterWork Theater Project provides the unique opportunity for anyone and everyone to perform in a fully-staged production -- complete with a creative team of professionals. All you need is a love for performing and a desire to express it. AfterWork Theater will take care of the rest.
Founder and executive director Evan Greenberg caught the performing bug at a young age, as he attended Performers Theatre Workshop in New Jersey and seized every chance to be on stage during his elementary and high school careers.
"Performing for me was like igniting a flame," he explained. "I lived it, breathed it, and wanted it all."
By the time he was an adult and spent a few years working as a professional screenwriter in Los Angeles, Greenberg started to realize the lack of creative expression in his everyday life (as well as the community that came with it) and vowed to get back in touch with what was really important.
"My attachment to professional success was clouding indulging in the arts, for the sake of the arts," he said. "Something had to change."
And, slowly but surely, change did come. After articulating the idea of performing solely for the love of it to friends, Greenberg got to work on creating the experience. Pieces of the puzzle included obtaining the rights to a show, securing the theater space, and hiring a director and musical team. After a lot of hard work, AfterWork Theater Project, a tuition-based recreational theater program with no audition required and the flexibility to accommodate even the busiest working professional's schedule, was born. In the summer of 2012, the group took the stage for the first time and presented a production of Hair, with a cast of approximately 30.
Looking back on that first season, Greenberg recalls that the greatest challenge was the "fear of the unknown" but at the end of the day, everyone was in it together. Since then, AfterWork Theater has staged a number of popular shows, including Rent, Legally Blonde, and last fall's Hairspray, which drew the largest number of participants to date – 70, spilt into two casts of 35. Greenberg added that AfterWork Theater has drawn a greater network of people from all walks of like – working professionals, students, stay-at-home moms, educators of all ages -- all looking for a creative outlet. For those not as sure, Greenberg is happy to prove it to them.
"When I have someone on the fence, I like to go down their list of reasons not to -- [I'm] too busy; too old; not talented enough -- and eliminate each one until there is nothing left," Greenberg explained. "It is so exciting and fulfilling to make that dream [of performing] come true for so many people - - and they do that simply by saying YES and participating."
Making friends is another added bonus. "Performing for the love of it, eliminates that 'dirty' competition [of just doing it for the fame or to get the gig] and creates a very different experience," Greenberg explained. "When a group of people come together to sing and dance and just let go and have fun, that's when you have something special."
Anne Lieberson, a third grade teacher in Manhattan, is looking forward to beginning her third production with AfterWork Theater and is happy to share her experience with the group's new members.
"Since beginning at AfterWork Theater, I have become more of a leader," she explained. "As someone with experience and a background in performing, I felt like I should step up and support my cast mates."
The future looks bright as Greenberg detailed plans of expansion, including offering more scholarship opportunities for participants, as well as going through the process of becoming a 501(c)(3) not-for-profit membership organization, and applying for grants.
AfterWork Theater recently presented Anything Goes -- the hysterical and saucy musical featuring an eccentric cast of characters aboard a cruise ship, with music and lyrics by the legendary Cole Porter – during the last two weeks in June. Greenberg was thrilled that participants were excited to be involved with a classic musical and branch out from the more modern and favored choices such as Spring Awakening or In the Heights. Up next is the ever-popular Urinetown, with rehearsals already underway and performances scheduled for this November. Additionally, for those who might not be able to commit to the length of a full show, AfterWork Theater offers Sing Out! Musical Revues that allow participants to rehearse once a week and still have the chance to perform popular Broadway hits in front of family and friends.
Seeing firsthand that the confidence garnered from AfterWork Theater doesn't disappear right after the final curtain call, but translates to new areas of participants' lives, including career and service choices, Greenberg really is living his dream and helping others believe that anything is possible.
"If there is a voice in the back of your head prompting you to try something new, please ignore all those reasons not to, and give it a shot," Greenberg said. "You may just be in for a life-altering experience."
Ready to BE in a show? Visit: https://afterworktheater.com/ for more!
Broadway Bodies
If your schedule allows you to claim the spotlight for one night only, Broadway Bodies, a high-energy dance workout, will leave you feeling like a star! With a curriculum dedicated to Broadway's best numbers through the decades, as well as more modern classes centered around pop icons such as Michael Jackson, Beyoncé, and Britney Spears, there is something for every taste! Most classes are drop-in ($20/a class) and take place at Chelsea Studios, Ripley Grier, or CAP 21 Studios.
Past classes have paid tribute to Broadway hits such as "Mr. Postman" from Motown the Musical; "Loud" from Matilda the Musical; "King of New York" from Newsies and more.
Co-creator and artistic director, Stephen Brotebeck, who has a long resume full of Broadway and theater choreography and directing credits, wants everyone (especially newcomers!) to feel like part of the family.
"The goal is for participants to come and simply have fun," he explained. "By the end of class, they will feel like they've accomplished a little bit of Broadway."
Alistair Williams, Studio Director, also emphasizes the need to make students feel at home and give everyone the chance to increase their confidence.
"We simply want to create a space where our students can feel free to unleash their inner superstar," he added.
Regarding the class choices, Brotebeck explained that student feedback is not only welcomed, but necessary, when it comes to expanding their ever-growing collection of musical favorites.
"We started with Broadway, and then wanted to create options honoring pop culture that would appeal to our students, he added. "From there, we began Michael Jackson Mondays, Throwback Thursdays --- all at the suggestions of our students."
Using repetition, classes allow participants to work through the choreography at their own pace, with an instructor leading up front and ensuring that everyone is comfortable.
Having the privilege to take a recent Broadway Cardio class under Brotebeck's instruction -- to one of my all-time favorite songs, "Uptown Girl" by Billy Joel -- I instantly felt welcomed and at ease. The class warmed up for the first half of class to iconic Broadway show tunes such as "Seasons of Love" from Rent and "You Can't Stop the Beat" from Hairspray. Getting our bodies loose and familiar with the recurring movements, we sang (smiling was encouraged!) and danced along before we were ready for the main event -- the "Uptown Girl" choreography.
Brotebeck taught the routine one section at a time, allowing for questions the entire time and happily reviewed a step when requested. His energy was electrifying and inspiring, as he led the class of about 20, giving everyone a chance to be in the front line at numerous points in the evening. Dancing and belting out the tunes along with us, the class was motivated to keep it going and find the joy in the music -- before the end of class, the class was divided into two groups and each performed the choreography, all while cheering on and supporting the other group!
As many other working professionals can attest to, having the freedom to express yourself and let go of the day is the best gift.
After finishing the class, Lizzie Hyland, who works in public relations, said, "It is a really energetic and great workout. It is harder than it looks, but such a fun way to spend an hour."
Broadway Cardio classes take place every Tuesday and Saturday. Check the schedule for other musical and pop video inspired workouts, including a special Hamilton series this fall: https://broadwaybodies.com/home