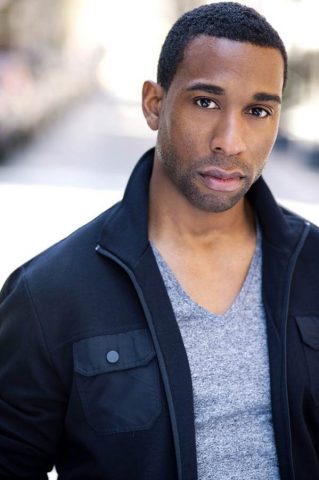 The Fire This Time Festival, focusing on the experience of African American artists and audiences, takes place this year from January 15-28. The festival provides a platform for emerging African American writers to have their works produced and shown to the world. We want you to meet some of the playwrights in the week leading to the festival. Here's William Oliver Watkins, whose play Black, White and Blue will be performed as part of Fire This Time's 10-minute play series.
Describe your play, it's ______ meets ______. 
It's ​Kenneth Lonergan's Lobby Hero meets ​Amiri Baraka's Dutchman.
How did you first realize you wanted to become a playwright?
​I've always had a love of story. I think we're born with the need to find patterns in the events that happen in the world around us and we use those patterns to find (or create) meaning through NARRATIVE.​ Theater is the perfect marriage of IMMEDIACY and COMMUNITY, allowing a writer to have an ongoing conversation with living, breathing human beings in a shared space. What's the conversation about? Life. Always life.
Mention one play you think is flawless.
The Pillowman by  Martin McDonagh​. As darkly funny as it is horrifyingly possible.
Who is your favorite character in a play?
​
Walter Lee Younger in A Raisin in the Sun​. I can think of no character that better represents the American black man's capacity for both child-like optimism and devastating despair.
What does your perfect place for writing look like?
Clean desk, comfortable chair, good lighting, SomaFM's Groove Salad playing in my headphones, a hot cup of coffee or a cold bottle of Peroni within reach.
How do you know when your play is "done"?
​When I can read it through three times and the sad stuff still makes me cry and the funny stuff still makes me laugh, then I know it's done... for now.
What's one line of dialogue you're really proud of having written?
​"​You know what the difference is between you and me? I'm a businessman. You're a hustler. A hustler is always plotting. Always scheming. Always so busy looking for the angle that it never occurs to you that maybe there is no angle. That maybe the whole thing is fucked outright and the only sane option is to walk away.​"​ ​~Mr. Stock in Gunplay​
What actor (male or female) would you love to have do one of your plays?
​Easy answer. Sam the Man Jackson!​
What is the meaning of being part of The Fire This Time Festival for you?
​The Fire This Time, an obvious play on ​the bible verse / Negro spiritual lyric "God gave Noah the rainbow sign​, ​No more water but fire next time"​,​​ refers to God's covenant with mankind made after the flood.​ Being a part of this Festival is my tribute to the fact that the black man and woman were there at the beginning of humanity and will be there at the end. I feel blessed and honored to have my voice added to this never-ending story.
What is your biggest wish for the theatre community in 2018?
​
To get Hamilton tickets! No, seriously... I'd like to see at least one piece emerge that inspires us to imagine a better future and convicts us to act.
For more information on The Fire This Time Festival click here.