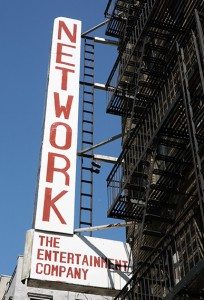 For more than 30 years a ghost sign has maintained its stalwart perch above 754 Ninth Avenue at 51st street in Hell's Kitchen. The company has been long since replaced by a string of restaurants and storefronts including Vinyl and Sonic Yoga. The passage of time and a changing neighborhood landscape have seen finance moguls and real-estate speculators displace the resident actors, writers and musicians of the late 20th century. And now, though the sign hangs as sturdily as if it were placed yesterday, it has all but lost its tether to the past.
"Network The Entertainment Company" seems to suggest a connection to a film and television industry that boomed on this stretch of the west side in the mid to late 1900's. But it was, in fact, a small Off-Broadway theater that claimed ownership of the sign: the 99 seat Network Theater, owned by Stanley Harrison and Cecil Gorey, which occupied 754 Ninth Avenue from the late 1979 to the early 1983.
The theater proper was small and positioned on the street level in the back of the building with rehearsal spaces upstairs and a small cabaret in the front that boasted an upright piano rumored to have once played on Hitler's yacht and bought for a song at an auction.
Hell's Kitchen, home of the The Westies, also known as the Irish Maffia, was a notoriously dangerous and gritty neighborhood bordering the Theater District at Eighth Avenue. It is not surprising that the Network Theater, located in the middle of Hell's Kitchen, had a reputation for being or "seedy" and "low-rent". Nonetheless, several shows ran in the space during its lifetime, including a 1981 revival of Lanford Wilson's Gingham Dog, and Starstruck (1980), written by Elaine Lee and Susan Norfleet. The latter was a play that spawned a series of comic books and audio plays.
The Winter of 1981 saw a production of a comedy review called Potshots, with a cast of four; Raymond Webb, Karen Bebb, Cindy Benson (Les Miserables, Cats) and actor/writer/choreographer Don Stitt (A Funny Thing Happened on the Way to the Forum, Buddy, Do Black Patent Leather Shoes Really Reflect Up). Through a series of fortuitous clicks of the mouse and emails I was lucky enough to locate Don Stitt who shared with me the story of his time performing at the Network Theater: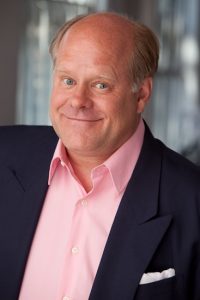 Our show was a revue in the style of Saturday Night Live, about the 1970's. I wrote music & lyrics, and collaborated with Mike Shapiro on the book. There was a barbershop quartet for Nixon, Dean, Haldeman and Erlichman called "If They Claim You're a Crook, Write a Book". Raymond also played Nixon in an American Express "Do You Know Me?" spoof. As he walked offstage, Ray ad-libbed to the band, "Can anybody spare a dollar for a cup of Cappuccino?" It got a huge laugh, and stayed in the script; the idea of paying a dollar for a cup of coffee in 1980 was simply absurd.
Cindy Benson carried the day with a spoof of "The Saga of Jenny" (Gershwin and Weill), which dealt with the many loves of Maggie Trudeau. [We also did a] smutty Muppet spoof a full 2 decades before Avenue Q.
[Potshots] did midnight shows because we got the space at a discount. [That Winter, New York] saw record cold temperatures, and our audience numbers reflected that - one night we had ten customers. Equity Showcase rules state that if there are more people on the stage than in the house, the cast takes a vote on whether or not to perform. We voted, and we decided to do the performance. The audience laughed and cheered us all night long. And when we came out for the curtain call, those ten people gave us a standing ovation. I get misty just remembering it.
A few days after closing [Potshots], I was walking on Broadway near 51st Street when a woman
stopped me to tell me she had seen my show. "You were wonderful, I even have the program? Might I ask you to autograph it?" For a moment there, I had some real satisfaction about what we had done. Then I saw that she wanted me to sign her Sweeney Todd program. What could I do? I signed, "All best wishes, Ken Jennings." Ken laughed when I told him.
The Network Theater may have gone the way of so many small New York Theaters but its sign is a wonderful reminder of a Ninth Avenue that once was.