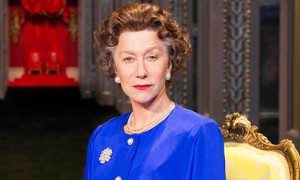 While American politics remains a rare topic on Broadway (this season's "Disgraced" notwithstanding), English intrigue is all the rage on the Great White Way. David Hare's socio-economic discourse disguised as a romantic drama, "Skylight", returns to Broadway imminently, while "Wolf Hall" takes an epic look at the legacy of Henry VIII. Added to those and opening last night (March 8), is Peter Morgan's drama, "The Audience", which imagines what Queen Elizabeth II (i.e. the current monarch) talks about privately with her many prime ministers.
Helen Mirren, who played Queen Liz in "The Queen" on film, stars opposite the likes of Dylan Baker (as John Major), Judith Ivey (as Margaret Thatcher) and Dakin Matthews (as Winston Churchill). The subject matter and presence of Mirren almost guarantee a snob hit for The Street. But are the critics on board?
Theatermania's Zachary Stewart mostly is, calling "The Audience" a deliciously dishy historical fantasy. He notes that while "The Audience" "is not a brilliant play…[its] sprawling cinematic construction" doesn't confuse because of "the deft direction of Stephen Daldry."
Ben Brantley of The New York Times agrees with Stewart that "The Audience's" drawing card is getting swept up in the show's Anglophilia and that there's something " deeply reassuring to see the "compulsively watchable…Ms. Mirren, who turns 70 this year, step back in time as Elizabeth and persuade us that she is whatever age she wants to be." The treatment of the Queen may be "fond, formulaic and most respectful," but the show also feels "broader and looser in New York" than it did in London.
Variety's Marilyn Stasio opens her review with "Long live the Queen!" (gee, how long did it take her to think up THAT opener…?) and raves that the show has two "electrifying scenes," though she also notes that the piece can feel "schematic," and a big showdown between QEII and Maggie Thatcher is played badly "over-the-top."
Robert Kahn, of NBC New York, disagrees and calls that particular scene "a highlight of the second act." He adds that even if not every showdown in the play is "scintillating… Morgan's script makes for a great history lesson." He also credits Mirren with filling "in the blanks" of a notable personage that the world has little real sense of.
Giving the play *** (out of four), New York Post critic Elisabeth Vincentelli treats the piece as if it's The Helen Mirren Show – but, of course, that isn't a bad thing. She writes that Mirren is "absolutely terrific" and works magic when her character has to jump from age 69 to facing Winston Churchill at age 25. "It's always obvious who the real ruler is when it comes to Broadway," Vincentelli notes in closing. "Mirren's crown is safe."
Writing along the same lines, Stephen Suskin of The Huffington Post notes, "Yes, there is great life for The Audience with Helen Mirren; but the script itself seems to be merely an element of the evening devised to support the star performance." He even doubts that the play could work at all without her. "Mirren's canny and well-rounded performance is sure to garner unanimous huzzahs," Suskin writes. But for him, the play is "not…a compelling dramatic event."
Also raving about Mirren is the New York Daily News's Joe Dziemianowicz, though he gives the "diffuse" play only *** (out of five). He notes that Morgan's concept "is clever and entertaining…but there's not much of a takeaway." That said, he ends the review with: "New York is fortunate to have an audience with [Mirren]."
Newsday's Linda Winer concurs, writing that "What could have been an acting stunt is instead a rich, deep portrait of a woman who, somehow, is deeply revealed without giving much of her mysterious self away." More than the other critics, Winer sees depth in the piece that is "meither a Shakespearean tragedy nor a fairy-tale fantasy, the poignant power of this royal story comes from its extraordinary ordinariness."
Writing for AM New York, Matt Windman is less enthused about the script, calling it "choppy" and lacking in "overall conflict or plot." Nevertheless, he grants the play *** (out of four) and calls it "a fascinating meditation on the historic and present day role of the English monarch."
Mark Kennedy of the Associated Press, likes both the play and its figurehead, noting that Mirren is "astonishing" and that Morgan "nimbly fits in exposition and big swaths of history into a coherent and touching portrait of power and majesty."