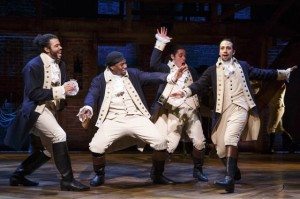 Overnight, "will it or won't it?" has turned into "when will it?"
Even before Lin-Manuel Miranda's new musical, "Hamilton", opened at off-Broadway's Public Theater last night, the buzz was hot, and speculation had the production searching frantically for a Broadway theater to overtake before the end of this season. Of course, all bets were off until the show, about orphan-turned Revolutionary War soldier-turned U.S. Treasurer-turned murder victim, Alexander Hamilton, officially opened and the critics had their say.
Well, the early reviews are now in, and it looks as if "Honeymoon in Vegas", "Fun Home" and "Something Rotten!" will be looking over their shoulders this spring. For example:
Theatermania's Zachary Stewart raves that "Hamilton" is "exceptionally smart and unexpectedly timely," and "the best new American musical in years." He adds, "There's a frenetic hunger to Miranda's music. Even the slow songs are undergirded by a driving beat, mirroring the vitality of this story of an ambitious upstart in a new nation."
Equally pleased that a three-hour historical musical can be so "rollicking", Associated Press critic Mark Kennedy sees it as the show to beat this season: "Edgy without being scary, historical without being dry. It's hip-hop with a master's degree. Could it be the thing that rescues Broadway?" He also notes that having Aaron Burr (who killed Hamilton in a duel) narrate the show is "a brilliant stroke."
Echoing the sentiment, Newsday's Linda Winer calls "Hamilton" "a thrilling, audacious, deliriously overloaded invention." Miranda's book and score combine "subtle, complicated, playful storytelling with the jagged rhythms and unexpected lyricism of hip-hop." Winer suggests streamlining the storytelling a tad and goosing the final scene, but otherwise the guy on the $10 bill is "in brash and brilliant hands."
Even New York Times chief scribe Ben Brantley is caught up in the excitement, writing that the show "exudes the dizzying urgency of being caught up in momentous events as they occur." He lauds "the Vaudevillian brilliance" of Brian d'Arcy James as King George III and raves that the whole show "aims impossibly high and hits its target."
Not quite as laudatory in her *** (out of four) review, New York Post reviewer Elisabeth Vincentelli admires the "sterling, energetically directed and choreographed" production, which has moments that are "giddily exciting." However, she counters that with: "too many of the numbers are exposition-heavy lessons, as if this were `Schoolhouse Rap!' The show is burdened with eye-glazingly dull stretches." That said, she felt the second act improved upon the first in a show that is "mission half-accomplished."
Giving the show **** (out of five) stars, Joe Dziemianowicz of the Daily News kvelled that "the robustly original, infectiously entertaining new musical "Hamilton" beats the odds and far exceeds expectations. . . A Broadway run of this irresistible musical is inevitable." Like the Post's Vincentelli, he was especially captivated by Phillippa Soo, who plays Hamilton's wife, Elizabeth Schuyler.
Variety's Marilyn Stasio sees the show as a shoo-in for Broadway where "there should be a huge audience for this irresistible show." She credits Miranda's "amazing vision of his towering historical subject as an ideological contemporary who . . . speaks the language of a vibrant young generation of immigrant strivers. It's a wonderfully humanizing view of history." She adds that "the music is exhilarating" and the lyrics have been "purposely suited to each character."
Just as impressed is USA Today's Elysa Gardner who gives this "magnificent" musical **** (out of four) and gushes that the "rapping flows seamlessly into singing, with soaring melodies shifting to (and sometimes supporting) dazzling displays of rhythm and rhyme that mine the inherent theatricality of hop-hop." She concludes, "`Hamilton' is revolutionary in its own right, and an extraordinary achievement."
Okay, so will it take the Bernard B. Jacobs, the Richard Rodgers, Madison Square Garden, MetLife Stadium . . . ?