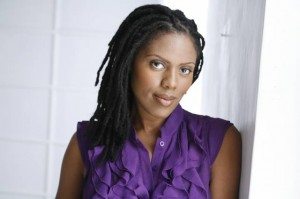 National Black Theatre consistently brings revolutionary work to Harlem and is a staple in conversations about the black experience and theater in New York.  In their 46th Season, dedicated to black women playwrights, they are bringing Carnaval by Obie Award-winning playwright Nikkole Salter to the New York stage.  Directed by Awoye Timpo, this captivating story addresses themes of sexual tourism, coming of age and redemption.  We spoke with Salter about her inspiration to write this compelling story, how her characters spoke to her and the psychology behind the "John" in sexual tourism.
What was your inspiration for this story?
I discovered what sexual tourism was and most people think it's from the Essence article ["Blame It On Rio" by William Jelani Cobb] but it actually wasn't, it was from a friend of mine.  I had never heard of it and he was surprised.  I did some looking into it and I saw how prevalent it was.  Initially I was completely disgusted, mortified and saddened by the entire topic, particularly as it related to black men, because the conversation initially started for me around black men who were saying that they didn't want to be with black American women, that they preferred Brazilian or Spanish woman or whatever, and that hurt my heart in a big way.  I continued my research about the topic and was initially very angry and wanted to write something to expose the issue.  Then I learned a bunch more and became interested in the psychology behind the behavior.  I realized a lot of the motivation about the desire to engage the world the way that these men are with sexual tourism....I'm not divorced from it, it also lives in me -- just manifested differently.  I don't go to foreign countries seeking sex because it isn't my power point, but if I could pay for the thing that would make me powerful for a week would I do it even if it was at the expense of other people?  And I think as long as I didn't have to see that expense, I might fall prey to the same behavior as these men and that's what kept me writing this piece.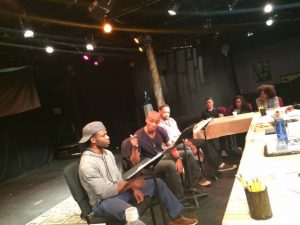 Which one of the characters spoke to you first?
They all spoke to me at the same time in the airport.  That was the first scene.  I got the opportunity to go to McCarter Theatre for this fall festival, during which [they] have this thing called In Your Own Voice, where playwrights who are early on in their process can come self-read their own work for an audience to get feedback.  It's low key, inviting and very welcoming, an interesting developmental opportunity.  I had been working on another play that had about seven characters and I was practicing reading the script aloud trying to differ the seven voices to my boyfriend at the time, who is now my husband, and he said to me, "Nobody is going to understand that"; so I thought, 'oh god, I can't read this,' and I had this idea floating around in my head.  I initially thought the protagonist was going to be a woman, the character of Zeze in the play, because I discovered in my research about a woman who delivered herself to prostitution during Carnival because there was so much money to be made, and she didn't want to miss out on the opportunity of making her family some dough that could last them for a long time.  I read the first scene during the festival and realized I was on to something so I continued to develop it.
Does Carnaval have a sister play?
No.  Everyone always wants that, and it's not that I'm not for women's voices, but quite frankly I feel whenever we talk about sex tourism or sex trafficking and exploitation the stories we find about it are always from the perspective of the men, women, children who are being exploited and never from the people doing the exploiting, because we're always satisfied that they're just bad people.   In general I lean towards ill that's nasty but at the same time I also believe in the freedom of people, and if those two people want to engage each other in that way who am I to judge.  However what's disturbing is these aren't two adults on equal footing, they are two adults on very different economical footing and that leads to issues of power.  The problem with sexual tourism is that it's a gateway that opens up the door to lots of other things that are horrible.  Once you have prostitution that's legal you're not even a hop, skip, jump in a way from child pornography and sex trafficking.  I think if we are serious about addressing the issues, we have to delve into the psychology of the "John", because if you actually want it to stop they're going to have to be a part of the conversation because you can't address the supply and demand chain from just the supply side, as long as there is a demand there is going to be a supply.  I want to make it very clear I don't agree at all but I definitely gain an understanding and can see why it's happening.
You can catch Carnaval at the National Black Theatre October 21st through November 16th.  For more information and tickets visit https://www.nationalblacktheatre.org/