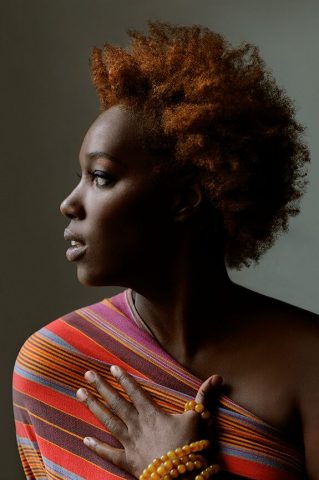 The National Alliance for Musical Theatre will hold its 29th annual Festival of New Musicals on October 19 and 20 at New World Stages. GIRL Shakes Loose, by Imani Uzuri (music/lyrics), Zakiyyah Alexander (book/lyrics), and Sonia Sanchez (poetry), is one of eight new musicals this year.
Tell us about your show!
GIRL Shakes Loose is a three-city coming of age journey. Girl finds herself in New York, unemployed, suddenly single and must figure out where she's going and why she keeps making the same mistakes. It's up to Girl to figure out where home is and how (and if) she'll get there.
Describe the sound of your musical; it's like _____ meets ______:
A rainstorm meets an epiphany.
What were the first musicals that made you want to make musicals?
The Sound of Music, Les Misérables, Hair, A Chorus Line, The Wiz, Rent.
Who are your favorite classic musical theater composers/writers?
Rodgers & Hammerstein, Stephen Sondheim, Jonathan Larson.
And your favorite composers/writers working today?
Kirsten Childs, Lin Manuel Miranda, Lisa Kron & Jeanine Tesori, Stew & Heidi, Glen Hansard &
Markéta Irglová, Sara Bareilles.
What's one thing you would change about the current state of musical theater?
The lack of diversity and parity from writers/composers.
Why is it important to bring your show to NAMT?
We think the show needs to be seen, and is unusual and exciting.
What's next for the show?
Hopefully more development and support.
For more information on NAMT visit: http://www.namt.org/
GIRL SHAKES LOOSE
Music & lyrics by Imani Uzuri, book & lyrics by Zakiyyah Alexander, poetry by Sonia Sanchez
Director: May Adrales (MTC's Lortel Award-winning production of Vietgone)
Cast includes: Felicia Boswell (Broadway: Shuffle Along), Juwan Crawley (Broadway: Aladdin), Danielle Lee Greaves (Broadway: A Streetcar Named Desire, Hairspray), Esco Jouléy (Regional: The Wonderful Marvelettes), Ciara Renee (Broadway: Big Fish, Pippin), Antoine L. Smith (Broadway: Miss Saigon, The Color Purple), Shelley Thomas (Grammy Award Winner, Best World Music Album 2017), and NaTasha Yvette Williams (Broadway: A Night with Janis Joplin)