Q&A: Marcy Lovitch on Writing about Hot-Button Issues in Her New Play "Inappropriate Relationship"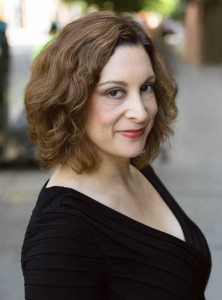 Marcy Lovitch isn't into the business of letting audiences keep a nice and happy distance from themselves and the action onstage. She causes us to look at ourselves in that metaphorical mirror that is 'The Theatre' when it is used effectively.
Lovitch knows how to be effective. In the case of her last play, Office Politics, her mirror smoked out all the secret and not-so-secret racist ideas that fester in each person. Her newest play, Inappropriate Relationship, follows the events surrounding an unexpected sexual encounter between Marty, a popular male high school teacher, and Sabine, his star 17-year-old female student. When the situation comes to the attention of the school principal, it throws Marty's life into complete turmoil and the entire school and community into a moral war zone. We asked the playwright about why she loves writing about controversial issues, what she'd change about the current state of theater, and more.
As an artist, what is your prime motivator to create and craft plays?
I love writing about current hot-button issues that challenge people to think differently and perhaps see another side to a problem. Life is not black and white even though a lot of people like to think it is; my goal is to write plays that explore the gray area and allow people to self-reflect and perhaps ask themselves, 'What would I do in that situation?' I don't write a play to put forth any kind of agenda or knock you over the head with one point of view. I present a situation and allow my audience members to decide how they want to feel about it.
What is missing in the New York theatre world that you hope to fill with your work?
I think there's too much 'safety' in a lot of the plays that are done on Broadway and Off-Broadway. It's often about making money safely in the theatre. I tend to like edgy, contemporary plays that move quickly and hold my attention. It's easy to 'check out.' I want to keep putting stuff out there that might make you feel uncomfortable, so my plays aren't for everyone. If you want something milquetoast there's plenty out there for that type of palate.
If you were not a writer, what would be your other dream job?
I'd say an actress but I already am one! I actually think I'd love to be an attorney for the Innocence Project and help exonerate innocent people who have been unjustly incarcerated.
Your last play, Office Politics, was a direct focus on racism. What is your writing process, if you have a certain process. Does a story tell itself to you or do you start with themes such as racism or inequality and go from there?
Office Politics and Inappropriate Relationship are both inspired by real life events that interested me greatly for one reason or another. I was appalled by the comment my black friend's white boss made to her at work and felt the need to write about it. It's was a subtlety remark but very damaging and hurtful. Unfortunately, racism will never go away, at least I don't think it will and now living in this Trumptonian era its all the more important to keep bringing these issues to the forefront and fostering the discussion.
With my plays, I don't always write about something that actually happened, there are some that are strictly stories I've made up in my head about people or situations that I think audiences will enjoy. I also like to vary the types of plays I write – Office Politics had more comedy than my current play has, but the next play I'm going to resurrect from my archives is a romantic comedy about two temperamental movie stars who fell in love on the set of their first movie, things ended badly and now they're reunited for a sequel.
The next play after I get that one done is about a journalist investigating the abuse and death of a prisoner. It's important to show versatility as a writer, just as it is if you're a performer. I mean, who wants to just get stuck in the same mode and be a one trick pony?
If there is any playwright or artist whose career you'd want to emulate, who would it be and why?
I really love Neil LaBute. I know he's not everyone's cup of tea but his work excites and inspires me. He's not afraid to show the ugly side of people and his plays are a little (or a lot) twisted. I never know where his plays are going, they are unpredictable. He stays ahead of the audience and that's something I try to do. If I had his career, I'd be very happy.