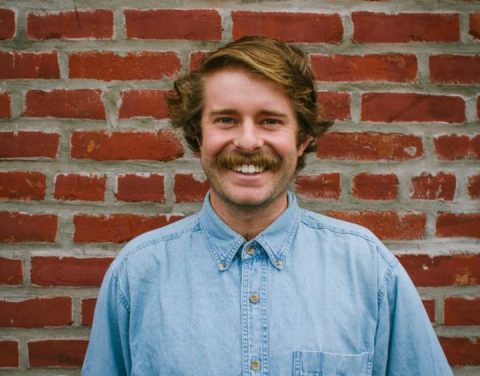 In a FringeNYC-less summer, other theater festivals promoting the work of up-and-coming artists are taking the lead, including the Ice Factory Festival at New Ohio, Broadway Bound Theatre Festival at the Theater at the 14th St. Y, and the UNFringed Festival at the Secret Theatre. Among them is the Corkscrew Theater Festival, a brand-new festival at the Paradise Factory that "aims to increase access to production opportunities for a varied set of early-career artists, especially those who are redefining traditional creative roles and developing work through unusual collaborative models."
Presented by The Brewing Dept. and Fortress Productions, the festival runs August 7 through September 3 and includes five new plays with eight performances each, as well as readings of five plays in development. We spoke with playwright Robert Zander Norman about his play All Of My Blood.
Tell us about your show! 
All Of My Blood is about a young woman who's feeling pushed aside and taken for granted by her partner at the same time as she is possibly becoming a werewolf. The core of it is really about how difficult it can be to make sure you're understood, even when you're speaking to the people you're closest to.
What have been the most exciting things about seeing your show come together?
I read out loud to myself a lot while I'm writing something to make sure that things can be said the way that I'd like them to. It's always a wild and pleasant surprise to hear people say those lines out loud in a completely different way that still makes sense.
More generally, as a person who spends a lot of time making sure a new play is a certain sort of presentable before I show it to anyone, the collaborative stages of theater are always a nerve wracking, scary thing to enter into. It's obviously been the goal the entire time I've been working on a play, to have a group of people perform it for a larger group of people and to work towards that together, but when it all starts I end up with a little bit of dread knowing that these smart, talented people who have agreed to work on this thing I made are going to unearth a pile of problems that I haven't considered yet and ask a whole set of difficult questions that I'm going to need to figure out satisfying answers to. Then, once those conversations start, the dread is all gone and I realize the script that you had considered finished and ready has a lot to reconsider and tighten up and arrange differently, and I'm so grateful and excited that these people whose questions I'd been dreading took the time to think hard about my ideas and help me express them better. What I think I mean is that collaboration is an incredible, frustrating, super beautiful and frequently necessary part of making something complete, and it's been a particularly good experience with Taylor [Haven Holt, director] and this cast and this play.
Who are your favorite playwrights, past and present? 
Tennessee Williams, Jane Martin, Brian Friel, John Guare, Anna Deavere Smith, that's not a complete list, but those names always jump to mind.
What famous (or not so famous) line do you wish you'd written? 
Wherever you go, there you are.
What would you change about the current state of theater? 
I don't feel like I've seen enough of everything that's currently running to make a big statement about the current state of theater. I've mostly been seeing smaller productions with one or two week runs recently. Within that world, I've seen some beautiful, exciting, imperfect small stories, and I've also seen some muddy plays that don't have enough specific to say to back up the huge, sweeping messages they're trying to hammer home. It's maybe more of a personal preference, but what I'd like to see more and more are those powerful, specific stories that leave you feeling big feelings and asking big questions while still thinking about the details.
How important is it to you that your work relate to our current political/social climate?
I don't think that I'll ever be someone who is going to overtly address specific political issues or name the names of people who are fixing or ruining the world at the moment, but I do think that to work on anything you plan on presenting to an audience there needs to be a reason why it exists right that second. It has to have something in its core that says something to the humans of its moment.