Q&A: Katie Hathaway and Lilla Goettler on 'Ex Habitus' at the Corkscrew Theater Festival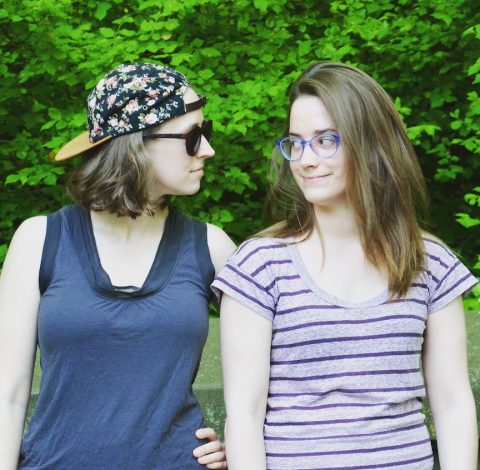 In a FringeNYC-less summer, other theater festivals promoting the work of up-and-coming artists are taking the lead, including the Ice Factory Festival at New Ohio, Broadway Bound Theatre Festival at the Theater at the 14th St. Y, and the UNFringed Festival at the Secret Theatre. Among them is the Corkscrew Theater Festival, a brand-new festival at the Paradise Factory that "aims to increase access to production opportunities for a varied set of early-career artists, especially those who are redefining traditional creative roles and developing work through unusual collaborative models."
Presented by The Brewing Dept. and Fortress Productions, the festival runs August 7 through September 3 and includes five new plays with eight performances each, as well as readings of five plays in development. We spoke with Katie Hathaway and Lilla Goettler, co-writers of the play Ex Habitus.
Tell us about your show!
Holly and Miles are heirs to an etiquette dynasty. In an effort to keep their family's fame afloat, they follow in the footsteps of their media-mogul best friends Ben and Jen and launch a new brand targeted at manner-less #millennials. Will privilege, politesse and podcasts save them from destroying one another?
What have been the most exciting things about seeing your show come together?
Katie Hathaway: I am incredibly excited about the role of sound in our show since it is so podcast-centric. Our show is late in the festival so we're still in the earlier stages of design and rehearsals, but we have a fun plan for how the podcast format will be integrated into the show in creative ways.

Lilla Goettler: I think we created these characters to all be quite outrageous, and I'm excited to see how these characters come to life in the realistic setting of the play.
Who are your favorite playwrights, past and present?
Katie: Paula Vogel, Annie Baker, Erin Courtney, Brandon Jacob-Jenkins and I guess Chekhov.
Lilla: I would second Katie's list and add Sarah Ruhl, Caryl Churchill, and Martyna Majok. This play was also inspired by a lot of humorists as well, including folks like Mallory Ortberg, Miranda July and Sloane Crosley.
What famous (or not so famous) line do you wish you'd written?
Katie: "How you can sit there, calmly eating muffins when we are in this horrible trouble, I can't make out. You seem to me to be perfectly heartless."
What would you change about the current state of theater?
Katie: If I was the Dumbledore of New York theater I would combat the dark magic that drives ticket prices up so high and makes it unaffordable for the majority of people that live here. With my army of liberal arts students and magical powers I would try to get more young people to see and be involved in the arts because theater makers are I think, the best collaborators. And collaborators need to have empathy to be good collaborators. And humans should have empathy for other humans. Also if I was Dumbledore I would cast an Opposites curse on every theater so that they all produce seasons of plays and musicals written by only women and POC to make up for the entire history of theater being just white dudes always forever and ever amen.

How important is it to you that your work relate to our current political/social climate? 
We definitely hope that our work transports you from this awful hellscape that is our political / social climate into a (hopefully) comedic, heightened parallel universe, but we also hope that when you leave the theater you'll reflect on your own privilege and how obsessed on a scale of 1 - 100 with success you are.