Q&A: Kaela Mei-Shing Garvin on 'High School Coven' at the Corkscrew Theater Festival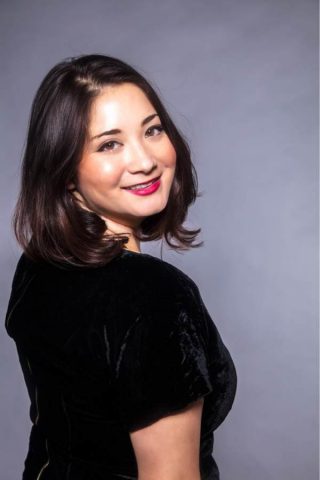 In a FringeNYC-less summer, other theater festivals promoting the work of up-and-coming artists are taking the lead, including the Ice Factory Festival at New Ohio, Broadway Bound Theatre Festival at the Theater at the 14th St. Y, and the UNFringed Festival at the Secret Theatre. Among them is the Corkscrew Theater Festival, a brand-new festival at the Paradise Factory that "aims to increase access to production opportunities for a varied set of early-career artists, especially those who are redefining traditional creative roles and developing work through unusual collaborative models."
Presented by The Brewing Dept. and Fortress Productions, the festival runs August 7 through September 3 and includes five new plays with eight performances each, as well as readings of five plays in development. We spoke with playwright Kaela Mei-Shing Garvin about her play High School Coven.
Tell us about your show! 
High School Coven is a dark comedy about female friendship and magic. Liana, Naomi, Rachel, and Trina form a coven to cope with the pressures of being a teenage girl, like finding the perfect homecoming dress, locating a suitable familiar, and something more sinister -- reporting sexual assault within the education system.
What have been the most exciting things about seeing your show come together? 
The talent!  The cast, design team, stage manager and director are all incredible.  They're funny, opinionated, smart: exactly the kind of people I love working with.  We have a women-led, non-male team -- to make theater together feels like a protest, and it feels like fun.  I love when we can have a laughter-filled rehearsal process.

Who are your favorite playwrights, past and present?
Oh gosh.  My favorites from the American canon are Tennessee Williams and Thornton Wilder.  I love queen Paula Vogel!  I think Adrienne Kennedy is criminally underrated, and Tom Stoppard is a genius.  And I really love the work of some of my peers: I've seen and read incredible full-length plays in the past six months from Brittany Allen, A.P. Andrews, Gemma Kaneko, Adin Lenahan, and Ry Szelong.

What famous (or not so famous) line do you wish you'd written?
"All you'll ever be is mean and a liar and pathetic and alone in life and mean." - Taylor Swift.  Just kidding, probably "Band-aids don't fix bullet holes." - Taylor Swift. Just kidding, probably "Do you ever feel like a plastic bag?" - Katy Perry.

What would you change about the current state of theater?
In terms of what's being produced commercially, a lot of theater is inaccessible to the majority of America, both financially and content-wise, but we're told it's "for us." The work is still by and large cis, straight, white, male, and safe. I see so much exciting work being done by women, queer and non-binary people in the emerging circuit, but very little of that makes it into the hands of producers.  I also think most commercial theater is prohibitively expensive -- by ensuring that prices stay upper-middle-class and higher, producers ensure that their audience will be of the same demographic.  People of all incomes and abilities should have access to theater. People of all backgrounds, incomes and abilities should have theater made about them and for them, but right now that's not the case.

How important is it to you that your work relate to our current political/social climate?
It's very important to me. I believe all work is political; nothing is created in a vacuum, but politics are usually on my mind, especially the ways American democracy often fails its most vulnerable constituents.  For this play, I began writing prior to the 2016 election, and that event profoundly affected how I saw the world of the play and our own world.