Ronnie Burkett Theatre of Marionettes, Back in NY After 15 Years: An Interview with the Obie-Winning Puppeteer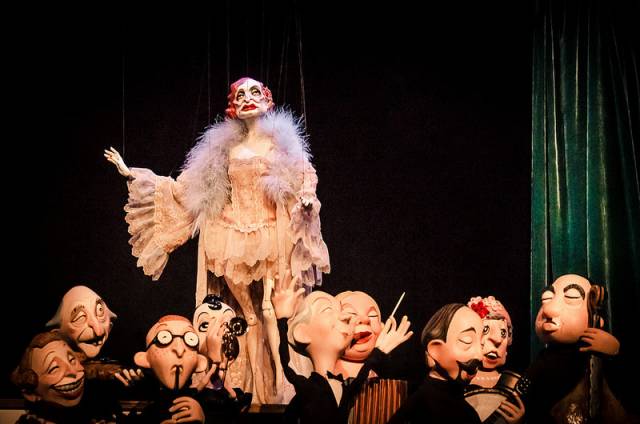 After a fifteen year hiatus, Ronnie Burkett Theatre of Marionettes is back in New York, bringing to life a rotating cast of forty characters in his new show The Daisy Theatre at the Baryshnikov Arts Center.  Mr. Burkett is a puppeteer virtuoso and dazzling storyteller.  Even over the phone from his home in Toronto, the Obie-winning theater artist's vocal presence and husky laugh were so vibrant, I felt we are in the same room together as we discussed what makes The Daisy Theatre new territory for him and his creative process birthing new characters.
This is the New York premiere of The Daisy Theatre.  What is the story? 
For the bulk of my career, three decades with theater marionettes, it's all been text-based work or scripted work around a theme I wanted to explore.  With The Daisy Theatre it is completely different for me.  It's sort of a new age vaudeville show.  I have characters that do monologues, I have songs, I have variety numbers, I have recurring characters.  So for me The Daisy is a new kind of Ronnie unleashed.  Not restricted by one script, one idea.  It really is "Who shows up? What are we going to do tonight?"  It's kind of ridiculously dangerous in that way.
Ridiculously exciting, though!
Oh yes, to tell you the truth, it is honestly the most fun I've had in my entire career.  Most of my work has been quite dark and serious so at this point to go to work and have this much fun every night is extraordinary.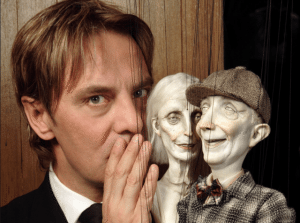 What is the historical origin of the title The Daisy Theatre?
The Daisy Theatre actually is a homage to the underground shows Czech puppeteers did during the Nazi occupations.  They were called daisies because the urban legend is that daisies grow in the dark.  So not that we are meeting in an underground basement with an oppressive regime outside the door, but I love the idea of the possibility of something beautiful happening in the dark.  Years ago I'd done a show called Tinka's New Dress, which was a scripted fable based upon those Czech puppeteers -- that's what I won the Obie for -- so this version [The Daisy Theatre] is a continuation of that in an unscripted way.
Why puppets?
I think when I discovered them at a young age I instinctively knew that it combined everything I was interested in: performance, design, making stuff. Even when I was in theater school I was already a performing puppeteer.  It's limitless, I'm not held to age or gender or skin color.  In puppetry I can play any and all characters.  It is so freeing for a performer.
I also think because I work solely for adult audiences, it's a way for me as a solo performer/creator/writer to really shrink the world and examine it on a smaller personal scale.  That's really ultimately what I think I do, I just take the outside world and shrink it and reflect upon it.
Give me one word or phrase that describes the essence of your work.
Ooooh, that's a good one. (Laughs) I think it relates to what I just said.  It's the world made small.
What is your process for creating a character, both as an actor and as a puppet maker?
For the bulk of my career, I've designed and built puppets based on what the script required, what I wrote.  With The Daisy, it's a one off.  Characters have no relationship to a script or each other and then I throw them on stage and see what develops.  Which is awfully fun because suddenly you have a little devil doing a love scene with a cow (laughs), because on that night I thought that would be funny or relevant.  A lot of characters are built once I have an idea for a variety number or song that is a standalone piece.  And some are characters I've always wanted to do and had no place to put them.  The Daisy is almost a repository for these extra characters that have been floating around in my brain.
There is a whole tradition of trick puppets -- puppets that do specific tricks -- and that has never been something I've explored because I am a text puppeteer mostly.  But I've never seen a ventriloquist act with a marionette and I thought that would be interesting to do.  So there is a puppeteer (me) working a puppet of a puppeteer (ventriloquist) working a puppet (the dummy).  And it turns out it probably is my favorite piece in the show.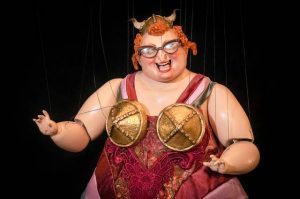 Every show starts with a burlesque number.  And that for me is a nice way to say to the audience, "Welcome to the grown-up puppet show!"  We have strippers, and fan dancers, and it is very cheeky and funny and puts you immediately into the sense that "This is the reason I got a babysitter and left the kids at home!"  I love the marriage of burlesque and puppetry; that cabaret and burlesque are having their own renaissance.  I think The Daisy really fits into that mode.  I just did a cabaret festival in Auckland, New Zealand and thought this is a perfect placement for The Daisy.
I design everything on paper, do a working drawing, then I have a little gang in my studio help me build the puppets. They're made of wood and a lot of papier-mâché.  I've worked with the same costumer for 25 years.   They have their own look, a hint of the past and they look completely contemporary at the same time.  The first incarnation of The Daisy Theatre, three years ago, there were about twenty marionettes and that took about a year to build.  Now there are forty.  Not all forty marionettes get into every show!
You are a Renaissance artist, both actor and puppeteer performing a multitude of characters.  How do you train for the run of a show?
That's actually a really great question, thank you.  Because I work acoustically, I'm not miked and I'm a bit of an anomaly in puppetry, because I'm about text and speaking, I talk and these characters talk.  So the primary focus on a performance day is my voice.   I spend the whole day slowly warming up my voice, I don't really talk to anyone during the day.  For me the whole focus is the voice, because I use over four octaves with these characters; from a very high-pitched falsetto little fairy boy to a guttural, chain-smoking Las Vegas lounge act.  So it's really vocal gymnastics.  I'm not a singer, but in any given show there's probably three to five musical numbers I'm belting out.  It's funny, you put a puppet in my hand, and suddenly all I want to do sing!  Put me in a party, I'm not going to sing for you at all!
The length of the strings and the height of the control in my hand is something I've tinkered with for decades.  Because I'm leaning over a back rail working these puppets, visible from the waist up, I have this biofeedback in me, clocking breath and stance, keeping fluid and loose.  I've said for a few years this show is my cardio.  (Laughs)
Anything else?
My previous work's been solo and scripted.  In The Daisy I do something I never thought I'd do.  Several times doing the show I bring audience members up to do tasks in the show: sometimes work a puppet, sometimes be a character in a scene with a puppet.  So the freedom and danger of inviting the general public up into my realm is really what keeps things fresh and alive every night for me.
I bet!
And for a control freak, that's really giving up control!  The Daisy has taught me the greatest lesson a performer can get.  I'm really grateful for that.  It is all about the experience with the audience and their experience with the performer.  So rather than doing a self-contained scripted thing that they observe, The Daisy is truly about the audience that shows up that night.  In the middle of the show I may discard an idea and throw something else in based on the audience that night.  And bringing civilians up into the puppets' realm, as a performer makes you connect with the audience in an authentic way.  I think this has been the best lesson for me and most fun for the audience, because they know that night they are seeing a show that is just about them.
So there is no fourth wall.  You're not letting them peek in, they are actually part of the telling!
Yes.  I've long believed that I do not make the puppets come alive, what I do is interpret them and move them; but because there is no fourth wall, when the audience buys into those characters - the suspension of disbelief - those characters start breathing.  I know that sounds a bit woo-woo, but it isn't.  It's actually something palpable I can feel every night when the audience gives that character their breath.  To have a full audience of adults listening actively to a very small puppet story is what keeps me addicted to live performance.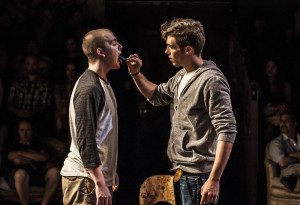 What's next?  What story or idea do you have a burning desire to explore and tell?
One thing I've decided is that The Daisy will go forever.  I'll do The Daisy till I die, because I realize that it can regenerate itself every season with new characters and new ideas.  So I'm totally committed to The Daisy being the thing I'm doing when I'm 90 years old, God help the audience! (Laughs)
But I am writing a scripted show called Forget Me Not, which is about memory, loss of memory and loss of written language.  Although it is a scripted piece and there is no improvisation with the text, the audience is on stage with me; the audience and I create the staging every night.  So it's a lesson from The Daisy that I'm exploring in a scripted piece.  And this will be a very intimate experience with the audience.  Maybe a hundred people, because that's what audiences have been telling me they want.  They want to see every detail and hear the acoustic voice; kind of a sitting around the fire thing.  In this uber digital age, suddenly the theater has a bigger relevance than it's ever had before.
Why at this age do I need to throw it all in the air and take a risk like that?  Because puppetry allows you that.  It is exciting to me.  It might actually be a colossal failure, but I can't wait to try it!