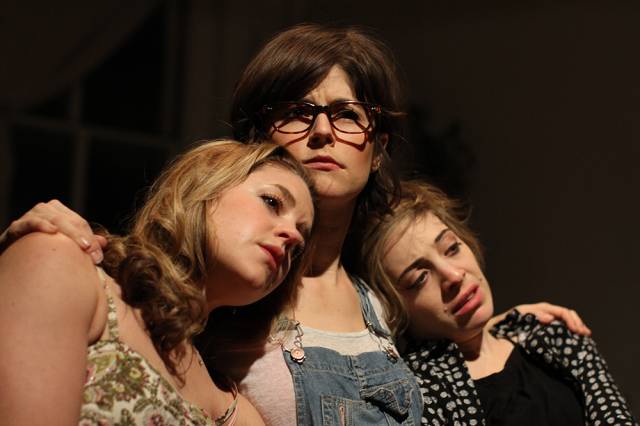 If you're unfamiliar with Shrunken Shakespeare Company, now is a great time to get to know this classical theatre company with a contemporary edge.  Their newest project, What We Know: An American Retelling of Chekhov's Three Sisters, is an entertaining and thought-provoking update of the original text and is playing at the Access Theater through December 20.  We spoke with Yvonne Cone (Co-Producing Artistic Director) about making Chekhov's language modern, the challenges of the project, and why the play remains relevant today.
Why was it important to move the story to modern time?
Ironically, the time and place are not as important to us as the subject matter and characters. We have kept certain elements in our play vague, as this story is not about whether we are talking about Moscow or New York, the swamps of the South, or the boondocks of Canada. This is a story about a family, their relationships, their struggles, their inner demons, and their fears. It's a story of the privileged no longer being privileged (something we as a nation are currently struggling with). We wanted to tell a contemporary story to a contemporary audience. And funnily enough, we have kept 80-90% of Chekhov's plot points, character arcs and relationships, while shifting the language to suit the story we wanted to tell.
Is there something audiences who've never experienced Chekhov should know before attending?
Honestly, no. We have heard from audience members that it is has been both helpful to know the original and to not know anything about it. What we have done can stand alone without knowing Chekhov's piece as there are elements that are completely new to our adaptation/retelling. Characters are missing, scenes are added, the language is 100% contemporary. We have, however, had pretty amazing conversations with audience members who know the original and then see ours. They have been more complimentary than we could have hoped for, and we are in awe that this type of work is actually doable.
How'd you pick and choose which elements of the story you wanted and which ones were unnecessary?
We knew we wanted to keep the cast relatively small, and once we started reading translations of the script, the same unnecessary elements kept standing out to us. Certain characters just weren't necessary in telling the nitty gritty of the plot. One of the biggest developments came when we realized that we didn't need to speak certain lines to get the subtext across. A whole monologue could be summed up in one gesture, one look, or just a lack of speaking. It really was an experiment. We would do the same scene in several ways to see which made the most sense to us as an ensemble.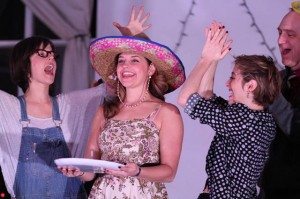 What was most challenging about this project? What was most rewarding?
The most challenging part was getting everybody in the same room at once over the past year. It's an ensemble of nine working actors, and man are they busy. The most rewarding moments have been those when a sort of metaphorical light bulb comes over all of our heads at once. Those moments where we all agree on something because we feel as a group that it's right for us, and more than anything, honest and fun. We had a lot of those moments on our retreat out of NYC back in September. That weekend yielded a lot of fruit.
Do you know more about life after completing this project?
After this run we are going to take a few months to look at the script, do a fair bit of adding/editing, and have some discussions with playwrights we love and work with. We have our Celebrity Staged Reading in the Spring, and we are currently in discussions about our TBA Shakespeare piece, which will be getting us back to what we've been doing the past two and a half years, but in a very different way. This process has definitely spoiled us as far as long development processes go.
Any advice you have for other theater companies devising work in the near future?
Love what you do. Enter a room with love and openness and honesty. You will fight. You will passionately believe in your opinion and the opinions of others in the room. It is a process, and devising a piece is really never done. You will always want more from it, you will always want to give more to it. However, know that in the end, the best solution will always be chosen because you trust the people you're working with.
What We Know is playing at Access Theater through December 20th.  For more information and tickets click here.