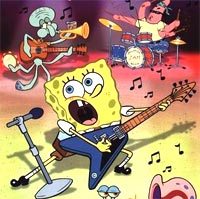 Entertainment Weekly reported this week that everybody's favorite absorbent, porous and yellow invertebrate, SpongeBob SquarePants, may someday come to Broadway. At its annual "upfront" presentation of its TV offerings, Nickelodeon announced that the classic cartoon is being developed into a Broadway musical that will feature pop hits by the likes of Lady Antebellum and John Legend.
Before you give a Squidward-like sneer, note that Tina Landau, of Steppenwolf and "Floyd Collins" note, is slated to direct, and that other animated characters who have made it to Broadway include Aladdin, a Beauty-besotted Beast, and a certain leonine monarch.
That said, it seems a shame Nik has decided to jukebox its score rather than commission new tunes for Patrick, Sandy and the other residents of Bikini Bottom to belt. Rather than generic pop, couldn't the creative team at least grab some old showtunes to croon? For example, they need look no further than "White Christmas" for Irving Berlin's "How Deep is the Ocean". Or Spongebob could sing an ode to his abode with "It Couldn't Please Me More" from "Cabaret" (you know, the lame pineapple song that Bob Fosse rightly cut from the movie version). And, tempted as they might be to use Bruce Springsteen's "Sandy" for SB's land-bound squirrel pal, wouldn't it be even better to go with Gershwin and diss Spongebob's boss with "I'm Talkin' `Bout Devil Crabs"? Plus, if you conflate the names Barnacle Boy and Mermaid Man and say them really fast, you've got "Barnum" and Merman, which is about as theatrical as you can get.
Let this also be a caution for other producers who might take this Spongebob news as a cue to jump on the bandwagon and bring more cartoons to Times Square; there are ample opportunities to recycle Broadway hits in your shows. For example:
Aqua Teen Hunger Force: "Meat Me in St. Louis", "Out of the Frying Pan" (from "The Spitfire Grill"), "Who Will Save New Jersey?" (from "The Toxic Avenger") and "Shake Shake Shake" (from "Song of Singapore").
Family Guy: "A New Brain's" "Poor, Unsuccessful and Fat" (for Peter), "Drink with Me" (for Brian), "Passing Strange's" "We Just Had Sex" and "Mary Poppins's" "Giggitygoggitygoo" (for Quagmire), "Passing Strange's" "The Black One" (for Cleveland).
Assy McGee: "Honey Bun(s)".
Duckman: "(He's Just My) Bill."
Mr. Pickles: "The Will Rogers' Follies's" "Wild West Show/Dog Act" and "The Wedding Singer's" "Somebody Kill Me".
The Simpsons: "Home Sweet Homer", "Side Show's "The Devil You Know" (for Mr. Burns), "What Makes Sammy Run's" "You Can Trust Me" (for Lionel Hutz, attorney at law), "Every Day a Little Death" (for Hans Moleman).
South Park (assuming they don't simply use the movie tunes): "Lute Song's" "Speak Low" (for Kenny), "Titanic's" "The Largest Moving Object" (for Cartman) and "March of the Falsettos's" "Four Jews in a Room Bitching" (for Kyle's immediate family).
Uncle Grandpa: "Your Good Morning" (from "Parade") and anything sung by RV Fierstein.