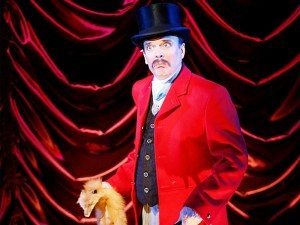 What would you do if you were the heir to a fortune and a life of almost noble status, however, eight other relatives stood between you and the money? If you're Monty Navarro, you figure out ways to dispose of these obstacles while still appearing to be a perfectly capital young man. That's the story of "A Gentleman's Guide to Love and Murder", a new musical that adapts "Kind Hearts and Coronets", one of the classic comedies to come out of Britain's Ealing Studio era.
Starting previews tonight (Tuesday, Oct. 22) at Broadway's Walter Kerr Theater, "Guide" features Tony winner Jefferson Mays, of "I am My Own Wife" fame), not as the calculating gentleman of the title (he's played by Bryce Pinkham), but as the entire octet of victims who come to various ends at Monty's hands.
Staged by Darko Tresnjak, "A Gentleman's Guide to Love and Murder" features a book by Robert L. Freedman, music by Steven Lutvak and lyrics by the pair. Highly promising reviews greeted the show's tryout last winter at Hartford Stage and San Diego's Old Globe, including a rave from New York Times scribe Charles Isherwood, which no doubt put the musical on the fast track to Broadway. "The dashing, deadly charmer Monty Navarro," wrote Isherwood, "is like Sweeney Todd as refashioned by P.G. Wodehouse."
Opening Nov. 17, "Guide" features choreography by Peggy Hickey, who is making her Broadway debut but has notable TV and regional credits, including work at Geva, Goodspeed, Reprise! and NYC Opera.
https://stagebuddy.com/listingdetail.php?lid=14864