They Took 57 Years with Them . . . to Broadway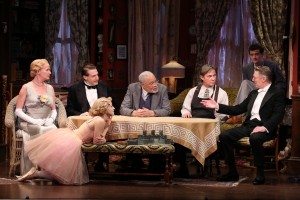 What were you doing 57 years ago?
Well, like me, the vast majority of people reading this probably weren't doing anything but floating in heaven somewhere before popping up in a scrotum, but two personages on Broadway were very busy back on January 30, 1958. One of them was James Earl Jones, making his Broadway debut in the Tony-winning bio-drama, "Sunrise at Campobello", about the early, pre-presidential struggles of FDR. A minor presence in that drama, Jones would work consistently on Broadway until 1968, which is when "The Great White Hope" launched him and co-star Jane Alexander into stardom.
Meanwhile, a much younger pup also made his start in "Campobello". Richard Thomas was but seven years old when he played Roosevelt's son at the Cort Theater. Television beckoned for Thomas, of course, culminating in his career-making (if occasionally straitjacketing) role on "The Waltons". But the ever-youthful actor has appeared on Broadway as everything from a paraplegic gay man in "Fifth of July" to a suspected rapist in David Mamet's "Race".
Why mention both actors in the same story? Well, as the press folks for the current revival of "You Can't Take it with You" have been kind enough to point out, both Jones and Thomas are appearing together again on The Great White Way. Jones opened with the Kaufman & Hart play back in September as the patriarchal Grandpa Vanderhof, while Thomas just took over for Mark Linn-Baker as his eccentric, fireworks-making son-in-law, Paul.
These six decades have been very kind to both actors, physically and financially. But I got curious as to how sweet the years have been to other shows that opened in the same season as "Campobello". Did anything else have the staying power of Messrs. Jones and Thomas?
Well, it didn't have quite the impact that it did in England, but John Osborne's "Look Back in Anger" certainly opened the Broadway door to angry young writers and literate young Brits. Ketti Frings's "Look Homeward, Angel", based on Thomas Wolfe's celebrated novel, ran 564 performances in its Broadway debut, though it has yet to be revived.
William Inge's "The Dark at the Top of the Stairs", which ran a year, has also been deprived of further mainstem productions--though it seems every community theater has done it at some point. The same might be said for William Gibson's "Two for the Seesaw", which netted a Tony for Anne Bancroft and has seemingly been done ubiquitously since—except back in Manhattan.
A pairing of Eugene Ionesco's "The Chairs" and "The Lesson", featuring Joan Plowright and Eli Wallach, ran just three weeks, but the pieces have become staples of absurdist theater. On the other hand, the musical comedy "Oh Captain!", despite the presence of pre-"Odd Couple" Tony Randall and a six-month run at the Alvin Theater, has been all-but forgotten.
1957-58 was the season of "The Music Man", which ran a whopping 1,375 performances and scooped up Tonys for Best Musical and leads Robert Preston and Barbara Cook. Meanwhile, on September 26, 1957, a little musical opened at the Winter Garden Theater. It was supposed to be about Jewish and Irish teenagers not getting along, but somewhere along the way, the battle shifted to white vs. Hispanic. Ultimately, Larry Kert, Carol Lawrence and Chita Rivera got involved, and the rest is hi(west side)story. And speaking of Chita Rivera, she'll be coming to Broadway this season in "The Visit" – a musical version of Friedrich Duerrenmatt's dark satire that first reached Broadway in May 1958.
Despite a healthy run, the Lena Horne tuner "Jamaica" isn't much considered anymore, though stagings/adaptations of Dylan Thomas's "Under Milk Wood" (which debuted Oct. 15, 1957 at Henry Miller's Theater) are fairly common occurrences.
So, yes, the season of `57-58 featured such items as the musical "Rumple" (which was set in the aptly named town of "Oblivia"), an Aldous Huxley flop called "The Genius and the Goddess", and a musical revue that paired Mort Sahl and several folksingers mulling over "The Next President". But a season that gave us Sharks n' Jets, chairs n' stairs, angels n' librarians and, of course, Jones n' Thomas, is certainly worth remembering well.