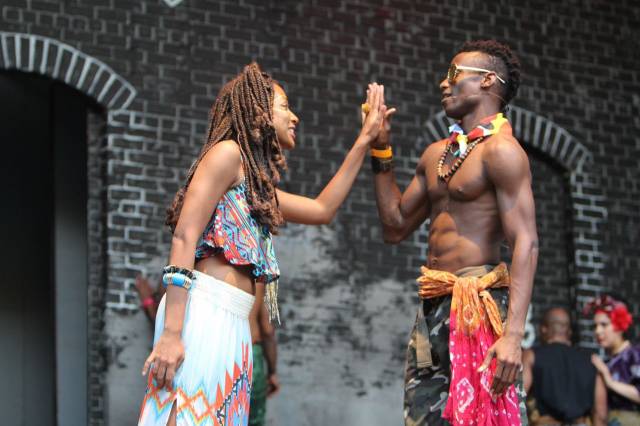 Why wait in line at the crack of dawn to see Shakespeare in the Park if you don't have to?  The Classical Theatre of Harlem's free production of Romeo N Juliet at the Richard Rodgers Amphitheater at Marcus Garvey Park has audiences returning again and again.  A reworking of Shakespeare's classic, this excellent production is changing the face of American theater.  (Read our rave review here.)
StageBuddy caught up with Producing Artistic Director Ty Jones (who also portrays Mercutio) to discuss what makes Romeo N Juliet something different from what you might expect.
StageBuddy: How is this production of Romeo and Juliet different from what might be expected from a classical production of this play?
Ty Jones: I think this production engages the diversity and complexity of the African diaspora.  It is done through the lens of Romeo and Juliet in that we explore the culture of violence and separation.  The Capulets and the Montagues reveal very specific cultural attitudes within the black community that some would say cause for a certain vision which is very much apart of Shakespeare's story of Romeo and Juliet.  We usually see it with the Capulets are white and the Montagues are black, some sort of concept that way.  We're distinguished because we're looking at West African/West Indian versus Black American culture to tell the story. It's diverse within the context of our culture.
SB: Can you tell me a bit about the music that's used in this production?
TJ: I like the way Justin Emeka (Director) infused all these different elements of music that are popular within the West Indian culture and hip hop culture which has somewhat a global presence.  He brought music that has a huge influence with a certain specificity in the black community.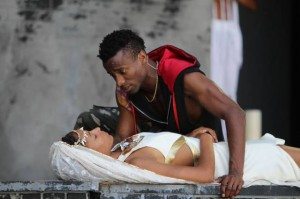 SB: What was your casting process?
TJ: The casting process was a difficult one, it's more of a procedural thing.  We have a letter of agreement with the Actors Association meaning we use union talent which we're happy to say.  Because of the scope and size of the production we can only afford so many equity actors and the union gives us a concession on that and as long as we have a production with 20 people we're required to make sure at least 9 of the people in cast are union and we do that.  We fill the principal roles with equity actors and fill it out with non-equity actors.  We've been so fortunate that the talent pool of non-equity world is equal to those of the equity world.
SB: What has been some of the feedback you've received from audience members?
TJ: I heard someone say skip the Delacorte (Shakespeare in Central Park) and come uptown to see our show.  It makes us feel good that folks are validating our show.  We want to create the next great American theater company.  There have been other theater companies that have come to us to see how we can collaborate, other organizations have come to see how they too can join.  On Fridays, Jazzmobile performs from 7 to 8:15 p.m., creating a combination of jazz and theater.  It takes a village and most important the individual. At the end of the day, if there aren't any people in the seats there is no theater.  It's up to individuals to say we matter.
(This interview has been edited and condensed.)