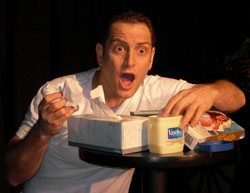 Taking a date (or spouse, or significant other or affectionate parolee) out to a Broadway show is a no-brainer for Valentine's Day. A show is both social and personal, the experience allowing relative strangers to spend two hours together without having to manufacture conversation – and then go for drinks with lots of things to talk about. There's also the sheer rush of excitement from the curtain going up, the buzz of a New York crowd, and the romance of a Manhattan night in the theater district.
So if you're looking to bring your sweetie to a current Broadway production, which ones would most conducive to a romantic evening (or slightly cheaper mid-afternoon) on the town? Let's take a look:
Aladdin: Zany colorful fun, with cute leads who fall in love and fly on a magic carpet during a starlit Arabian night. Just avoid steering post-show conversations to the actual Middle-East, and you should be fine.
The Audience: Queen Elizabeth takes on the English media. Yes, Helen Mirren is sexy, but, well, it's Queen Elizabeth. You'll both have to lie back and think of England.
Beautiful: The Carole King Musical: Ahh, early 60's nostalgia – the perfect storm for Boomer-audience handholding. Granted, Carole King's marriage doesn't work out so hot in the show, but the Mann-Weil nexus has lasted 54 years and counting.
The Book of Mormon: Laughter's always great for dating, so if there's a particular baby and/or frog you hope to violate sexually, this is the show for you.
Cabaret: Dissolute woman falls for closeted gay writer while Jews are getting beaten up in Weimar, Germany. Yes, chicks love Alan Cumming, but you still won't be getting any.
Chicago: Sexy murderesses, slinky dancers, hummable songs you know going in – oh yes, she'll reach for your gun.
Constellations: Various permutations of a cute couple's relationship. The date show of the season, but just understand that whatever happens later, she'll be picturing Jake Gyllenhaal.
The Curious Incident of the Dog in the Night-Time: So exhilaratingly theatrical, even the essential unhappiness won't be a mood-killer. However, after two-and-a-half hours of watching the young boy up there, you'll both be using serious birth control.
Disgraced: Let's see . . . vicious arguments about Muslims and a guy with anger issues who beats the crap out of his wife. As such, your chances are about 30-70 for a goodnight kiss vs. being sprayed with mace.
Fish in the Dark: A bunch of Jews sitting around talking about death. Still, if she liked "Seinfeld . . . "
A Gentleman's Guide to Love and Murder: Okay, so the protagonist murders nearly a dozen people, but he's really sweet to his two girlfriends, and joyful laughter is a monster aphrodisiac.
Honeymoon in Vegas: A frothy musical comedy with "honeymoon" in the title – how can you go wrong? Plus, for no explicable reason, there are plennnnnnty of seats available.
If/Then: Various permutations of Idina Menzel. A good V-Day choice but just understand that whatever happens later, he'll be picturing Adele Dazeem.
It's Only a Play: Lovey/bitchy theater types quipping and sniping as fast as Terence McNally can write `em. A fun choice, though you're gonna need three Viagra just to counter the effects of seeing Stockard Channing's makeup.
Jersey Boys: Ahh, mid-60s nostalgia. This is the bridge and tunnel date play, especially for the anniversary of a wedding or a mob hit.
Kinky Boots: Trans-everything is all the rage, and empowerment is always a theatrical "up," so with "50 Shades" opening in movie theaters, the only complaint might be that this show isn't kinky enough.
Les Miserables: The songs, the gallant young men, the tragic heroines – this is high-school date night 101. But do a matinee because, you know, it's Les Miz, so the thing ends just around sunrise.
The Lion King: On the car ride home, make sure to play Nine Inch Nails's "Closer". Tee hee.
Mamma Mia!: More a girls' night out than a date show, though Donna's slutty past could be a talking point.
Matlida: Exuberant, but Miss Trunchbull can shrink testes at a hundred yards, and a schoolroom full of angry kids will have you raiding Walgreens for spermicide.
On the Town: Playful, lightly bawdy and full of one-nighters, this is the one for someone you just met on the internet.
On the Twentieth Century: Glamour, laughs and former lovers possibly rekindling a spark. Sounds perfect for the 40-plussers.
The Phantom of the Opera: So the show's protagonist is a horribly deformed psychotic who obsessively stalks a younger woman. And teen girls can't get enough. Maybe "South Park" was right about that subliminal bj thing.
Wicked: Female bonding and power politics – pretty much the ideal third date for lesbians.
And, finally, moving off Broadway:
The Accidental Pervert: The perfect date for yourself and your lubricant of choice.
Avenue Q: Kind of like "The Accidental Pervert" only here you'll want to bring an actual hand puppet instead of using your hand as a puppet.
Bed Bugs and Beyond: This is an off-off-Broadway musical at the 13th Street Theater that satirizes attacks on women and gays. Translation: You won't get laid for weeks.
Nevermore: The Imaginary Life and Mysterious Death of Edgar Allan Poe. Translation: You won't get laid EVER.
Happy Valentine's Day, dear readers!