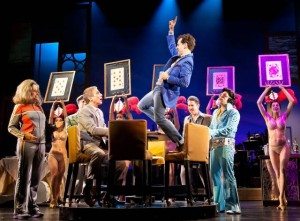 When "Honeymoon in Vegas" played at New Jersey's Paper Mill Playhouse two years ago, the musical seemed to be on a fast track to Broadway. Audiences had a blast, the cast boasted Rob McClure (coming off his brilliant notices for "Chaplin") and Tony Danza (coming off his years of good will from "Taxi"), and no less than Ben Brantley of the New York Times praised the show to the skies.
It took longer than expected, but "Vegas" has finally traveled to Broadway, but a funny thing happened on the way to the Nederlander Theater. For one, composer Jason Robert Brown suffered a flop (a respected flop, but a flop nonetheless) in "The Bridges of Madison County." And for two, "Honeymoon" has had unfathomably poor advance sales and box-office grosses. Tony Danza's been all over the TV pushing the show, but weekly wraps have stayed in the $300-400K range during previews–far below the level needed to break even, let alone start paying back backers.
As such, the moment of truth has arrived. The production officially opened Thursday night, Jan. 15, and if reviews are anything short of stellar, "Honeymoon in Vegas" will likely see a quickie divorce in New York.
So how did the show, based on the 1992 film comedy of the same name, fare with New York's press?
Well, for starters, count Jason Clark, of Entertainment Weekly, as a fan. He was no acolyte of the movie, "So it's a great surprise," he writes, "that the large-scale musical version of said property is a frothy delight, a pineapple-sweet warm-up in this most frigid season." He calls Danza "enormously winning" and calls McClure the show's "jackpot component." Oddly, Clark gives "Vegas" a B+, though the review feels more like an A-.
Variety's Marilyn Stasio also praises the production as a "not-quite-knockout Broadway musical" with "catchy tunes and clever lyrics." She likes Brown's "breezy score" and the "brassy swing styling of the fantastic onstage band." Like Clark, she notices a few draggy moments in the second act but is happily back on board by the finale.
More good words come from Newsday's Linda Winer, who calls "Honeymoon" "unexpectedly delightful" with songs by JRB "that seem as if they ought to be old-time brassy standards." She notes that director Gary Griffin and choreographer Denis Jones "keep the antics on the bright side of foolishness" and, in her last line, expresses the hope that now that the show has finally opened, people will start buying tickets to see it.
But okay, I can tell you're holding your breath to find out whether Ben Brantley returned to the show—and whether he remains in its corner. And the answer is . . .
Yes and yes. "This production," he writes in the Times, is a "real-life, old-fashioned, deeply satisfying Broadway musical in a way few new shows are anymore." He adds, "What its creators have whipped up is an unlikely but scrumptious blend of cheese and caviar. And the career-high work here of Mr. Brown and Mr. Danza is so stealthily sophisticated that it takes you a while to realize the sly genius of what they're doing." If that doesn't bring in a half million at the box office today, then the New York Times truly is no longer a kingmaker.
A bit less enthused than Brantley is Joe Dziemianowicz of the Daily News. In his *** (out of *****) review, He agrees that the score is "terrific" and that the cast gets many "shots to shine." But he also wishes "sexier, funnier and more surprising . . . it doesn't really get airborne."
A similarly positive--but not quite glowing—review comes from Elizabeth Vincentelli of the New York Post. She harps quite a bit on the show's weaknesses, such as when parts of the story "cross the line between old-school and antediluvian" or an island sequence becomes "endless." Nevertheless, she feels "the spectacularly limber" Rob McClure saves the day. "If `Honeymoon' hangs on," she notes, "it'll be in large part thanks to him."
Even less enthused is USA Today's Elysa Gardner, who musters only **1/2 for a show that has a "generic-sounding score" and an "unabashedly hokey book." She allows that Danza "sails on pure charm," McClure is "energetic and endearing," and the set design is "scrumptious," but saying "you could do worse than `Honeymoon'" is not exactly a money review.
Fitfully entertained, as well, is AM New York's Matt Windman, who counts himself a fan of composer Brown, and says that a few "finely crafted songs" help the show start to "soar." But more often than not, he sighs, `Vegas' is "mired in a pained attempt to enliven and exaggerate a simple but heartfelt boy-meets-girl/boy-loses-girl story into a broad, over-the-top musical comedy. There is an air of desperation to some of the antics."
Agreeing with Windman is The Wrap's Robert Hofler, who finds much to like in the score. The plot, however, feels both unseemly and yet too tame "in this age of Seth Rogen gross-out humor." Unlike nearly every other critic, Hofler disses the cast, saving his worst barb for Tony Danza who "can't sing or dance but . . . seems to be enjoying himself immensely. It's a kind of charm."
Still, the Times loved loved loved it so . . . maybe "Vegas" will stay in the game instead of cashing in its chips.