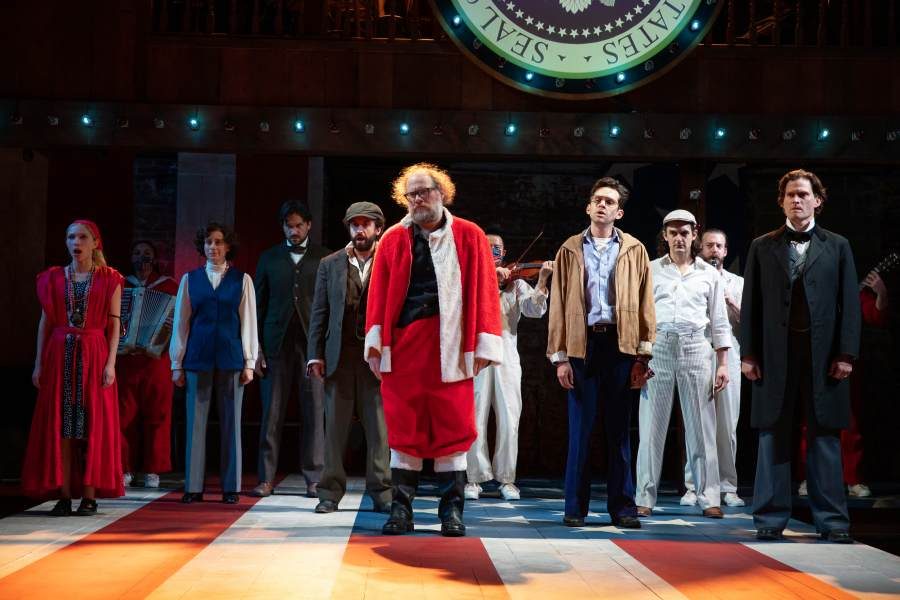 Only Stephen Sondheim could have taken a motley group of would-be murderers and made them sympathetic and funny. At one time, a musical about killing presidents would have been controversial or startling. Certainly that was the case 30 years ago when the show "Assassins" first opened. But today, after the events at the Capitol on January 6, little seems surprising.
At its heart, the musical "Assassins" is about The American Dream. How do you achieve it? How do you behave when you don't? With a glint in his eye, Will Swenson portrays a manic Charles Guiteau who shot James Garfield in disappointment at not being named Ambassador to France. Why would he have even expected to become ambassador? John Hinckley (Adam Chanler-Berat) shot Ronald Reagan to impress actress Jody Foster. "Hey, fella, feel like you're a failure? Feel misunderstood? C'mere and kill a President," are song lyrics directed to one assassin but yet are appropriate for several of them.
The show is compact, moving quickly for 105 minutes with no intermission. Directed by John Doyle, the revival at the Classic Stage Company is uniquely American, from the stage that is painted like a flag to the red, white and blue face masks that each of the performers wears at times during the show, As the nine men and women aim at their targets, a picture of the intended victim flashes on the large screen in the background of the CSC stage.
The marvelous Steven Pasquale is charismatic and unapologetic as John Wilkes Booth. His voice, often passionate and compelling, suggests the frustration and anger which led Booth to kill Lincoln. He explains that Lincoln destroyed the South and the country and his decision to kill Lincoln was a noble act. He's irate at the innuendo that he was reacting to poor reviews he received as an actor. "They say you killed a country, John/Because of bad reviews." Later Wilkes is the one who convinces Lee Harvey Oswald (played by Ethan Slater who doubles as the Balladeer) to join the other assassins and take his place in history.
On stage the entire time, the band is an integral part of the musical, with musicians often singing and playing minor roles. In "Assassins," much of the music suggests a carnival, upbeat atmosphere in contrast to the serious events which occur. In the opening number, the ensemble sings, "Everyone has the right to be happy." Much of the music is buoyant and three of the ballads have a country feel to them. There's also comic irony as Judy Kuhn as the ditsy Sara Jane Moore and Tavi Gevinson as Squeaky Fromme sing about Max Factor lipstick as they plot to kill President Ford.
Director Doyle has gathered a stellar, experienced cast with music and lyrics by Sondheim and book by John Weidman, "Assassins" may alternately delight you and appall you as you find yourself actually caring about some of the characters. Although all of the assassins are determined to kill presidents, they don't come across as terrorists but, in some cases, merely misguided and pathetic. Or maybe we are getting used to terrorists.
"Assassins" - made in America.