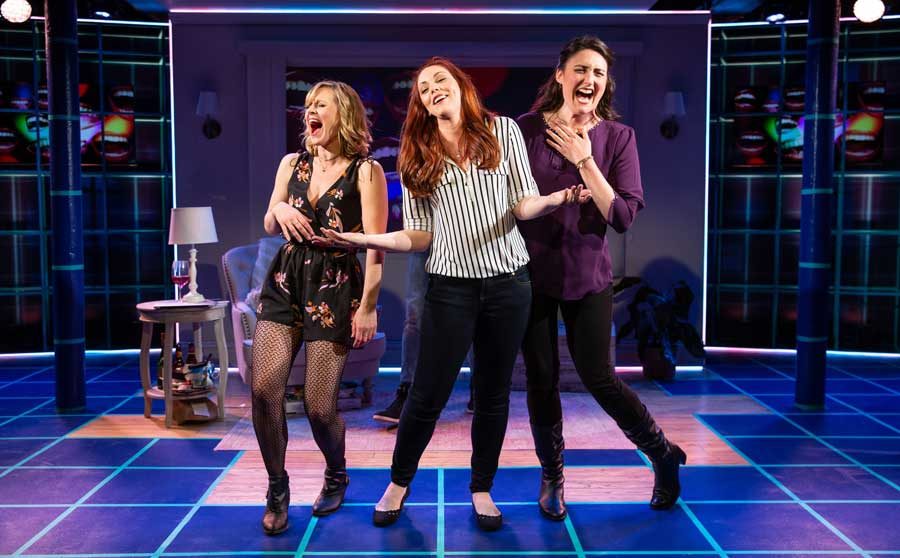 Despite being married, I am familiar with online dating sites. I've helped one single friend scroll through her options, another create profiles (she fibbed about her age,) and a third alphabetize her responses. I'm happy to report two of the three successfully met wonderful guys online; the third is also doing well, but she was set up by her cousin.
In the show "#DateMe: An OKCupid Experiment" at the Westside Theatre, comedian Robyn Lynn Norris (here portrayed by Kaitlyn Black) tells of her own experiences with computer dating sites. Backed by a very talented ensemble of five performers, she describes her own personal disappointing encounters.
Norris created an experiment, creating 38 phony profiles on the dating site OKCupid. Some of them are a bit extreme. Profile names in "Quotes" are flashed on the screens onstage and represent some of the real people she interacted with on OkCupid, as well as the fake characters she posted during the experiment. Norris doesn't believe that good matches can be made online, but the five 'scientists' in lab coats seek to convince her otherwise. During the show, she shares the results of her experiment.
The show is fun for those who have used the internet sites. Many in the audience were single and had used the internet to meet people and so were able to identify with Norris. There is a lot of humor, jokes, sexual comments and silly characterizations.
Before the show, the audience is invited to log onto the DateMe app, take a selfie and create a profile. Later, the performers were able to use some of the pictures and information that had been uploaded.
The most entertaining aspects of the show are the unscripted,
improvisational segments. In one scene, audience members are asked to share bad internet first dates. Then the actors assembled onstage to present "The movie-the first date."
In another segment, the cast asked for single people to raise their hands and then called one man and one woman onstage. They helped them fill out profiles and continued to refer to them later in the show.
The performers are talented and quick on their feet. The actors, Chris Alvarado, Jonathan Gregg, Eric Lockley, Megan Sikora and Liz Wisan and Black, play several characters, sing and do accents. At the end, they even rap about some of the audience members, using information they learned during the show. Each show is different, based upon the audience makeup and responses.
"#DateMe:An OK Cupid Experiment" is not only funny; It's educational
( 32% of today's couples met on an online dating site. By 2040, that number will rise to 70%.)
It's surprising (There are 54 million adults in the US and 49 million have used the sites. There are 2,500 online dating sites today.)
It's instructive (Men lie most about their income. Women lie most about their age. There are key words guaranteed to get more responses.)
If you met your significant other the old-fashioned way, you may not find much in common with the subject matter of the show. However, if you've ever spent time online on the sites, you can probably laugh and identify with our heroine. More importantly, if you are not currently in a relationship, you might want to go to the show - just to get some pointers.