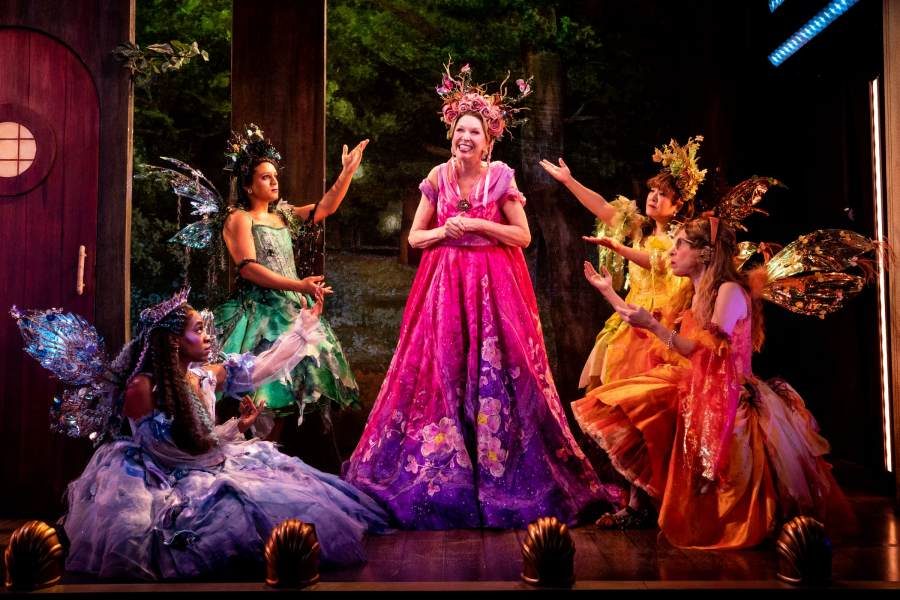 If I had a product to sell, I'd hire comedian /actress Jackie Hoffman to be my spokesperson. With her rubbery face and perpetually dour expression, she's believable. She would never lie! On top of that, with every line she delivers, every move she makes and note she hums, she's downright funny
Yet even Jackie Hoffman can't sell "Fairycakes," the new show written and directed by Douglas Carter Beane. The production at the intimate Greenwich House Theater offered so much promise, loads of talent and a clever plot line but it fails to deliver. Beane takes Shakespeare's "A Midsummer's Night Dream" and gives the fairies day jobs and parent issues. Some of the original story remains intact. King Oberon (Arnie Burton) and his wife Queen Titania (Julie Halston) quarrel over a changeling boy. Except this 'boy' is a hunky 20-something (Jamen Nanthakumar.)  The couple decides to call it quits and their four fairy daughters are understandably upset. The fairies (Hoffman, Kristolyn Lloyd, Ann Harada and Z Infante,) become even more distraught when they learn that if their parents divorce, they will cease to exist. Crisis! How to get the king and queen back together? Cast a magic spell. 
Whereas in the original play, there are two couples and a band of actors who spend an enchanted night in the woods, Beane uses fairytale characters. After all, it worked well for Sondheim. He introduces Geppetto and Pinocchio, Sleeping Beauty, Cinderella and a pirate from Peter Pan since those stories have fairies who propel the action.
Beane uses rhymed couplets, many of them awful and purposely so. As one character notes "love and cove are not good rhymes." In some cases the weak rhyme is the reason for the humor but it does grow quite tiresome after a while. In the second act when the magic is gone,  "suddenly there are no rhymes." When Oberon is lecturing his daughter, he notes, "I hate when you speak prose." At times, the rhyming dialogue is hard to follow. Beane also slips in a few sly references to theater name, dropping Judi Dench and Scott Rudin.
On paper, my guess is that  Beane's show reads really well. Why else would such talented performers agree to be in it? Julie Halston plays Queen Titania and later Queen Elizabeth (who really doesn't have a role in the Shakespeare play) is wonderful, regal and downright funny. Most of the characters play multiple roles  except for the two lovers, Fairycakes, Lloyd who gets to sing a solo and show off her lovely voice, and Puck (Chris Myers.)
Off-Broadway often presents its own challenges for staging and setting, but here the staging seems amateurish. I thought the dancing and the humming for Titania's opening was weak until I realized that I was still humming it as I left the theater.
I chose to see "Fairycakes" because I admire several performers in the cast. There was so much talent on that stage, yet I left unfulfilled and rather glad the overly long production had ended. The play is all about magic and love. Puck casts a spell and wondrous things happen. The problem was "Fairycakes" never really had magic.