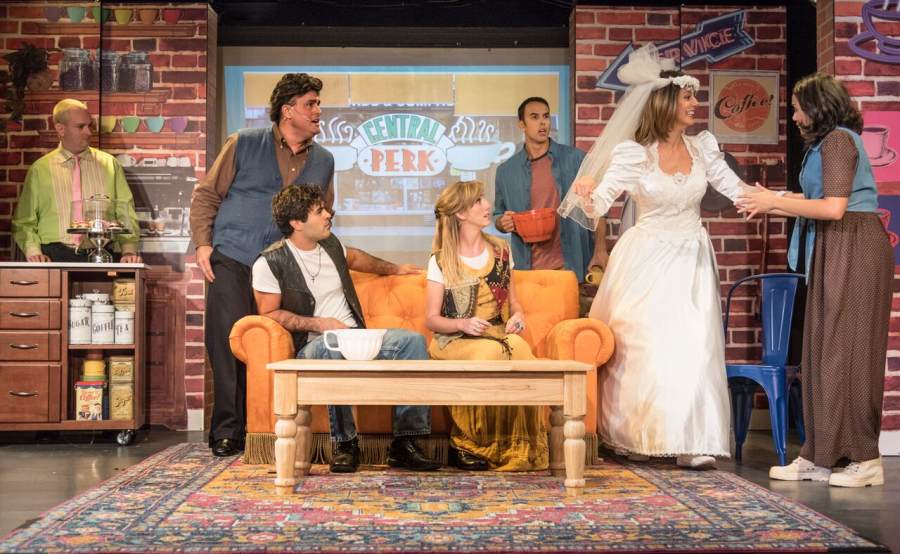 With friends like these, who needs television? Friends! The Musical Parody is quick witted, good hearted, a tiny bit raunchy, and filled with laughs. At Central Perk, the players are well-loved and well-caffeinated. Ross, Chandler, Monica, Phoebe, Joey and Rachel haven't gone anywhere, they're  singing and dancing their way back into our hearts with frothy, silly lyrics and song parodies that don't disappoint. The art of this piece is that it's fun loving, not mean spirited, with well-crafted harmonies and surprisingly satisfying performances all around.
Landon Zwick gives a standout performance as Ross Geller. It's a fun, twisted spin on the well-known role and the audience clearly adores the result. As Ross, Zwick is a heartsick, silly geek with great vocals, effortless dance moves and comic timing to die for. He's somewhere between a young Dick Van Dyke and David Schwimmer himself. Zwick raises the stakes with unbridled energy; he lands every punch line and nails Ross's dorky double-takes to perfection.
Seth Blum as Chandler Bing gives a winning and broadly comic turn as both Chandler and his off-again, on-again girlfriend Janice. Quick changes and a quirky stage presence are used by Blum to great effect, he has great vocals, too. Lisa Graye steals a scene or two as Monica. She's fun and full of energy, as is Katie Johantgen, who nails her parody of Phoebe. (Johantgen gets special kudos for her spot on impression: she has the funny hand gestures and vocal tics down pat.) Patricia Sabulis is perfection as Rachel Green, statuesque and hilariously self-important in the role. Her Rachael is larger than life, her hair (wigs) are stunning and she's always in perfect form, much like Aniston was. It's funny and sweet, too.  Alan Trinca is completely adorable and genuinely charming as Joey. Trinca's magnetism is undeniable and his "How YOU doin'?" one liner of a song parody provides a lot of comic thrills throughout the evening.
The company has a lot of smarts and savvy, and the musical numbers shine with the support of great lyrics and a quick pace to the script, thanks to Bob and Tobly McSmith. Slick, clean direction by Paul Stancato and a fantastic live band that really excites the crowd kept things upbeat and the energy high. Trust me, folks, it's a really fun night. The writers managed to get the entire ten seasons into a two-hour show that's brimming with inside jokes and a nod to the careers of the celebrities involved. They find even more comedy by playing with the timeline of the show, including the future careers of each and every cast member with hilarious results. So, grab a ticket and a cup of coffee (or wine) -- they have a "Friends" souvenir cup so you can bring drinks to your seats! -- and enjoy getting together with Friends! The Musical Parody at St. Luke's Theatre.